Warning: This website includes images and names of deceased people that may cause sadness or distress to Aboriginal and Torres Strait Islander peoples.
South Sea Islanders brought to Queensland
1860s: South Sea Islanders brought to Queensland as indentured labourers
---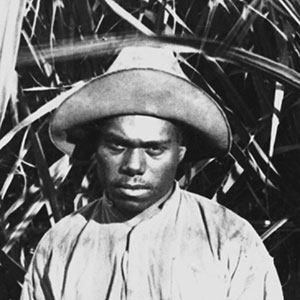 In 1863, a group of 67 South Sea Islanders were brought to Queensland to perform manual labour in the cotton and sugar industries. They were the first of more than 62,000 Pacific Island men, women and children who were transported to Australia over the next 40 years. Some were kidnapped, or 'blackbirded', others were misled.
Over the years, the Queensland government attempted to curtail their exploitation but with limited success.
In 1901, the federal government passed the Pacific Island Labourers Act, which called for the deportation of most South Sea Islanders.
More on this Defining Moment
Faith Bandler, political activist:
I maintain that it was a form of slavery. It is true that some people in the later years signed a contract to work for three years. But my father didn't, neither did his brother and neither did their sister. They were paid nothing whatsoever.
Opening up Queensland
Queensland separated from New South Wales and became a distinct colony on 6 June 1859. The new government was eager for income, and encouraged trade of any kind.
Although attempts had been made to grow sugar cane in New South Wales not long after the arrival of the First Fleet, the first viable harvest wasn't brought in until 1862 near Brisbane.
Two years later, Australia's first commercial sugar mill started production. The government recognised the industry's potential and encouraged the establishment of large plantations.
Cheap labour
In the early 19th century, labour in the Australian colonies had been cheap and plentiful because of a surplus of convicts, ticket-of-leave holders, emancipists and indentured servants. This changed between 1840 and 1868 as various colonies abolished convict transportation.
Because sugar production required a large workforce, Queensland plantation-owners proposed using 'coloured' labour. This was not only in response to the white labour shortage but also the belief that white people could not endure hard physical work in a tropical climate.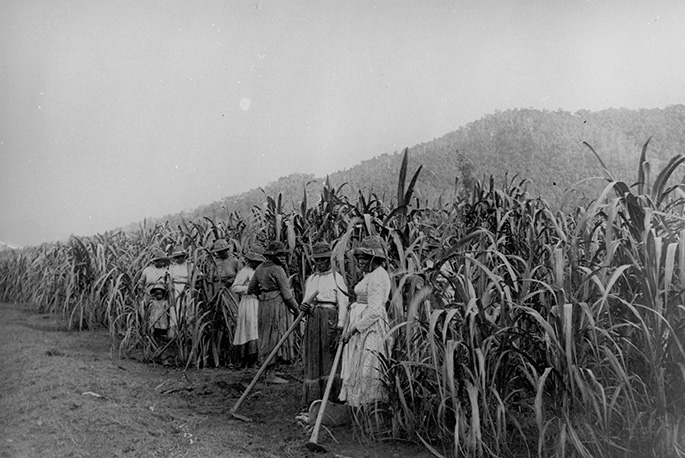 South Sea Islanders
A group of 67 South Sea Island labourers were brought to Brisbane in 1863 to work on a cotton plantation, but that industry soon proved unviable. As sugar was proving to be a more successful crop, most South Sea Islanders were sent to work in the cane fields instead.
South Sea Islanders had been recruited since the 1840s to work in labour intensive industries around the Pacific. The recruiters were generally white men, who worked on contract from plantation owners or recruited with the expectation of selling on the Islander's labour.
There was little legislation to protect the labourers, known then as 'Kanakas', from exploitation in the first few years. But what makes the trade so controversial were the recruitment techniques used.
Recruitment
South Sea Islanders came from 80 different islands including Vanuatu, the Solomon Islands, New Caledonia, Fiji, the Gilbert Islands, New Ireland, and Papua New Guinea. Many were kidnapped or 'blackbirded' by labour agents, others were told lies about what they could expect in Australia.
Between 1863 and 1904, more than 62,000 men, women and children were brought by plantation and ship owners to work in the sugar, pastoral and maritime industries in Queensland.
Legislation
The Queensland government introduced the Polynesian Labourers Act 1868 to try and limit the exploitation of Islanders while on the transport ships and in the fields. Its aim was to halt the practice of blackbirding, but unscrupulous operators found ways to circumvent the legislation and forced 'recruitment' continued.
In 1880, the first major revision of the labourers legislation was enacted with the Pacific Labourers Act (Queensland). This was the first legislation that sought to regulate all aspects of the trafficking and employment of Pacific Island labourers.
The Act made forced recruitment techniques illegal and imposed minimum living standards on board ships, which were to be enforced by inspectors sailing with the ships. However, government agents were not always conscientious and some were susceptible to bribes from the crew.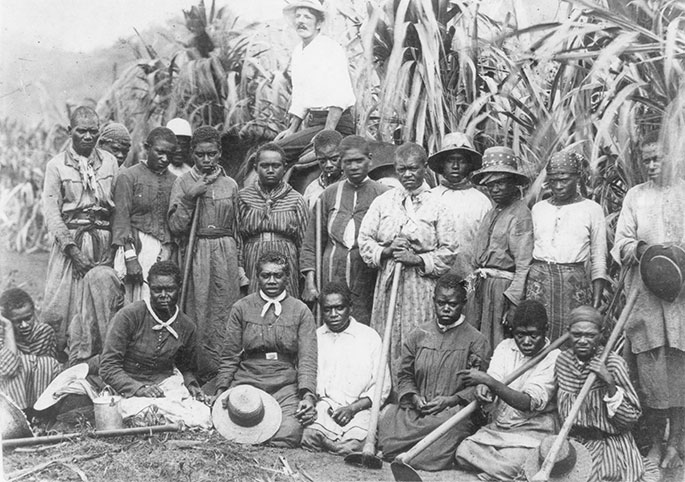 Agitation against Islanders
The White Australia movement was gaining strength in the 1880s and the importation of 'coloured' labour was broadly opposed by Australian unions who feared it was taking jobs away from white workers. Plantation-owners continued to lobby for the importation of cheap labour.
In 1891, the Queensland liberal government imposed a ban on recruiting indentured South Sea Island workers, but the ban was promptly postponed for 10 years when the sugar industry was badly affected by the global economic depression.
1901 Pacific Island Labourers Act
On 17 December 1901, the Governor-General assented to the Pacific Islander Labourers Act (Australia), which provided for 'the Regulation, Restriction and Prohibition of the Introduction of Labourers from the Pacific Islands and for other purposes'.
The Act was part of a package of legislation the new federal government enacted in its first year that constituted the White Australia policy. The legislation required the deportation of most South Sea Island labourers starting in 1906.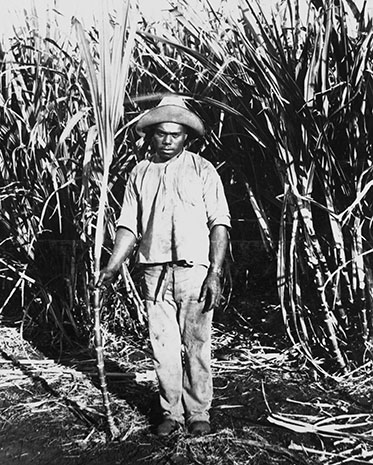 About 10,000 Pacific Islanders lived in Australia when the Act was passed and they mounted a campaign to oppose the legislation. Letters of protest were sent to the Prime Minister, the Governor-General and the King, but no major changes were made to the Act.
Deportation
The deportations began in late 1906 and continued until 1908. More than 7500 South Sea Islanders were returned to their country of origin, though some had arrived in Australia at such a young age they would have had no memory of their home country. About 2500 Pacific Islanders remained in Australia.
Recognition
In 2000, the Queensland Government recognised South Sea Islanders as a distinct ethnic and cultural Australian group. The government also acknowledged the discrimination and injustice experienced by the community throughout their history in Australia.
Further reading
Pacific Island Labourers Act 1901 on the Museum of Australian Democracy website
Raymond Evans, Kay Saunders and Kathryn Cronin, Race Relations in Colonial Queensland: a history of exclusion, exploitation and extermination, University of Queensland Press, St Lucia 1993.
Adrian Graves, Cane and labour: the political economy of the Queensland sugar industry, 1862–1906, Edinburgh University Press, Edinburgh, 1993.
Peter Corris, Passage, Port and Plantation: a history of Solomon Islands labour migration, 1870–1914, Melbourne University Press, Carlton, Victoria, 1973.
499099
437386
490665
448597
457263
478220
482317
486206
436623
477416
435986
524670
505342
453533
497363
504459
452063
570350
574825
508366
448617
510041
515288
508847
491286
515778
501708
501328
491827
557983
513376
436629
528945
465197
480023
476803
484727
491912
505585
477440
499099
442603
501750
456850
449026
485191
524255
455900
449316
501893
495534
479940
491515
477235
491637
517027
483296
491116
448411
492328
501435
491661
526607
487080
524331
458876
492533
448856
498181
488669
478973
491869
498608
458808
469633
468295
453836
450569
455660
450750
469721
469218
518110
481252
476577
513891
487367
520597
506643
505735
488570
481713
448770
459053
525666
463637
449110
514616
482918
469749
463234
482163
448349
460491
488529
463687
437322
503529
473489
523492
491747
569519
482413
449826
521627
526858
453896
517992
569664
484394
483797
449474
463679
453924
476776
487423
510471
485793
501838
511212
478604
501794
509243
466458
448500
456246
483978
485991
459313
521253
484878
474436
489344
491802
449527
457397
458540
510910
523639
456315
505002
463683
509894
480749
489448
490550
450190
534162
< Previous
Next >
Other featured moments from this period
Browse related featured moments
Topics:
Culture
Migration
Nationhood
Politics and legislation
Places:
Queensland
Curriculum subjects:
Civics and Citizenship
Geography
History
School years:
Year 8
Year 10