Warning: This website includes images and names of deceased people that may cause sadness or distress to Aboriginal and Torres Strait Islander peoples.
Postwar immigration
1945: Australian Government announces postwar immigration drive
---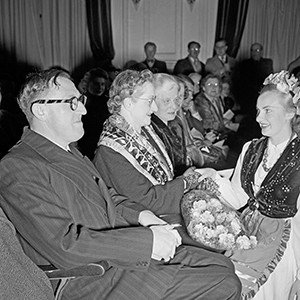 Between 1945 and 1965, two million immigrants arrived in Australia. The decision by the Australian Government to open up the nation in this way was based on the notion of 'populate or perish' that emerged in the wake of the Second World War.
Among the new immigrants were the first government-sanctioned non-British migrants.
This massive influx of people transformed Australian society.
More on postwar immigration
Arthur Calwell, Be Just and Fear Not, 1972:
Even in the darkest days of the awful conflict of the Pacific war, the Curtin Government gave much thought to population building. I remember Mr. Curtin telling Cabinet in 1944 that at war's end there would have to be a Ministry for Immigration. He said we must have more people to develop and defend Australia.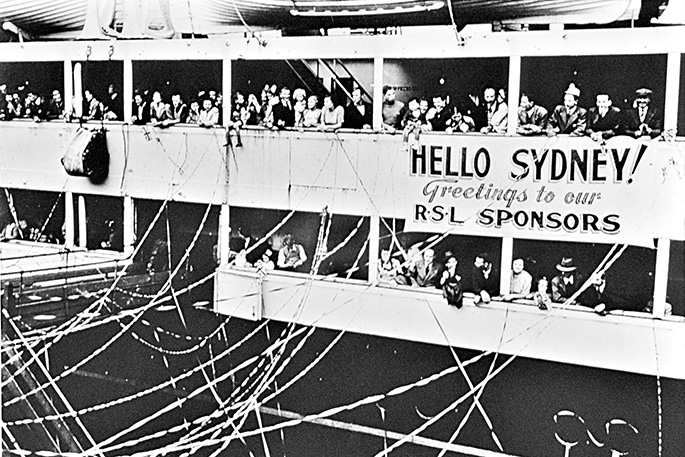 'Populate or perish'
By the end of the Second World War on 2 September 1945, between 50 and 80 million people had died worldwide. This made it the most traumatic event in world history.
The reconstruction task faced by Europe and parts of Asia was huge. Australia, by contrast, suffered little physical damage yet thousands of Australians had died, and the country had come very close to invasion. It showed how vulnerable Australia could be. Arthur Calwell, the first Minister for Immigration, said in Parliament on 2 August 1945 that:
If Australians have learned one lesson from the Pacific war … it is surely that we cannot continue to hold our island continent for ourselves and our descendants unless we greatly increase our numbers … much development and settlement have yet to be undertaken. Our need to undertake it is urgent and imperative if we are to survive.
Calwell's call for immediate migration was pivotal in the growth of Australia but just as significant were the final sentences of his speech: 'The door to Australia will always be open within limits of our existing legislation to the people from the various dominions, United States of America and from European continental countries …'.
The minister was stating for the first time that the government was willing to accept immigrants from beyond the British Isles. This was a significant step, given that the public attitudes that underpinned the White Australia Policy were still very prevalent.
Calwell's immigration policy
This shift in government policy was deeply influenced by Melbourne economist WD Forsyth. In his 1942 book The Myth of Open Spaces, Forsyth argued that immigration and settlement should be linked not to the development of the rural sector, as had been the case after the First World War, but to the development of urban industry.
He further argued that postwar workforce shortages in Great Britain could limit Australia's ability to attract British migrants but that there would be reserves of labour in eastern and southern Europe. These ideas featured in the papers of the Government's powerful Inter-departmental Committee on Post War Migration, and in Calwell's 2 August 1945 speech.
The new immigration policy set a population growth goal of two per cent per annum, of which only half should come from natural increase.
Responses to the call for immigration
Even before the end of the war, Australia had begun negotiating with Britain about a migration scheme. Some politicians, such as Winston Churchill, discouraged Britons from emigration and encouraged them to stay and rebuild their shattered country.
Yet, the assisted migration plan (which would become known as the 'ten-pound pom' scheme) proved extremely popular with war-weary Britons. By 1947, more than 400,000 people had registered for the scheme.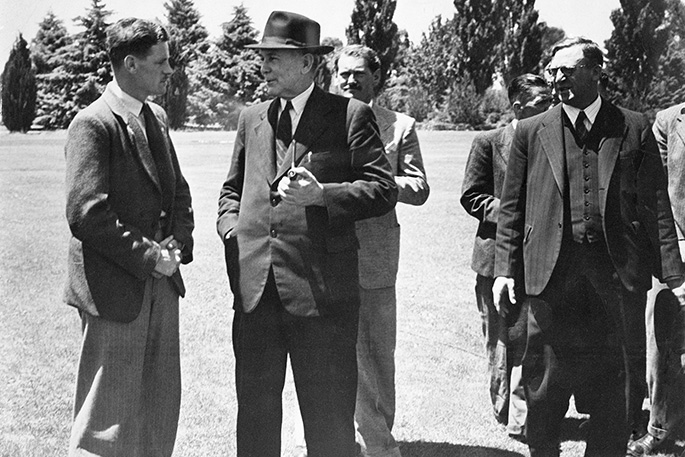 First migrants
In addition to British migrants, Calwell sought to meet the migration program targets by selecting suitable migrants from Europe's burgeoning displaced persons camps. The 'beautiful Balts' from Estonia, Lithuania and Latvia, who arrived in 1947, were the first group chosen as they were fair-skinned, and fitted Australian aesthetic ideals.
Australia also accepted Jewish refugees if they had families who had escaped to Australia before the war.
In the years after the arrival of the 'beautiful Balts', migration policies slowly changed to first allow migrants from southern and eastern Europe, and then (from the late 1940s and early 1950s) carefully selected temporary migration from the Middle East and Asia.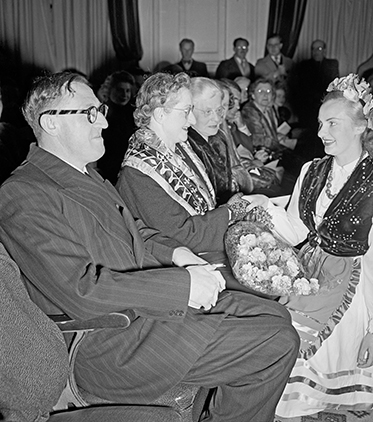 The late 1950s saw more positive changes of attitude towards non-European migrants. In 1957, the Liberal government relaxed restrictions on ongoing temporary visas and made non-European migrants eligible for citizenship after 15 years in the country (as opposed to five years for Europeans).
The period 1946–1960 saw the Australian population grow by 2.7% on average per year. This was due largely to a postwar baby boom but migration contributed to more than a third of this growth.
During this period, net overseas migration added 1.2 million people, bringing the Australian population to about 10.28 million by 1960.
However, it would not be until well into the 1960s with the dismantling of the White Australia Policy that Australia would decisively move away from its Anglo-Irish background.
Further reading
More about Arthur Calwell on the Museum of Australian Democracy website
Eric Richards, Destination Australia: Migration to Australia since 1901, UNSW Press, Sydney, 2008.
Gwenda Tavan, The long, slow death of White Australia, Scribe Publications, Melbourne, 2005.
Jerzy Zubrzycki, Arthur Calwell and the Origin of Post-War Immigration Canberra, Bureau of Immigration, Multicultural and Population Research, 1995.
Arthur Calwell, Be Just and Fear Not, Lloyd O'Neil Ptd Ltd and Rigby, Hawthorn, Victoria and Kentish Town, South Australia, 1972.
Meet the curator
Mikey Robins discusses with senior curator Michelle Hetherington an armband from Auschwitz worn by a political prisoner Regina Sprada who subsequently emigrated to Australia.
George Megalogenis
Journalist and author George Megalogenis discusses the significance of Australia's post-war immigration drive.
From our collection
463687
437386
490665
448597
457263
478220
482317
486206
436623
477416
435986
505342
453533
497363
504459
452063
508366
448617
510041
508847
491286
501708
501328
491827
436629
465197
480023
476803
484727
491912
505585
477440
499099
442603
501750
456850
449026
485191
455900
449316
501893
495534
479940
491515
477235
491637
483296
491116
448411
492328
501435
491661
487080
458876
492533
448856
498181
488669
478973
491869
498608
458808
469633
468295
453836
450569
455660
450750
469721
469218
481252
476577
487367
506643
505735
488570
481713
448770
459053
463637
449110
482918
469749
463234
482163
448349
460491
488529
463687
437322
503529
473489
491747
482413
449826
453896
484394
483797
449474
463679
453924
476776
487423
485793
501838
478604
501794
509243
466458
448500
456246
483978
485991
459313
484878
474436
489344
491802
449527
457397
458540
456315
505002
463683
509894
480749
489448
490550
450190
< Previous
Next >
Other featured moments from this period
Browse related featured moments
Topics:
Culture
Migration
Nationhood
Politics and legislation
Places:
Australia
Curriculum subjects:
Civics and Citizenship
Geography
History
School years:
Year 8
Year 10