Warning: This website includes images and names of deceased people that may cause sadness or distress to Aboriginal and Torres Strait Islander peoples.
Holden launch
1948: Australia's first locally made car, the Holden 48-215, launched
---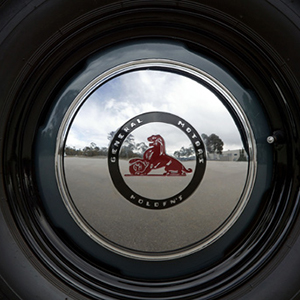 The launch of Australia's first locally made mass-production car was a milestone in Australian manufacturing.
The FX, as it became known, was an immediate success, as was the FJ, launched in 1953.
The Holden transformed suburban Australia, boosted national pride and quickly become a national icon.
More on the Holden launch
She's a beauty!:
Prime Minister Ben Chifley, on seeing the first Holden roll off the production line at Fishermans Bend, Melbourne, 1948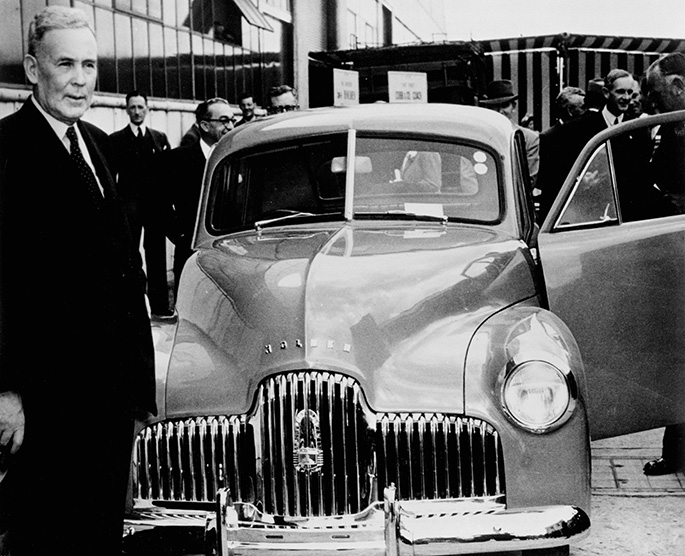 A family car for Australian conditions
From the late 1930s Australian governments were captivated by the idea of a wholly Australian-made car. Many believed a local automobile industry would stimulate employment, improve workforce skills, reduce the country's dependence on primary industry and make Australia more secure in the event of another war.
In 1944 the federal government invited General Motors, through its Australian subsidiary, to build a family car for Australian conditions.
American and Australian engineers hand-built three test Holden sedans at the General Motors experimental workshop in Detroit, Michigan. In 1946, after months of durability and performance tests, the cars were secretly shipped to the Fishermans Bend plant in Melbourne.
Testing continued, and General Motors-Holden's engineers and technicians built another two prototypes. These became the definitive model for thousands of Holden vehicles.
The first Holden rolled off the assembly line at Fishermen's Bend on 29 November 1948. Many saw the event as evidence of national maturity, proof that Australia had escaped its pastoral beginnings and embraced the modern industrial age.
A symbol of national success
The Holden 48-215, also known as the FX, was the first car wholly manufactured in Australia – it was economical, sturdy and stylish and was immediately popular with the public.
By 1958, the Holden had captured more than 40 per cent of total car sales in Australia. By 1962 one million had been sold and, despite strong market competition from the Ford Falcon, another million was sold by 1966.
Cars transformed post-war Australia. They enabled suburbs to spread and created new forms of shopping, leisure and work. The Holden came to symbolise personal prosperity and freedom, national success and self-sufficiency. Today, FX and FJ model Holdens are among the most recognisable icons of 1950s Australia.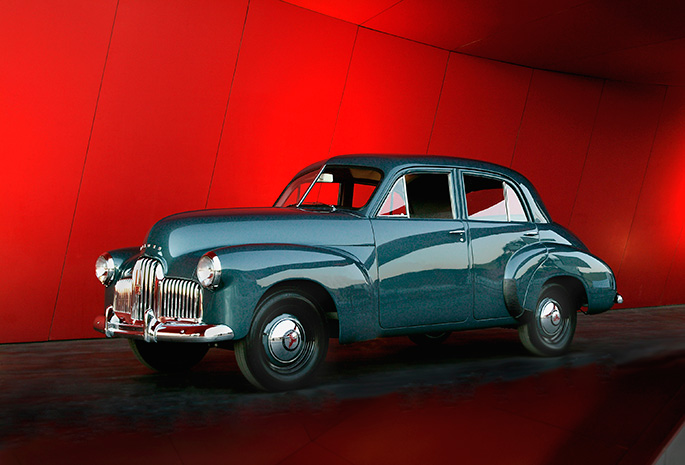 Further reading
'Australia's own car' essay by curator Daniel Oakman
Timeline: Holden's history in Australia on the ABC News website
The Holden car in Australia on the Australian Government website
Landmarks: A History of Australia in 33 Places, Daniel Oakman, Martha Sear & Kirsten Wehner (eds), National Museum of Australia Press, Canberra, 2013.
She's a Beauty!: The Story of the First Holdens, Don Loffler, Wakefield Press, Adelaide, 1998.
The History of Holden Since 1917, Norm Darwin, Gordon & Gotch, Melbourne, 1983.
From our collection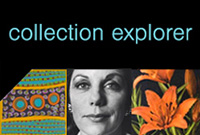 Search our collection
Holden items in our extensive online collection.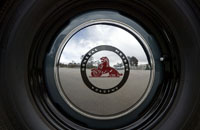 Holden Prototype No.1 car
The definitive model for millions of cars and the sole survivor of three test sedans shipped to Australia.
437322
437386
490665
448597
457263
478220
482317
486206
436623
477416
435986
524670
505342
453533
497363
504459
452063
570350
574825
508366
448617
510041
515288
508847
491286
515778
501708
501328
491827
557983
513376
436629
528945
465197
480023
476803
484727
491912
505585
477440
499099
442603
501750
456850
449026
485191
524255
455900
449316
501893
495534
479940
491515
477235
491637
517027
483296
491116
448411
492328
501435
491661
526607
487080
524331
458876
492533
448856
498181
488669
478973
491869
498608
458808
469633
468295
453836
450569
455660
450750
469721
469218
518110
481252
476577
513891
487367
520597
506643
505735
488570
481713
448770
459053
525666
463637
449110
514616
482918
469749
463234
482163
448349
460491
488529
463687
437322
503529
473489
523492
491747
569519
482413
449826
521627
526858
453896
517992
569664
484394
483797
449474
463679
453924
476776
487423
510471
485793
501838
511212
478604
501794
509243
466458
448500
456246
483978
485991
459313
521253
484878
474436
489344
491802
449527
457397
458540
510910
523639
456315
505002
463683
509894
480749
489448
490550
450190
534162
< Previous
Next >
Other featured moments from this period
Browse related featured moments
Topics:
Industry and work
Vehicles and transport
Places:
Victoria
Curriculum subjects:
Economics and Business
Geography
History
School years:
Year 2
Year 9