Warning: This website includes images and names of deceased people that may cause sadness or distress to Aboriginal and Torres Strait Islander peoples.
Evidence of first peoples
at least 65,000 years ago: Archaeological evidence of first peoples on the Australian continent
---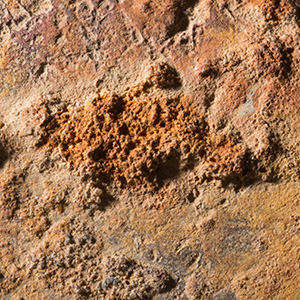 The date of earliest occupation of the Australian continent is constantly changing. New excavations and improved dating techniques push the date further back into the distant past.
Footprints in the sand, artefacts in ancient shelters and items such as this piece of ochre all provide evidence of the vast human history of the continent.
However, this is just part of the story, because Aboriginal people traditionally believe they have been here in their country since the time of creation and, prior to that, the continent was a 'land before time'.
More on evidence of first peoples
Aunty Val Coombs, Quandamooka Elder, 2012:
White fellas like theorising we come from somewhere else other than Australia to lessen our connection to country. We are from here. Our knowledge of our history is embedded in our blood and our country. Whitefellas knowledge of our history is only as good as their technology.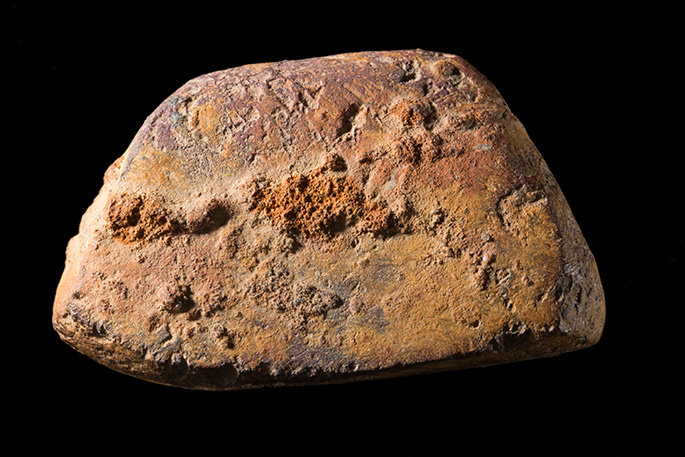 Aboriginal occupation
Aboriginal people are known to have occupied mainland Australia for at least 65,000 years. It is widely accepted that this predates the human settlement of Europe and the Americas. Increasingly sophisticated dating methods are helping us gain a more accurate understanding of how people came to be in Australia. Some of the earliest archaeological sites are found in northern Australia.
This piece of ochre, excavated from the Madjebebe (Malakunanja II) site in Arnhem Land, is believed to be over 50,000 years old. Other sites of considerable antiquity such as Lake Mungo in New South Wales and Devil's Lair in south-west Western Australia continue to be discovered and researched across the continent.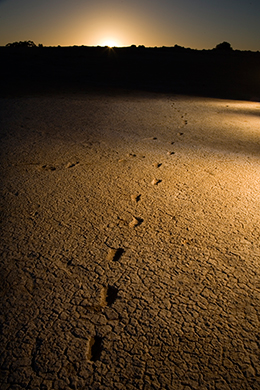 The Dreaming
From an Aboriginal and Torres Strait Islander view of creation, people have always been in Australia since the land was created. On mainland Australia, the Dreaming is a system of belief held by many first Australians to account for their origins. In the Dreaming all-powerful beings roamed the landscape and laid the moral and physical groundwork for human society.
Prior to the Dreaming there was a 'land before time' when the earth was flat. Ancestral beings moulded the landscape through their actions and gave life to the first people and their culture. No one can say exactly how old the Dreaming is. From an Indigenous perspective the Dreaming has existed from the beginning of time.
Further reading
More ochre specimens in our Collection Explorer
The spread of people to Australia on the Australian Museum website
'Aboriginal DNA dates Australian arrival' on the ABC Science website
First Footprints: The Epic Story of the First Australians, Scott Cane, Allen & Unwin, Sydney, 2013.
Archaeology of Ancient Australia, Peter Hiscock, Routledge, London, 2007.
Prehistory of Australia, John Mulvaney and Johan Kamminga, Allen & Unwin, Sydney, 1999.
Archaeology of the Dreamtime: The Story of Prehistoric Australia and its People, Josephine Flood, HarperCollins Publishers, Sydney, 1999 (revised edition).
Thomas Keneally
Renowned author Tom Keneally discusses why the finding of ancient human remains in the Willandra Lakes region is among his top three Defining Moments in Australian History.
437386
437386
490665
448597
457263
478220
482317
486206
436623
477416
435986
524670
505342
453533
497363
504459
452063
570350
574825
508366
448617
510041
515288
508847
491286
515778
501708
501328
491827
557983
513376
436629
528945
465197
480023
476803
484727
491912
505585
477440
499099
442603
501750
456850
449026
485191
524255
455900
449316
501893
495534
479940
491515
477235
491637
517027
483296
491116
448411
492328
501435
491661
526607
487080
524331
458876
492533
448856
498181
488669
478973
491869
498608
458808
469633
468295
453836
450569
455660
450750
469721
469218
518110
481252
476577
513891
487367
520597
506643
505735
488570
481713
448770
459053
525666
463637
449110
514616
482918
469749
463234
482163
448349
460491
488529
463687
437322
503529
473489
523492
491747
569519
482413
449826
521627
526858
453896
517992
569664
484394
483797
449474
463679
453924
476776
487423
510471
485793
501838
511212
478604
501794
509243
466458
448500
456246
483978
485991
459313
521253
484878
474436
489344
491802
449527
457397
458540
510910
523639
456315
505002
463683
509894
480749
489448
490550
450190
534162
Next >
Other featured moments from this period
Browse related featured moments
Topics:
Indigenous
Nationhood
Places:
Australia
Curriculum subjects:
History
School years:
Year 7