Warning: This website includes images and names of deceased people that may cause sadness or distress to Aboriginal and Torres Strait Islander peoples.
We invite you to join this national debate about our nation's past and suggest a defining moment of your own.
Significant moments in Australia's history
The Defining Moments in Australian History project was initiated by the National Museum of Australia and has as its co-patrons the late Mr Michael Ball AO and The Hon Michael Kirby AC CMG.
The project aims to stimulate a public discussion about the events that have been of profound significance to the Australian people.
The initial list of 100 defining moments was compiled by National Museum staff, in consultation with an advisory panel of leading historians. Since the project began, suggestions for additional defining moments have been pouring in. From these suggestions, we have created your list of defining moments.
We invite you to help shape the 'your list'

View the initial list of the 100 defining moments (PDF 57kb)
The Museum would like to thank Professor Judith Brett, Professor Rae Frances, Professor Bill Gammage, Dr John Hirst, Dr Jackie Huggins, Professor Marilyn Lake and Professor John Maynard for their help in compiling the initial list.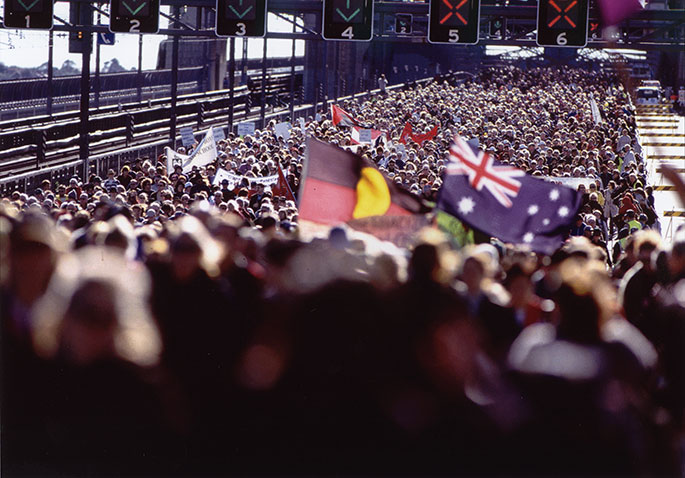 We hope to take the discussion into classrooms and universities, into local historical societies and even the local pub. The success of the program will be gauged by the level of public involvement, so we invite you to join this national debate about our nation's past, and to suggest a defining moment of your own.
In the process, we hope to develop a language for frank discussions about our past, from moments of success and celebration to those that are much more challenging. The project will comprise live public events, an online conversation and physical and virtual content at the National Museum.
Project launch
Defining Moments in Australian History was launched by The Hon Tony Abbott MP, Prime Minister of Australia, on 29 August 2014. Mr Abbott unveiled a plaque commemorating Captain Arthur Phillip's establishment of the convict settlement at Sydney Cove, in the month of the 200th anniversary of Phillip's death. More defining moments will be commemorated with plaques in coming months.