The National Museum's Media Liaison team can assist media with inquiries about the Museum, its collections and exhibitions, and help connect with our expert staff.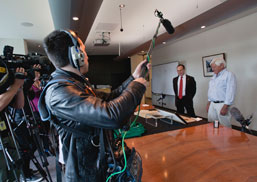 The National Museum of Australia's Medial Liaison team can help with any enquiries about the Museum, its collection, exhibitions and expert staff.
Tracy Sutherland
Public Affairs Manager
Tel +61 2 6208 5338
Mobile 0438 620 710
Fax +61 2 6208 5398
Email media@nma.gov.au
Latest media releases
National Museum acquires Peter Norman Olympic singlet
09/02/2016
The National Museum of Australia in Canberra has acquired the historic 1968 Olympic singlet worn by Australian silver medallist Peter Norman, who was best known for his part in that event's historic civil rights podium protest.
Vale Dr John Hirst
08/02/2016
Statement by National Museum of Australia director, Dr Mathew Trinca