The National Museum's Media Liaison team can assist media with inquiries about the Museum, its collections and exhibitions, and help connect with our expert staff.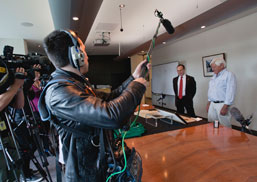 The National Museum of Australia's Medial Liaison team can help with any enquiries about the Museum, its collection, exhibitions and expert staff.
Tracy Sutherland
Media Liaison
Tel +61 2 6208 5338
Mobile 0438 620 710
Fax +61 2 6208 5398
Email media@nma.gov.au
Latest media releases
National Museum marks High Court's Mabo decision
19/06/2015
The High Court's pivotal 1992 Mabo ruling is honoured today as part of the National Museum of Australia's Defining Moments project, which explores key dates that have defined the country's history over more than 50,000 years.