The National Museum's Media Liaison team can assist media with inquiries about the Museum, its collections and exhibitions, and help connect with our expert staff.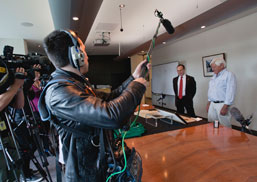 The National Museum of Australia's Medial Liaison team can help with any enquiries about the Museum, its collection, exhibitions and expert staff.
Tracy Sutherland
Media Liaison
Tel +61 2 6208 5338
Mobile 0438 620 710
Fax +61 2 6208 5398
Email media@nma.gov.au
Latest media releases
National Museum acquires Michael Chamberlain Torana
19/08/2014
The National Museum of Australia, in Canberra has acquired the 1977 model yellow hatchback V8 Torana, which was central to the conviction and ultimate exoneration of Lindy and Michael Chamberlain, over the 1980 disappearance of their daughter, Azaria.
Queen's Daimler car 'chassis' on display this weekend
06/06/2014
Visitors to the National Museum of Australia during this Queen's Birthday long weekend will have the rare opportunity to see the inner workings of the reconditioned chassis of the 1948 Daimler landaulette car, which was used by Queen Elizabeth II during her historic 1954 tour.