The National Museum's Media Liaison team can assist media with inquiries about the Museum, its collections and exhibitions, and help connect with our expert staff.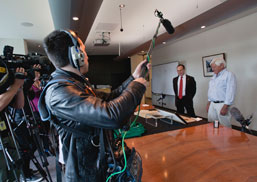 The National Museum of Australia's Medial Liaison team can help with any enquiries about the Museum, its collection, exhibitions and expert staff.
Tracy Sutherland
Media Liaison
Tel +61 2 6208 5338
Mobile 0438 620 710
Fax +61 2 6208 5398
Email media@nma.gov.au
Latest media releases
National Museum returns to the Glorious Days of 1913
06/03/2013
It was a year when Australia, a new nation, embraced the modern world: aeroplanes, pocket cameras, roller-skates and cinemas. It was the year of Dally Messenger's final premiership and Mawson's fateful Antarctic exhibition.