WARNING: Visitors should be aware that this website includes images and names of deceased people that may cause sadness or distress to Aboriginal and Torres Strait Islander peoples.
---
Barks, Birds & Billabongs: Exploring the Legacy of the 1948 American-Australian Scientific Expedition to Arnhem Land. 16-20 November 2009.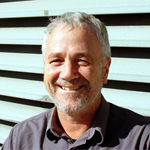 Tony MacGregor
Arts Editor,
ABC Radio National
Abstract
Birds on the wire: Colin Simpson and the emergence of the radio documentary feature

Listen to the audio
As a 'text' the 1948 ABC radio feature Expedition to Arnhem Land by Colin Simpson is remarkable, most obviously as a contemporary account of the 1948 Expedition. But it is also a media object located at a critical juncture in the emergence of a set of media practices which have become so commonplace as to be almost unremarked – notably the use of field recordings ('actuality') in the construction of documentaries, and, more critically, the authority accorded to the speaking (rather than written) voice in reportage.
This paper 'triangulates' an emerging cultural/media topography by establishing the relationship between three points of reference: the broadcast radio feature, Simpson's written account of the expedition and the recording process in his 1951 book Adam in Ochre, and the surviving original recording of a flock of birds rising off Red Lily Lagoon, made by Ray Giles, which was held in the ABC's (now defunct) Sound Effects Library on 78rpm acetate discs.
Working between these different modes we see/hear Simpson uncomfortably negotiating the unstable and problematic frontier between the authority of the written word and the authenticity of 'actuality recording'.
We also bear ear-witness to the emergence of a new media form: the radio documentary feature, a practice of which this writer is a direct inheritor. The presentation will conclude with an audition of a contemporary radio account of a buffalo hunt recorded in Arnhem Land in 2008 (made by one of a new generation of radio documentary makers thoroughly at ease with practices alien to Simpson), which almost directly parallels a similar scene recorded by Simpson and Giles 60 years earlier – but which Simpson chose not to include in his radio documentary of 1948, for reasons which speak directly to his uncertain relationship to sound recording. (Simpson had no compunction in providing a detailed written account of the buffalo hunt in his 1951 book.)
Biography
Tony MacGregor is the national Arts Editor for ABC Radio National, and has more than 20 years experience as a documentary maker, sound artist and broadcaster. In 2008 he won a Walkley Award for Excellence in Radio Documentary production.
His radio documentary features have been broadcast in Europe, the United States and Australia, and he has created sound designs for galleries, museums and performance works in Australia, Germany, Austria and the UK, including collaborating in the creation of major works for the Biennale of Sydney, the Melbourne international Arts Festival, the Adelaide Biennial, Open Art Munich, the Steirischer Herbst (Graz) and Fotofeis, Edinburgh.
Among his writing credits is the libretto for the opera Cosmonaut, with music by David Chesworth, which premiered at the Melbourne International Festival of the Arts in 2002.
Tony has an MA in history and cultural studies from UTS (2001); his thesis Sympathetic Vibrations: Effecting Sound Histories used a set of early sound recordings as entry points into a series of highly original critical readings of significant cultural relationships and experiences.
Note: The views expressed in speakers' abstracts are those of the individual contributors and do not necessarily reflect the views of the National Museum of Australia.