WARNING: Visitors should be aware that this website includes images and names of deceased people that may cause sadness or distress to Aboriginal and Torres Strait Islander peoples.
---
Barks, Birds & Billabongs: Exploring the Legacy of the 1948 American-Australian Scientific Expedition to Arnhem Land. 16-20 November 2009.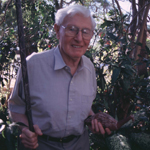 Raymond Louis Specht
Emeritus Professor of Botany
University of Queensland and
1948 Expedition member
Abstract
Appraising the legacy of the Arnhem Land Expedition: An insider's perspective

Listen to the audio
When I joined the Arnhem Land Expedition as a recent Botany graduate from the University of Adelaide, I found myself among seasoned researchers, all with formidable track records. The Smithsonian archaeologist (Frank Setzler) and the Institution's three zoologists (Bert Deignan, Dave Johnson and Bob Miller) had well-established careers. So did the Australian Museum's Fred McCarthy (anthropologist) and the Expedition leader, Charles P Mountford, despite his lack of formal training in ethnology. Closer in age to me were the three nutritional researchers (Brian Billington, Margaret McArthur and Kelvin Hodges), appointed by the Institute of Anatomy in Canberra. Working in this interdisciplinary context was an inspiration. As a student in the emerging field of ecology, I had been trained in the holistic study of vegetation, seen in relation to climate and soils. I listened avidly to the 'words of wisdom' and experiences of the senior scientists on the Expedition.
We all went to Arnhem Land with our own research agendas, though many interesting intersections and collaborations developed. The origin of the Arnhem Land Aborigines was the basic research question for Setzler who took hair samples, dermatoglyphs (hand prints) and facial casts. He collected skulls and other bones from burial caves on Groote Eylandt and at Oenpelli. The recent impact of Macassan trepangers was explored by archaeological excavations conducted by Setzler and McCarthy. The rock art in the sandstone caves of Arnhem Land also gave clues to the diversity of origins of Arnhem Land Aborigines. The Mimi paintings reminded Mountford of the Bushman rock art in South Africa. The bark paintings that Aboriginal artists created at Umbakumba, Yirrkala and Oenpelli were stylistically different in each region. The bark paintings collected by Mountford at each of our three main bases varied in style from the rock art of the area.
Unsurprisingly, there were many resonances between my own objective, as a botanist, to collect representative samples of all Arnhem Land flora and the work of my colleagues from the Institute of Anatomy. Nutritionist Margaret McArthur, the sole woman scientist on the team, was particularly interested in understanding how the original hunter-gatherers collected enough food to survive throughout the year in the harsh environment of Arnhem Land. Fred McCarthy contributed to Margaret's time-and-motion studies (with women) by documenting the hunter techniques of men at Hemple Bay, Groote Eylandt, and at Fish Creek, near Oenpelli. Mammalogist Dave Johnson analysed the use of fire in the eucalypt open-forests to maintain a maximal supply of animal foods. On occasions I was instructed by Mountford to 'chaperone' Margaret McArthur during her fieldwork, since he thought it too dangerous for an unaccompanied white woman to live amongst Aboriginal groups. In fact, she was entirely comfortable in these situations and thoroughly professional in her work, having conducted similar research in New Guinea.
In this paper I will reflect on the influence of the Arnhem Land Expedition and discuss my botanical investigations. I tabulated all plants used by the Aborigines of Groote Eylandt and north-eastern Arnhem Land, their local names and the techniques of their use. Altogether, the American-Australian Scientific Expedition to Arnhem Land furthered 'American-Australian friendship' (as it did with other nations also) and provided many ideas for further studies of the early inhabitants of Australia.
Biography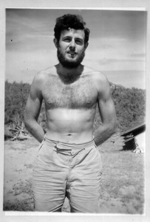 In 1948, at the age of 23 years, Raymond Specht became the youngest member of the American-Australian Scientific Expedition to Arnhem Land.
He studied the botany, plant ecology and ethno-botany of Aboriginal communities, later collating this information to become part of the published four–volume report from the Arnhem Land Expedition.
Prior to his selection as an Expedition member, Specht attended Adelaide Teachers College to train as a science teacher before completing his Bachelor of Science with Honours at the University of Adelaide. Professor Joseph Garnett Wood, head of the Botany Department and international leading figure in plant biochemistry, became a mentor for Specht and challenged his thinking and practice of field-based plant ecology.
During the early 1940s, Specht decided to specialise as a plant ecologist. Under the guidance of Professor Wood, he studied the ecologically complex Adelaide Hills region.
This work illustrated a systematic and holistic approach to thinking about plant ecology, a characteristic Specht embraced throughout his scientific career, and a key feature of his botanical work in Arnhem Land.
Specht is regarded as one of Australia's eminent plant ecologists, internationally regarded for his work on semi-arid heath lands in southern Australia and the chaparral lands in south-western United States. He received Fulbright Smith-Mundt and Carnegie grants in 1956, a Royal Society Nuffield Foundation Commonwealth Bursary in 1964 and became a Senior Fulbright Scholar in 1983. In 2000, Raymond was named as an IBC Outstanding Intellectual of the 20th Century.
Specht has been an active member of scientific committees and published extensively in the areas of plant ecology and conservation. Some of his major publications include Vegetation of South Australia (1972); Conservation Survey of Australia (1974), 1995; Heathlands of the World (1979, 1981); Mediterranean Ecosystems of the World (1981,1988); and Australian Plant Communities: Dynamics of Structure, Growth & Biodiversity (1999, 2nd edition 2003).
Specht was professor of botany at the University of Queensland from 1966 to 1989. Since retiring he has been a scientific adviser for the 'QLD State wide Land and Tree cover Study'. More recently, he has written on the long term impact of the Arnhem Land Expedition. Specht remains deeply passionate and committed to the ongoing interest and legacy of the 1948 Expedition.
Note: The views expressed in speakers' abstracts are those of the individual contributors and do not necessarily reflect the views of the National Museum of Australia.