WARNING: Visitors should be aware that this website includes images and names of deceased people that may cause sadness or distress to Aboriginal and Torres Strait Islander peoples.
---
Barks, Birds & Billabongs: Exploring the Legacy of the 1948 American-Australian Scientific Expedition to Arnhem Land. 16-20 November 2009.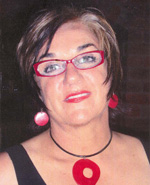 Adjunct Professor Margo Neale
Australian National University; and
Senior Research Fellow, Centre for Historical Research, and
Senior Curator and Principal Advisor to the Director (Indigenous),
National Museum of Australia
Abstract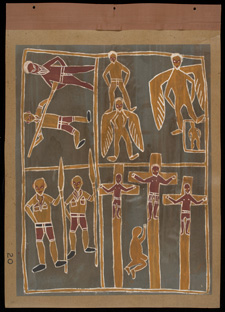 'Bastard barks' and 'anyhow' paintings: Issues of legitimacy and authority for Mountford's collection of works on paper

Listen to the audio
What could be more illegitimate than bark paintings collected by a so-called non-credentialled ethnographer on one of the world's largest scientific expeditions? Substituting painting on paper for bark painting would have to come close. Charles P Mountford collected an estimated 500 'bark' paintings, but of those, 100 were actually ochre (and sometimes crayon) on paper.
To orthodox anthropologists and museums of the late 1930s to early 1950s, works on paper were considered non-traditional and inauthentic expressions of Indigenous cultures compared with bark paintings. At that time such works were thought more appropriate for exhibition in art galleries rather than for public display in museums, where they were highly regarded as field notes or research tools.
With some degree of irony, I previously referred to the bark paintings Mountford collected during the Arnhem Land Expedition as 'bastard barks', for the way in which a number of Australia's establishment anthropologists dismissed him as an amateur ethnographer, self-publicist and shameless populariser and promoter of Aboriginal art. So I now ask with regard to Mountford's critics: how legitimate are the 'bark' paintings on paper?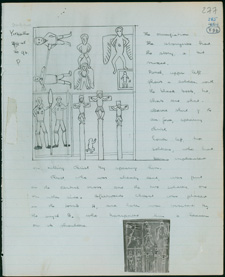 In this paper I turn my attention to the works on paper Mountford collected — and particularly those in the National Museum of Australia's collection — because they offer a useful starting point for a long-overdue reassessment of Mountford's reputation as a collector of Aboriginal art and stories.
What did he think he was doing? Was he collecting art or artefacts? Did he really stand outside anthropology? If so, what impact did that have on his collecting practices?
As part of my reassessment, I consider some of the criticisms levelled at Mountford, particularly those made by Ronald Berndt in his 'critical review' of Mountford's Art, Myth and Symbolism (1956), where he alleged that Mountford offered only 'a motley of unrelated, disconnected and scrappy stories' and presented them as the 'only one "exact" or "correct" version'.
I consider some of Mountford's stories in relation to Berndt's criticisms to determine how well they work as stories, and compare a few of them with Berndt's own narrative efforts — after all, Berndt's review invites us to make such a comparison.I also consider the issue of place, and how successful Mountford and Berndt were in linking their narratives to particular locations.
Biography
Margo Neale is a Senior Research Fellow at the Centre for Historical Research, and Senior Curator and Principal Advisor (Indigenous) at the National Museum of Australia. She was inaugural Director of the Aboriginal and Torres Strait Islander Program at the Museum in its establishment phase, after previously having worked with Aboriginal and Torres Strait Islander art at the National Gallery of Australia, the Art Gallery of New South Wales and the Queensland Art Gallery.
She is also an Adjunct Professor in the History Program of the Australian Centre for Indigenous History at the Australian National University. Since 2004, Margo has been involved in numerous interdisciplinary projects, including the investigation of frontier narratives through non-text-based history-telling in collaboration with Yale University, films such as Frontier Conversations, and exhibitions on multicultural communities and Indigenous urban identity.
Margo is a co-recipient of seven Australian Research Council grants in collaboration with the ANU and Monash University. She has lectured and published widely across disciplines including social history, art and culture in the Asia–Pacific region, and Indigenous art and history. She is the author, co-author or editor of 10 books, on topics including the history of Christmas Island; artists, such as Emily Kame Kngwarreye and Lin Onus; contact history; history of Australian Indigenous art and collections; and most notably the Oxford Companion to Aboriginal Art and Culture (co-edited with Sylvia Kleinert).
She has been appointed by successive governments to various panels, such as:
Prime Minister Howard's History Summit 2006
Prime Minister Rudd's 2020 Summit of Ideas (creative stream) 2008
the judging panel for the Prime Minister's Australian History Prize 2008 and 2009.
Her recent international exhibition on Emily Kame Kngwarreye in Japan won the Manning Clarke House National Cultural Group Award 2008 for the National Museum of Australia. Margo, of Aboriginal and Irish descent, lived and worked in Arnhem Land in the 1970s and on Christmas Island in the 1980s before joining the National Museum of Australia in 2000. Margo is director of the National Museum of Australia's Barks, Birds & Billabongs symposium project, which she initiated and developed because of her interest in Charles P Mountford's collection of paintings on bark and card. This interest was sparked during her work as an Indigenous art curator in the early 1990s.