WARNING: Visitors should be aware that this website includes images and names of deceased people that may cause sadness or distress to Aboriginal and Torres Strait Islander peoples.
---
Barks, Birds & Billabongs: Exploring the Legacy of the 1948 American-Australian Scientific Expedition to Arnhem Land. 16-20 November 2009.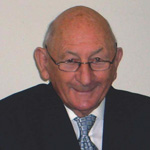 Emeritus Professor
John Mulvaney
Biography
Emeritus Professor John Mulvaney was the Foundation Professor of Prehistory, Faculty of Arts, the Australian National University. He served for 18 years on the Council of the Australian Institute of Aboriginal and Torres Strait Islander Studies, including a term as Chair. Between 1976 and 1982 he was on the Australian Heritage Commission, and was a member of the Interim Council of the National Museum of Australia.
He is indebted to Charles P Mountford for taking him to Fromm's Landing site in 1955, where he later directed his first Australian dig. Since 1963 he has made a number of archaeological and environmental research trips to Arnhem Land. He is the author, co-author or editor of 17 books.
He was Secretary of the Australian Academy of the Humanities for seven years and is a Fellow of the British Academy. The first edition of his The Prehistory of Australia was published in 1969; the third edition, written in collaboration with Johan Kamminga, appeared in 1999.