WARNING: Visitors should be aware that this website includes images and names of deceased people that may cause sadness or distress to Aboriginal and Torres Strait Islander peoples.
---
Barks, Birds & Billabongs: Exploring the Legacy of the 1948 American-Australian Scientific Expedition to Arnhem Land. 16-20 November 2009.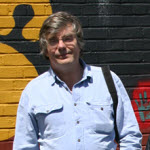 Professor Howard Morphy
Research School of Humanities
Australian National University
Biography
Howard Morphy (BSc, MPhil London, PhD ANU, FASSA, FAAH, CIHA) is Professor of Anthropology and Director of the Research School of Humanities at The Australian National University. Prior to returning to the Australian National University in 1997, he held the chair in Anthropology at University College London. Before that he spent 10 years as a curator at the Pitt Rivers Museum, Oxford, and remains an honorary curator.
He is an anthropologist of art and visual anthropologist having co-edited two of the main source books in the respective fields The Anthropology of Art: A Reader (with Morgan Perkins, Blackwell's, 2006) and Rethinking Visual Anthropology (with Marcus Banks, Yale University Press, 1997). He has written extensively on Australian Aboriginal art with a monograph of Yolngu Art, Ancestral Connections (Chicago, 1991), a general survey Aboriginal Art (Phaidon, 1998) and most recently Becoming Art: Exploring Cross-Cultural Categories (Berg, 2007). He has also produced a pioneering multimedia biography The Art of Narritjin Maymuru with Pip Deveson and Katie Hayne (ANU E Press,2005).
His involvement in e-research and in the development of museum exhibitions reflects his determination to make humanities research as accessible as possible to wider publics and to close the distance between the research process and research outcomes. His current research centres on the concept of the relational museum and the creation of virtual collections that recreate dispersed ethnographic collections as a whole. In 2008 he was one of the organising committee of the major CIHA conference in Melbourne - 'Crossing Cultures: Conflict, Migration, Convergence'.