WARNING: Visitors should be aware that this website includes images and names of deceased people that may cause sadness or distress to Aboriginal and Torres Strait Islander peoples.
---
Barks, Birds & Billabongs: Exploring the Legacy of the 1948 American-Australian Scientific Expedition to Arnhem Land. 16-20 November 2009.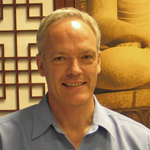 Dr Philip Jones
Senior Curator
Department of Anthropology
South Australian Museum
Abstract
Inside Mountford's tent: paint, politics and paperwork

Listen to the audio
Charles Mountford lacked formal credentials as an anthropologist or scientist, yet by 1946 he had been appointed as leader of the largest and most complex scientific expedition to visit remote Australia. His leadership was controversial from the outset; critics included some Expedition members, as well as members of Australia's emerging Sydney-based anthropological profession, who regarded him as another amateur of the 'Adelaide school'. More focused criticism of Mountford, then and now, tends to centre upon his commitment to collecting Aboriginal artworks during the course of the Expedition, and his subsequent independent decisions regarding the disbursement of this material to museums and art galleries.
My reassessment of Mountford's leadership will summarise his early career as an ethnographer and recorder of Aboriginal graphic art, and will analyse his relationship with the National Geographic Society sponsors and organisers of the Expedition, Expedition members and other relevant individuals such as AP Elkin. The paper will necessarily offer a defence of Mountford's credentials, motives and achievements, in spite of his flaws and shortcomings.
Mountford's role in enabling the Arnhem Land Expedition to take its final, expanded form, including nine Australian and American scientists, his generally competent and good-humoured handling of adverse circumstances threatening its viability, and his role both as author of the 500-page anthropology volume and as general editor of the complete four-volume expedition report, have been overlooked by historians. So also has the part Mountford played in advancing Aboriginal art and individual Aboriginal artists as central themes of enquiry during the expedition, eclipsing traditional considerations of field ethnography and archaeology that might otherwise have taken precedence.
It is ironic that this paradigm shift has been obscured by the subsequent success of Mountford's 'project': the widespread contemporary acceptance of Aboriginal art and its underlying principles.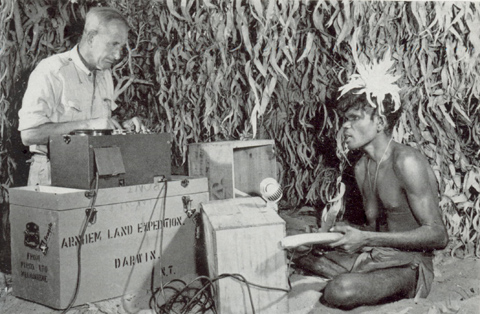 Biography
Philip Jones has worked as a curator at the South Australian Museum since the mid-1980s. During that time he has curated about 30 exhibitions dealing with Aboriginal art, history and material culture, anthropological and expeditionary history, and more recently, the ethnography and history of the Australia's 'Afghan' cameleers. He is a graduate in law and history from the University of Adelaide, where he also completed his doctorate in history. His PhD thesis was titled '"A box of native things": Ethnographic collectors and the South Australian Museum, 1830s – 1930s' (1996).
Since his appointment as curator in the Department of Anthropology in 1984, Philip has undertaken fieldwork in the Simpson Desert and Birdsville Track region, particularly in collaboration with linguist Dr Luise Hercus. As well as a series of publications dealing with the history and ethnography of the region, this fieldwork has involved a site-recording project with descendants of the Wangkangurru and Yarluyandi people of the region.
His particular interest in the provenance of artefacts and in the history and context of their collection underpins much of his exhibition research and writing. During 2007 he published Ochre and Rust: Artefacts and Encounters on Australian Frontiers (Wakefield Press), which won the 2008 Prime Minister's Literary Award for Non-Fiction. The book traces the paths artefacts follow, from their makers to their collectors, as a means of re-examining frontier history.
Philip Jones is currently engaged in an investigation of the respective roles of Francis Gillen and Baldwin Spencer in anthropological history, a history of the South Australian Museum, the social and economic contribution made by the 'Afghan' cameleers, a biography of the colonial artist George French Angas, and an analysis of the distribution and significance of red ochre. In his spare time he is rebuilding a ruined cottage in the South Australian mallee.

Note: The views expressed in speakers' abstracts are those of the individual contributors and do not necessarily reflect the views of the National Museum of Australia.