WARNING: Visitors should be aware that this website includes images and names of deceased people that may cause sadness or distress to Aboriginal and Torres Strait Islander peoples.
---
Barks, Birds & Billabongs: Exploring the Legacy of the 1948 American-Australian Scientific Expedition to Arnhem Land. 16-20 November 2009.
Dr Anne Clarke
Program Convenor, Heritage Studies
Department of Archaeology
School of Philosophical and Historical Inquiry
The University of Sydney
Ms Ursula Frederick
PhD Scholar
School of Art
The Australian National University
Abstract
Making a sea change: Rock art, archaeology and the enduring legacy of McCarthy's research on Groote Eylandt

Listen to the audio
Frederick McCarthy visited Groote Eylandt as a member of the 1948 American Australian Scientific Expedition to Arnhem Land. Whilst on Groote Eylandt he recorded over 2000 rock art motifs at three key site complexes (Chasm Island, Angoroko and Junduruna) and this body of work constitutes the most detailed recordings of Groote Eylandt rock art published to date. These recordings enabled McCarthy to provide detailed descriptions of the motifs and to propose a schema of stylistic changes in the art over time. His application of a systematic field methodology to record the art and his subsequent interpretations mark a definitive and important period in the development of rock art research in Australia.
In this paper we revisit McCarthy's research (his aims, methods and results) in relation to our own more recent recordings and analyses of rock art sites on Groote Eylandt. One aspect that sets our research apart from that of McCarthy is that we were able to excavate archaeological deposits at sites that contain extensive bodies of rock art which are located in areas not recorded in 1948. Unlike McCarthy, whose primary aim was to develop and apply a systematic field methodology and to understand the rock art sequence in relation to the prevailing cultural historical framework for Australian Indigenous archaeology, our research on Groote Eylandt has focused on understanding the production of rock art in the context of cross-cultural interaction and as an element of the ways in which Indigenous people represented their relationships to marine resources, seascapes and landscapes. In this paper we will present an analysis of the art and archaeology from one rock shelter site, Angwurrkburna, located in an area that McCarthy was not able to visit in 1948, to present new research that both builds on and departs from the findings of the 1948 Expedition.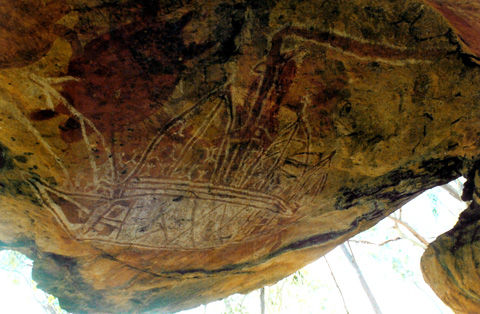 Biography
Annie (Anne) Clarke is a Lecturer in Heritage Studies in the School of Philosophical and Historical Inquiry at the University of Sydney. She has carried out archaeological research in the Northern Territory since 1982. Annie has held teaching appointments in archaeology and heritage management at Charles Sturt University and The Australian National University (ANU). She has also held post-doctoral research fellowships at the ANU at the North Australia Research Unit, Darwin, and in the Department of Archaeology and Anthropology, Canberra.
In one of her many previous academic lives she carried out a study of archaeo-botanical remains from rock shelters in Kakadu National Park for her Masters thesis (UWA). Her PhD, post-doctoral and ongoing research is concerned with the archaeology of cross-cultural interactions on Groote Eylandt. More recently and proudly she was part of the team of academics from the ANU involved in the Blue Mud Bay project which contributed to the successful Native Title claim by Yolngu clans for sea rights. She is currently involved in an ARC Linkage project entitled 'Producers and Collectors: Uncovering the Role of Indigenous Agency in the Formation of Museum Collections' with colleagues from the Australian and Macleay Museums. A session at the 2008 World Archaeology Congress in Dublin (co-organised with Sarah Byrne, Rodney Harrison and Robin Torrence) based around this research won the School for Advanced Research Prize in Anthropological Archaeology — a five day advanced research seminar at the SAR in Santa Fe, New Mexico. She is also embarking on a new ARC Linkage project based around Parkes, New South Wales, with Dr Gaynor Macdonald and Jillian Comber. Her co-edited volumes include The Archaeology of Difference: Negotiating Cross-cultural Engagements in Oceania with Robin Torrence, Tracking Knowledge in North Australian Landscapes: Studies in Indigenous and Settler Ecological Knowledge Systems with Debbie Rose and case-studies in cross-cultural archaeology, a special issue of Archaeology in Oceania with Alistair Paterson.

Ursula Frederick is an archaeologist with a special interest in art, archaeology, cross-cultural exchange and the contemporary past. Her expertise lies in the area of rock art research and visual arts. Her honours thesis (UWA) examined the ways in which Indigenous artists based at Cairns TAFE, Far North Queensland incorporated rock imagery into their contemporary art works. Her Masters thesis (ANU, 1997) was the first in-depth archaeological investigation of contact rock art undertaken in Australia and was based on an analysis of charcoal drawings in rock shelters in Watarrka National Park. In 1995 and 1996, Ursula carried out archaeological fieldwork with Dr Annie Clarke on Groote Eylandt, recording rock art sites with traditional owners and their families.
Ursula is currently enrolled in a PhD at the School of Art, and employed by the Research School of Humanities, Australian National University. She presents and publishes in the areas of art, archaeology, and visual culture research. Women Willing to Fight: Essays on the Fighting Woman in Film her first book, co-edited with Silke Andris, was published in 2008. The volume included an exploration of popular representations of archaeology through the character of Lara Croft, thus combining Ursula's interests in archaeology, visual media and popular culture. Ursula is currently finalising her next co-edited book, Cruising Country: Automobilities in Non-urban Australia and completing a special issue of Humanities Research.

Note: The views expressed in speakers' abstracts are those of the individual contributors and do not necessarily reflect the views of the National Museum of Australia.