WARNING: Visitors should be aware that this website includes images and names of deceased people that may cause sadness or distress to Aboriginal and Torres Strait Islander peoples.
---
Barks, Birds & Billabongs: Exploring the Legacy of the 1948 American-Australian Scientific Expedition to Arnhem Land. 16-20 November 2009.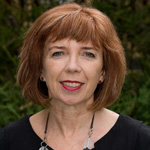 Professor Ann McGrath
Director, Australian Centre for Indigenous
History, Australian National University
Biography
Ann McGrath, inaugural Director of the Australian Centre for Indigenous History, has worked for many years in the field of Indigenous Australian history and the history of colonialism.
Her best-known publications are Born in the Cattle: Aborigines in Cattle Country (1987) and edited volumes such as Contested Ground: Australian Aborigines under the British Crown (1994) and (with Kay Saunders and Jacky Huggins) Aboriginal Workers (1995).
After working in Darwin and at Monash, she became a Lecturer in History at the University of New South Wales, where she worked as Associate Professor for many years before taking up a Senior Fellowship at the Centre for Cross-Cultural Research at the Australian National University. She was Program Director of Society & Nation at the National Museum of Australia during its opening years, 2000–02.
She has worked on a range of significant public enquiries and legal cases, including Northern Territory Land Claims, the Royal Commission into Aboriginal Deaths in Custody, the Human Rights and Equal Opportunity Commission and the Gunner & Cubillo case.
She was advisor to Hilton Cordell Productions for The Colony reality television series, and is working on several documentary projects with Ronin Films. She was executive producer of A Frontier Conversation (Ronin Film Distributors, 2006) and has published an article in Griffith Review titled 'Must Film Be Fiction?'
Her co-authored book with Ann Curthoys, How to Write History that People Want to Read has just been released by UNSW Press.