WARNING: Visitors should be aware that this website includes images and names of deceased people that may cause sadness or distress to Aboriginal and Torres Strait Islander peoples.
---
Barks, Birds & Billabongs: Exploring the Legacy of the 1948 American-Australian Scientific Expedition to Arnhem Land. 16-20 November 2009.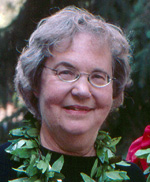 Adrienne L Kaeppler
Curator (Oceania), Department of Anthropology,
National Museum of Natural History
Smithsonian Institution
Abstract
Collecting Australia at the Smithsonian: 150 years and still going

Listen to the audio
The Smithsonian Institution Anthropology Department has 75 accessions that include objects from Australia. These begin with the United States Exploring Expedition of 1838 to 1842 with the last from 2009. Some of these accessions include only one piece, while others include a few hundred. While the largest collection is the Arnhem Land Expedition of more than 400 pieces, several other accessions include significant art and artifacts.
The paper will summarize the collection and display history of the Smithsonian Australian collections and present photographs of some of the artifacts.
Biography
Adrienne L Kaeppler is Curator of Oceanic Ethnology, including the Australian collections, at the Smithsonian Institution in Washington. Her research and publications focus on the interrelationships of social structure and the arts, especially poetry, music, dance, and the visual arts and has carried out extended fieldwork in Tonga, Hawaii, and other parts of Polynesia.
She is also a specialist on Cook's voyages and was the curator for the exhibition, James Cook and the Exploration of the Pacific, which opened in Bonn, Germany, on 28 August 2009. She wrote three of the essays and numerous object entries in the catalogue of the exhibition. Her latest book, The Pacific Arts of Polynesia and Micronesia, was published by Oxford University Press in 2008.
Note: The views expressed in speakers' abstracts are those of the individual contributors and do not necessarily reflect the views of the National Museum of Australia.