WARNING: Visitors should be aware that this website includes images and names of deceased people that may cause sadness or distress to Aboriginal and Torres Strait Islander peoples.
---
Public events
Barks, Birds & Billabongs: Exploring the Legacy of the 1948 American-Australian Scientific Expedition to Arnhem Land. 16-20 November 2009.


A number of public events took place in conjunction with the international symposium Barks, Birds & Billabongs: Exploring the legacy of the 1948 American-Australian Scientific Expedition to Arnhem Land.
Arnhem Land Expedition reunion
Sunday 15 November, 12 noon – 4.30pm
Peninsula Room, National Museum of Australia
The 1948 American–Australian Scientific Expedition to Arnhem Land was a significant event in the lives of many, particularly the Expeditioners and their families. For some it defined the rest of their careers and lives.
On the eve of its international symposium, Barks, Birds & Billabongs, the Museum hosted a reunion for Expedition members and Indigenous participants, their families and descendants. Notably, this reunion on Sunday 15 November 2009 — 61 years after the Arnhem Land Expedition took place — was attended by two of the surviving Expedition members: Emeritus Professor of Biology Raymond Louis Specht and cine-photographer Peter Bassett-Smith.
The reunion continued the tradition set by the Expeditioners themselves, who organised similar events to mark both the 25th and the 50th anniversaries of the Expedition in 1973 and 1998 respectively.
The 25th Arnhem Land Expedition reunion was held in Sydney on 10–11 March 1973, and was organised by Brian Billington and Raymond Specht. For the occasion, Ray collated a Song Book, which included all of the songs composed for and sung during the monthly dinners held by the Expedition members while in the field. Unfortunately, none of the American members of the Expedition were able to attend the 25th reunion.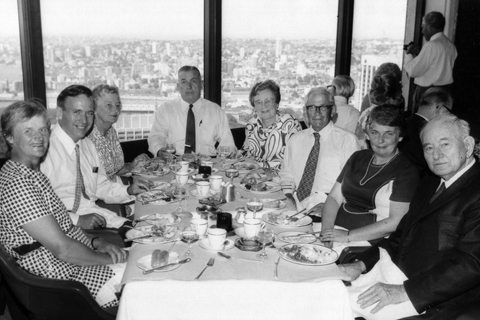 Brian Billington and Raymond Specht also organised the 50th Arnhem Land Expedition reunion, held in Sydney on 27–28 June 1998. Ray and his daughter, Alison Specht, edited a booklet titled, Personal Experiences on the 'Coast of Adventure' (in reference to the title of Charles Barrett's 1938 book on Arnhem Land), which outlined some of the experiences of the Expeditioners. Members of the Expedition (Howell Walker, Peter Bassett-Smith, Brian Billington, Robert Miller, Stuart James and Raymond Specht) attended with their families. Eric Jolliffe and Stuart James, who were associated with the Expedition, also attended with their families. During the reunion, anthropologist Donald Thomson's daughters, Elaine Temby and Louise Officer, presented accounts of Donald's experiences in Arnhem Land. Linguist Velma Leeding and teacher Carol Lentfer also presented tributes to the people of Umbakumba. John Moody contributed a written account of his experiences as the 'Flying Dentist' and ecologist Max Finlayson contributed an article on the management of the Blyth–Liverpool wetlands in Arnhem Land.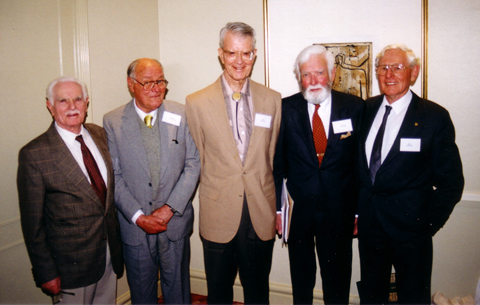 Highlights of the 61st anniversary reunion at the National Museum of Australia included the screening of archival film from the Expedition and the display of memorabilia brought along by reunion guests. The Museum was honoured to continue this proud tradition of Expedition reunions and to host our special guests so that they could share memories and stories of this significant moment in Australian history. With only two remaining Expedition members, the last direct living links to this historic event, it was fitting for this reunion be held at the keeping place for the nation's history.
Symposium launch and public lecture
Monday 16 November, 7–9pm
National Museum of Australia Hall
The symposium was officially launched by the Governor-General, Her Excellency Ms Quentin Bryce AC.
Professor Mick Dodson AM, 2009 Australian of the Year, gave a brief address reflecting on social change in Australia since 1948 from an Indigenous perspective.
This was followed by a public lecture on environmental and scientific change since 1948, delivered by ABC Radio National Science Show presenter, Robyn Williams AM.
Public lecture by Robyn Williams AM
Terra incognita no more?

Listen to the audio
It may be a surprise that the first major expedition to the Great Barrier Reef was in 1928–29. Just 80 years later we are still unsure whether we know enough about the Reef's ecology to save this gigantic icon from extinction. In 1988 professor Andrew Goudie from Oxford led an expedition to the Kimberley. Just 20 years ago this huge part of tropical Australia was still virtually unexplored biologically. Scores of new species were identified.
Since 1948, the year of the Arnhem Land Expedition, science has been totally transformed. Medicine became a truly scientific profession; molecular biology and genetics took off — largely as the result of the inspired leadership of Australian genius Lawrence Bragg; and the space age came to be. It is no coincidence that concern 'for the planet' followed the publication of the Earthrise photograph taken from Apollo 8 — our first view of the Blue Planet alone in a dark void; the first UN International Conference on the Environment followed soon after in 1972.
Our knowledge of Australia and of the Earth's ecology is impressive, but not enough to ensure we protect wildlife and wilderness soon enough to avoid the collapse of many ecosystems. I shall describe our progress and lament its shortcomings.
Robyn Williams AM
Science journalist, presenter and author
Robyn Williams is a science journalist and presenter of Radio National's Science Show (since 1975), Ockham's Razor and In Conversation. A fascinating and engaging presenter, he infuses his presentations with wit and humour — and has the enviable ability to make science interesting and fascinating for almost anyone.
Robyn Williams is as prominent on radio as he is on television, having narrated programs such as Nature of Australia, and Catalyst, and appeared on World Safari with David Attenborough.
He has conducted countless interviews with scientists for ABC TV and he hosted a link between leading scientists of Australia and the United Kingdom at the 'Grand Launch for the Royal Institution of Great Britain', attended by David Attenborough and the Queen.
Robyn Williams is highly respected in the academic world. In 1993 he was the first journalist elected as a Fellow of the Australian Academy of Science. In 1988, he received an Honorary Doctorate in Science from the Universities of Sydney, Macquarie and Deakin. The ANU awarded him a Doctorate of Law, and he is a Visiting Professor at the University of NSW and an Adjunct Professor at the University of Queensland.
Robyn Williams was appointed AM in the 1988 Australian Bicentenary Honours list. He was elected a National Living Treasure by the National Trust in 1987 and even has a star named after him by the Sydney Observatory. Robyn has served in various positions including President of the Australian Museum Trust, Deputy Chairman of the Commission For The Future, and President of The ANZAAS Congress. He is an Ambassador of the Queensland Museum Foundation.
Robyn Williams has written over 10 books, three of which are on the Higher School Certificate reading list. In 1994, Robyn Williams took up a Reuters Fellowship at Oxford University where he wrote his autobiography And Now For Something Completely Different, in deference to one of his most popular interviews with John Cleese on psychiatry. His book, Future Perfect, focuses on cities, transport, communication, education and science.
Although Robyn Williams graduated with a Bachelor of Science (Honours) in England, he admits to having spent as much time acting as he has studying. Early in his career he made guest appearances in The Goodies, Monty Python's Flying Circus and Dr Who and stood in for Tom Jones for four months in his TV series.
A superb communicator whose penetrating interpretations are enhanced by a lively wit, Robyn's unique mix of humour and fact is both stimulating and entertaining.
Arrangements for Robyn's appearance were made with Celebrity Speakers www.celebrityspeakers.com.au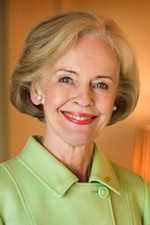 Her Excellency Ms Quentin Bryce AC
Governor-General of the Commonwealth of Australia
Born in Brisbane in 1942, Quentin Bryce graduated in 1965 with the degrees of Bachelor of Arts and Bachelor of Laws from the University of Queensland and, in the same year, was admitted to the Queensland Bar.
She has since enjoyed a rich and distinguished career as an academic, lawyer, community and human rights advocate, senior public officer, university college principal, and vice-regal representative in Queensland, and now Australia.
Ms Bryce's former roles — some, among firsts for women in this country — include:
Lecturer and Tutor in Law, University of Queensland, 1968–1983
Convenor, National Women's Advisory Council, 1982–1984
Inaugural Director, Queensland Women's Information Service, Office of the Status of Women, Department of the Prime Minister and Cabinet, 1984–1987
Director, Human Rights and Equal Opportunity Commission, Queensland, 1987–1988
Federal Sex Discrimination Commissioner, Human Rights and Equal Opportunity Commission, 1988–1993
Founding Chair and CEO, National Childcare Accreditation Council, 1993–1996
Principal and CEO, The Women's College, University of Sydney, 1997–2003
Governor of Queensland, 2003–2008
Ms Bryce's contribution to advancing human rights and equality, the rights of women and children, and the welfare of the family was recognised in her appointment as an Officer of the Order of Australia in 1988 and a Companion of the Order of Australia in 2003. Also in 2003, she was invested as a Dame of Grace of the Most Venerable Order of the Hospital of St John of Jerusalem.
Ms Bryce was awarded an Honorary Doctorate of Laws by Macquarie University (New South Wales) in 1998, an Honorary Doctorate of Letters by Charles Sturt University (New South Wales) in 2002, and an Honorary Doctorate of Laws by the University of Queensland in 2006. She was conferred with the degrees of Honorary Doctor of the University by Griffith University (Queensland) in 2003, and Queensland University of Technology in 2004.
On 5 September 2008 Quentin Bryce was sworn in as Australia's 25th Governor-General. As the first woman to take up the office, she remains a pioneer in contemporary Australian society, and yet one who brings more than 40 years of experience in reform, community building and leadership to the role.
A selective record of Ms Bryce's career and professional and community service is available online at www.gg.gov.au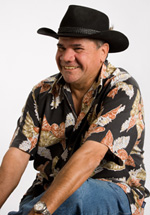 Professor Mick Dodson AM
Australian of the Year 2009
Director, National Centre for Indigenous Studies, Australian National University
Professor Mick Dodson is a member of the Yawuru peoples, the traditional Aboriginal owners of land and waters in the Broome area of the southern Kimberley region of Western Australia. He is currently Director of the National Centre for Indigenous Studies at the Australian National University. He is a Professor of Law at the ANU College of Law.
Professor Dodson is also currently a Director of Dodson, Bauman & Associates Pty Ltd – Legal & Anthropological Consultants. He is a former Director of the Indigenous Law Centre at the University of New South Wales, Kensington.
Mick Dodson was Australia's first Aboriginal and Torres Strait Islander Social Justice Commissioner with the Human Rights and Equal Opportunity Commission. He served as Commissioner from April 1993 to January 1998. Born in Katherine, Northern Territory, Mick was educated in Katherine, Darwin and Victoria. He completed a Bachelor of Jurisprudence and a Bachelor of Laws at Monash University. He was awarded an Honorary Doctor of Letters from the University of Technology Sydney in 1998.
He also holds an Honorary Doctor of Laws from the University of New South Wales. He worked with the Victorian Aboriginal Legal Service from 1976 to 1981, when he became a barrister at the Victorian Bar. He joined the Northern Land Council as Senior Legal Adviser in 1984 and became Director of the Council in 1990.
From August 1988 to October 1990 Mick was Counsel assisting the Royal Commission into Aboriginal Deaths in Custody. He has been a member of the Victorian Equal Opportunity Advisory Council and secretary of the North Australian Legal Aid Service. He is a member and the current Chairman of the Australian Institute of Aboriginal and Torres Strait Islander Studies. He is the former Chairman of the National Aboriginal Youth Law Centre Advisory Board. He is a former member of the National Children's & Youth Centre Board and is a former member of the Advisory panels of the Rob Riley and Koowarta Scholarships. Mick is presently a member of the Publications Committee for the University of New South Wales Indigenous Law Reporter. He is a member of the New South Wales Judicial Commission and a former special commissioner with the Western Australian Law Reform Commission. He is a board member and Co-Chair of Reconciliation Australia and a board member of the Lingiari Foundation. He was a founding member and chairman of the Australian Indigenous Leadership Centre. He is a member of the Advisory Council to the National Archives of Australia and a member of the Advisory Committee to the National Centre for Child Protection.
Mick Dodson has been a prominent advocate on land rights and other issues affecting Aboriginal and Torres Strait Islander peoples.
Mick is a vigorous advocate of the rights and interests of the Indigenous Peoples of the world. He was the Co-Deputy Chair of the Technical Committee for the 1993 International Year of the World's Indigenous People. He was also chairman of the United Nations Advisory Group for the Voluntary Fund for the Decade of Indigenous Peoples. He served for five years as a member of the Board of Trustees of the United Nations Indigenous Voluntary Fund. In January 2005, he took up a three-year appointment as a member of the United Nations Permanent Forum on Indigenous Issues. He was recently reappointed for a further three years to December 2010.
Mick participated in the crafting of the text of the Declaration on the Rights of Indigenous Peoples in the United Nation Working Group on Indigenous Populations and the Inter-sessional Working Group of the Human Rights Commission, which was adopted overwhelmingly in 2007 by the United Nations General Assembly.
In 2009 Mick Dodson was named Australian of the Year by the National Australia Day Council.
Manikay performance and the 'American clever man'
Manikay performance
Tuesday 17 November, 8–10pm
National Museum of Australia Hall
Currents from a Distant Shore: Birrkili Yolngu Songs of Makassan Contact in Northeast Arnhem Land
Djangirrawuy Garawirrtja (director, voice/bilma)
Dr Neparrnga Gumbula (voice/bilma)
Djombala Dhamarrandji (yidaki)
Bakpirr Garawirrtja (dance)
Manimawuy Dhamarrandji (dance)
Dr Aaron Corn (producer, design)
This presentation traced the Yolngu history of foreign contact in northeast Arnhem Land from the Indonesian seaport of Makassar to the soft sandy shores of Lunggutja in Arnhem Bay. This is the enigmatic bone-country of the Birrkili Yolngu, where the safe harbour of Lalangura beach was marked by the Birrkili Blue Flag.
The traditional Yolngu Manikay series for Lunggutja documents this extraordinary history and the rules of engagement that the Birrkili observed in their dealings with the Makassans. Passages from this Manikay series were performed against a projected backdrop of striking images taken at Lunggutja. They drifted from the beaches with the sea wasp and the coconut to the abundant waters of Mungurru, where the Birrkili paddle out to hunt turtle. The notoriously cryptic nature of Manikay lyrics, and the ways that they document such histories was also explored.
The Manikay tradition is an experiential medium of being and knowing that must be understood in terms of its own inner logic. It reflects an intimate Yolngu understanding of country, ecology, history and their sacred ancestral resonances. The tradition remains essential to the ongoing maintenance of Yolngu law, history and identity in the contemporary world.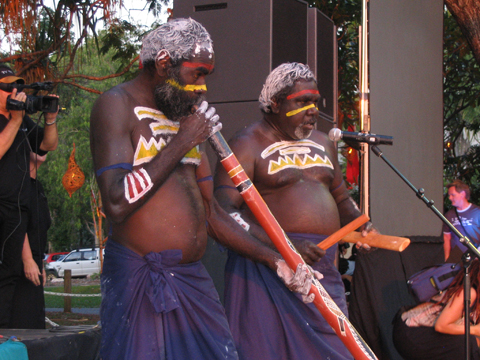 The 'American clever man' - Indigenous perspectives

This presentation turns the tables on what happened in Arnhem Land in 1948. Two engaging contemporary interviews with people from Croker Island in Arnhem Land illuminate how aspects of the American-Australian Scientific Expedition were interpreted at the time and how these interpretations have developed via oral transmission over the intervening sixty years.
Dave Johnson's solo activities during the Expedition are the focus of these oral histories. Working as the Expedition mammologist, Johnson was put ashore at the lighthouse settlement of Cape Don at the western tip of Cobourg Peninsula on 18 September 1948. He spent three weeks there collecting specimens and sending them to Darwin via supply boat. On 8 October, Johnson set off for Oenpelli (now Gunbalanya), alone and on foot. Twelve days later he reached his destination.
As remembered by colleague and fellow Expedition team member Raymond Louis Specht, Johnson was 'a quiet "American back-wood's-man", a loner', as well as 'a remarkable shot, bringing down bats as they flitted by at night'.
The local Indigenous version of Johnson's time at Cape Don and his solo walk to Oenpelli includes many elements not recorded by Johnson himself, including an encounter with a yumbarrbarr 'giant' at Port Essington on Cobourg Peninsula and, more remarkably, an encounter with the spirit of the man Marrarna, whose remains lay in a cave at Dilkbany, a dangerous kuyak 'sickness' site north of Oenpelli. According to this story, Johnson places Marrarna's spirit in a bag when at Dilkbany and secretly takes him back to America where he is brought back to life in the form of a strong young man.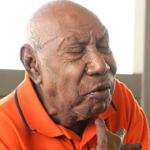 Stories were recounted in two interviews by Croker Island people with a direct connection to the Johnson stories.
David 'Cookie' Minyimak's father, master canoe maker Buckley Darrarndarra, provided Johnson with transport for his local collecting trips in the canoe Yinbi.
Archie Brown, a grandson of Marrarna, explains how the news of his grandfather's resurrection in the United States reached the community of Minjilang on Croker Island many years later and described the impact it made.
The story of the 'American Clever Man' demonstrates that the activities of the 1948 Expedition were themselves the object of study for Indigenous people of the area, exposing the fact that observation and analysis during the course of the Expedition were inevitably reciprocal in nature, as a result of the interaction of two distinct cultural perspectives.
The Indigenous understanding of Johnson was informed by observations of his highly developed skills as a hunter and taxidermist, his readiness to walk alone in the bush at night collecting specimens, his apparent immaculate appearance on emerging from these nocturnal trips and his ability to walk unaided from Cape Don to Oenpelli at a time when no road existed. In the Indigenous context, Johnson clearly possessed many of the attributes of the marrkijbu 'clever man' or 'shaman', one with extraordinary powers and understandings, both benevolent and malevolent, as demonstrated by his apparent ability to manipulate and interact with aspects of both the natural and supernatural realms.
These fascinating and enlightening oral histories were presented by Bruce Birch.
Bruce Birch
Visiting Fellow in Linguistics, Research School of Pacific and Asian Studies, The Australian National University and Principal field linguist, Iwaidja Documentation Project.
Bruce Birch is an anthropological linguist who has been based in the Cobourg region of northwestern Arnhem Land for the past six years, and is currently a Departmental Visitor in Linguistics at RSPAS, ANU. Bruce originally moved to the community of Minjilang on Croker Island to take up a position as principal field linguist for the DoBeS funded Iwaidja Documentation Project in 2003. As a result of this project, which has recently received funding for a second phase, Iwaidja now has the largest online archive of annotated video and audio texts of any Australian Indigenous language.
Bruce has initiated and consulted on a number of projects in the area of indigenous ecological knowledge, particularly marine knowledge, and is also consulting linguist for the Minjilang based Iwaidja Inyman, a project committed to the publication and maintenance of the Iwaidja language and associated cultural knowledge, initiated and coordinated by partner Sabine Hoeng.
Symposium dinner
Wednesday 18 November, 7.30–10pm
The Hall, National Museum of Australia
Celebrated actor and museum patron Jack Thompson entertained and informed delegates at the symposium dinner. He surprised guests with personal stories about the legendary Territorian Bill Harney, who was a colourful character on the 1948 Arnhem Land Expedition. They share a little-known family past. Thompson told stories about his long association with Aboriginal people and communities in Arnhem Land. Guests were transported to the Arnhem Land of 1948 with a soundscape of recordings made during the Expedition, archival images on the Museum's optawave screen, a rendition of the Arnhem Land Symphony inspired by the Expedition and a welcome performance by a Yolngu didgeridu player and songman.
Jack Thompson AM
Actor and Museum patron
One of Australia's most loved and respected actors, Jack has appeared in numerous Australian and American films including Wake In Fright in 1969, the classic Sunday Too Far Away in 1975, Breaker Morant in 1980, for which he won an award at both the AFI awards and the Cannes International Film Festival, The Sum of Us, Midnight in the Garden of Good and Evil, Star Wars – Episode II, The Assassination of Richard Nixon, December Boys, The Good German, Leatherheads, Australia, and most recently Mao's Last Dancer.
In 1986 Jack was awarded Membership of the Order of Australia for his services to the Australian film industry. Jack is a Goodwill Ambassador for the UNHCR, an ex-director of the Film Finance Corporation and a Life Member of the Stockman's Hall of Fame. Jack is also a foundation member of the Council for the National Museum of Australia.
Charles Mountford's Movies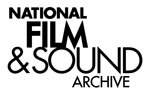 Thursday 19 November, 6-7pm
National Film and Sound Archive
Unclassified 18+
Australia, 1938–1952, entire program 55 minutes
On the occasion of the Barks, Birds & Billabongs international symposium, the National Film and Sound Archive looked into its Collection and the filmmaking career of the renowned Australian ethnographer Charles P Mountford.
A short introductory talk by Dr Darryl McIntyre, Chief Executive Officer of the NFSA, preceded the film program.