WARNING: Visitors should be aware that this website includes images and names of deceased people that may cause sadness or distress to Aboriginal and Torres Strait Islander peoples.
---
Politics of Repatriation panel
Barks, Birds & Billabongs: Exploring the Legacy of the 1948 American-Australian Scientific Expedition to Arnhem Land. 16-20 November 2009.
The collection and return of human remains and cultural materials
Symposium Day 2, Wednesday 18 November, 2.30–3.30pm
This panel focused on secret-sacred objects and human skeletal remains collected during the Arnhem Land Expedition. While the histories, personalities and material culture collected during the Expedition were widely discussed throughout the symposium, this particular panel provided a space for discussion of the history and legacy of the secret-sacred objects and human skeletal remains acquired in 1948.
Most of the ethnographic objects collected in 1948 were produced for trade and are, therefore, symbols of empowered communities seizing the opportunity to exchange with the visitors. Other items have different stories to tell.

Right: The delegation sent to Washington DC in 2008 for the handover of two-thirds of the human skeletal remains taken during the 1948 Arnhem Land Expedition held by the Smithsonian Institution.
The delegation stands outside the Australian Embassy in Washington DC, where the handover took place.
Left to right: Donald Gumurdul, Joaz Wuramara, Alfred Nayinggul, Thomas Amagula. Photo: Sally K May.
This panel included representatives from the different Aboriginal communities visited in 1948 and others who have been involved in the return of Arnhem Land Expedition materials in recent years. Panel members included: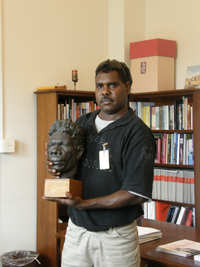 Alfred Nayinggul, Traditional Owner, Gunbalanya (Oenpelli).
Wilfred Nawirridj, President, Injalak Arts and Crafts, Gunbalanya (Oenpelli).
Thomas Amagula, Groote Eylandt.
Wukun Wanambi, Cultural Director, Mulka Project, Yirrkala.
Dr Joe Neparrnga Gumbula, Elcho Island (Galiwinku) and Milingimbi.
Anthony Murphy, Director, Injalak Arts and Crafts Centre, Gunbalanya (Oenpelli).
Dr Sally K May, Australian National University.
Representatives from the Department of Families, Housing, Community Services and Indigenous Affairs.
Above right: Thomas Amagula from Groote Eylandt holding a bronze head of his 'Grandfather' Kumbiala, held at the Smithsonian Institution, Washington DC. The head is based on a cast made by Frank Setzler, an archaeologist from the Smithsonian on the Arnhem Land Expedition. Photo: Sally K May, 2008.