Sound and vision
Video and audio highlights from the National Museum's People and the Environment program, including collection stories, forums and events.
Silent Conversation, by Harrie Fasher, 2014
Artist Harrie Fasher describes the process involved in creating her steel rod sculpture Silent Conversation as part of the development of the Spirited: Australia's Horse Story exhibition.
Ron Lashbrook's 1950s home movies from Collingullie
Ron Lashbrook grew up on a wheat and sheep farm near Collingullie, in New South wales. In the 1950s he captured images of large tennis parties at Collingullie and nearby Belfrayden. In later decades, a relentless economic dynamic of ever-increasing farm sizes and the use of ever larger machines drew people away from the farmlands of southern Australia. Today, the once raucous tennis courts at Belfrayden have vanished beneath the grasses of a quiet paddock.
The art of Jenny Pollak: engaging the natural world
Australian sculptor Jenny Pollak explains the intriguing process behind researching and creating her artwork New World Order – Terra Australis.
This work considers the impact of rabbits on the Australian landscape and psyche and is part of the National Museum's collection. Recorded at the artist's home studio in the Pittwater area of northern Sydney, 2013.
Produced by Jono Lineen, Assistant Curator, and Jeremy Lucas, Multimedia Producer, National Museum of Australia.
Critical Undercurrents – a One River symposium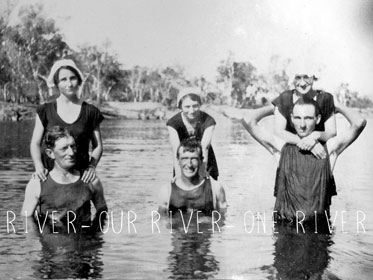 Share the stories of people, politics and creative projects from the Murray-Darling Basin, in this One River Centenary of Canberra symposium, developed in partnership with the National Museum of Australia, and recorded at the Museum on 25 August 2013.
One River involved artists working with local communities on a range of creative projects across the Murray-Darling Basin. Speakers include Kim Chalmers, Daniel Connell, Vic McEwan, Malcolm McKinnon, Sarah Moles, Major Sumner, Carmel Wallace and Kirsten Wehner.

One River audio on demand
Award-winning urban farmers
Contemporary urban producers Melissa Dede, Chris Hunter and Brett King share advice on growing award-winning produce. Includes tips and techniques and an exploration of the ways gardeners understand and practise food production. Recorded at the National Museum on 10 October 2013, to coincide with Floriade.

Award-winning urban farmers audio
'Part of the feast': The life and work of Val Plumwood
A celebration of the life and legacy of environmental philosopher Val Plumwood, recorded at the National Museum on 7 May 2013.
Features ABC broadcaster Gregg Borschmann, anthropologist Deborah Bird Rose, editor Lorraine Shannon, curator George Main and crocodile expert Grahame Webb.

Val Plumwood forum audio on demand and transcript
The National Museum's collection includes a canoe which was being paddled by Plumwood when she was attacked by a crocodile in Kakadu National Park in 1985.
Giant of the outback. A windmill from Kenya station
Third generation grazier John Seccombe outlines the history of a Simplex windmill which stood on his family's grazing property, near Muttaburra in central Queensland for more than 80 years.
The windmill is now part of the National Museum's collection and the upper section is on show in the Landmarks gallery.
The Lost Art of Stratigraphy: Part 1
The first in an eight-part series from desert archaeologist Dr Mike Smith on sediments, layers and the stratigraphy of archaeological sites.
The aim of the series is to get you thinking stratigraphically - beginning with sediments, then moving on to look at layers, interfaces and features, and finishing with the processes that overprint or reorganise the original stratigraphy of a site. No sophisticated instruments are needed.