Jono Lineen, Assistant Curator
By Jono Lineen
06 Nov 2013
Huge thanks to the year seven students and teachers at Burgmann Anglican School for inviting me to talk to them...
About Jono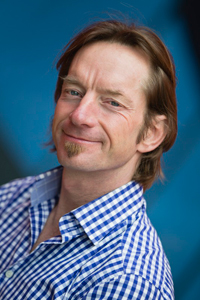 Before coming to the National Museum of Australia in 2009 I had worked as a commercial fisherman across the north Pacific, in the forest industry in Canada, in geological exploration in the Yukon territory, as a baker, a mountain guide in the Himalayas, a full-time ski racer, a project manager for medical developments in war zones in West Africa and South Asia, and as a journalist, teacher and anthropological researcher.
My experience is varied but my passion and academic background is with landscape and people's connection to it. My research and books have focused on mountains, rivers and forests and how these settings shape the people living with them and how in turn those environments are changed by humankind.
Contact
Email jonathan.lineen@nma.gov.au
Tel +61 2 6208 5069
Exhibitions
Torres Strait Islander gallery, National Museum exhibition gallery changeover, 2014 (forthcoming). Role: curator.
Online features
Rabbits in Australia: grey invasion, rabbits, people and a changing environment, National Museum online collection project, 2013 (forthcoming). Role: research and writing.
Publications
Into the Heart of the Himalayas, Melbourne University Press, Carlton, 2014 (forthcoming).
Walking the Earth's Spine, Pottersfield Press, Nova Scotia, 2012.
A River Trilogy, Pottersfield Press, Nova Scotia, 2001.
Articles
'Culture through time', The Museum, no. 5, Mar-Aug 2014.