George Main, Curator
By George Main
21 May 2017
On Thursday morning, as my plane taxied across the tarmac of Canberra airport, thirsty jet engines warming themselves for the flight north, I began reading...
About George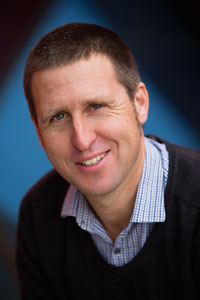 I joined the National Museum of Australia in 1999, to help develop the Museum's first environmental history gallery on Acton Peninsula in Canberra.
As a curator and an environmental historian, I'm particularly interested in the cultural and historical foundations of the dramatic changes to Australian ecologies and climate associated with colonisation and industrial development.
My work explores the capacities of ecological ways of understanding and engaging with land and materiality to bolster the strength and wellbeing of places, people and other species.
Exhibitions
Landmarks: People and Places across Australia, permanent exhibition gallery at the National Museum, 2011-present.
Tangled Destinies, original permanent exhibition gallery at the National Museum, 2001.
Online and digital features
The Paddock Report online feature, yearly reports on a paddock near Narrandera in southern New South Wales, from November 2012.
The Waterhole Project research blog, considering a global issue in local terms, by looking at a waterhole at Combaning, near Temora in southern New South Wales, from January 2010 to September 2011.
Pass the Salt, online feature exploring places, objects and stories about salinity in the Wagga region of New South Wales.
Publications
'Turbulence - a note from Scottsdale' in John Reid and George Main (eds), Scottsdale, Australian National University School of Art, Canberra 2007.
'Pinchgut Creek', Australian Humanities Review, issue 39-40, September 2006.
Heartland: the regeneration of rural place, UNSW Press, Sydney, 2005.
'Red Steers and White Death: fearing nature in rural Australia', Australian Humanities Review, issue 33, August-October 2004.
'Pathways', in Mandy Martin (ed.), Land$cape: Gold & Water, Land and Water Australia, Canberra, 2003.
Gunderbooka: A 'Stone Country' Story, Resource Policy & Management, Kingston, Canberra, 2000.
Of Beauty Rich and Rare: Fifty Years of CSIRO Wildlife and Ecology, CSIRO Wildlife and Ecology, Canberra, 1999.