Daniel Oakman, Senior Curator
About Daniel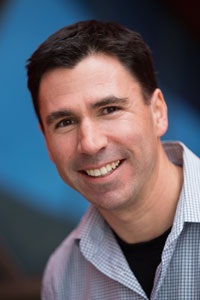 I joined the National Museum of Australia as a curator 2004, following a few years working as a researcher and historian for the Australian War Memorial and the Department of Foreign Affairs and Trade.
One of my first projects at the National Museum was to develop an exhibit around the impact of the motor car in Australia and the symbolism of the early model Holden cars.
In my current role, I'm responsible for managing the Landmarks: People and Places across Australia gallery.
I have a strong interest in histories of movement and human-powered transportation. I am working on building the Museum's cycling-related collections, as well as putting together a travelling exhibition on the experience of cycling in Australia since the 19th century. I'm particularly interested in the ways the bicycle revolutionised the perception of the Australian landscape and changed understandings of human power and endurance. I also have a long-standing interest in the life of the cyclist and politician Sir Hubert Opperman.
Educational qualifications
Doctor of Philosophy (History), Australian National University, Research School of Pacific and Asian Studies, (Thesis: Facing Asia: Australia and the Colombo Plan), 2003.
Master of Arts (Public History), Monash University, 1995.
Bachelor of Arts (Hons), Monash University, 1993.
Exhibitions and films
Freewheeling: Cycling in Australia, new National Museum travelling exhibition on the role the bicycle has played in the lives of Australians since the late 19th century, opening in 2014. Role: lead curator.
Australian History Mysteries: Myths and Mysteries of the Crossing of the Blue Mountains, DVD education resource, 2012. Role: script advice and presentation.
Landmarks: People and Places across Australia, permanent exhibition gallery at the National Museum, 2007-11. Role: curator, content development, program management and delivery.
'Holden: Australias own car', exhibition module produced for the National Museum's Nation gallery, 2006. Role: curator.
Nation: Symbols of Australia, ongoing content development and management of permanent exhibition gallery, 2004-06.
Online features
'No.3 Lanham Street'. Short-animated film produced for the Landmarks gallery and the National Museum website, 2012. Role: curator, content development and direction.
Publications
'The Human Motor: Hubert Opperman and endurance cycling in interwar Australia', Australian Historical Studies, (forthcoming: July 2015)
'Freewheeling: Cycling in Australia', The Museum magazine, issue 6, September 2014 – March 2015, pp. 4-9.
'Coach Nelson', in Bill Gammage, Brij Lal, Gavan Daws (eds), The Boy from Boort: Remembering Hank Nelson, (Canberra: ANU Press, 2014).
Landmarks: A history of Australia in 33 places, National Museum of Australia Press, Canberra, 2013 (co-editor with Martha Sear and Kirsten Wehner).
'Student Sojourners: Museums and the transnational lives of international students', National Identities, vol. 14, no. 4, December 2010, pp. 397-412.
Facing Asia: a history of the Colombo Plan, Pandanus Books, Canberra, 2004. Shortlisted for NSW Premier's History Awards, 2005.
'Australia and Southeast Asia', in Southeast Asia: a historical encyclopedia from Angkor Wat to East Timor, ABC-CLIO, Santa Barbara, Ooi Keat Gin (ed), 2004.
'The Politics of Foreign Aid: Counter Subversion and the Colombo Plan', Pacifica Review, Security and Global Change, vol. 13, no. 3, October 2001, pp. 255-72.
'Castlecrag in the National Museum', Walter Burley Griffin Society News, no. 46, August 2007, pp. 2-3.
'Australia's own car', Captivating and Curious: celebrating the collection of the National Museum of Australia, National Museum of Australia Press, Canberra, 2005, pp. 72-73.
'The Canberra air disaster', Wartime: official magazine of the Australian War Memorial, no. 33, December 2005, pp. 14-17.