Catriona Donnelly, Assistant Curator
By Catriona Donnelly
24 May 2017
On Saturday 29th April, the village of Picton came alive with the annual IlluminARTe Wollondilly Festival. The festival had a...
About Catriona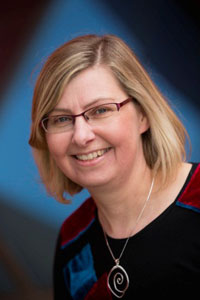 I joined the National Museum of Australia in 2009, and have worked in the visitor services, conservation and curatorial teams.
I became a member of the People and the Environment curatorial team in July 2012 and have been developing new exhibits for the 'Colonial Foundations' module of the Landmarks gallery. My collections work to date has included the Ivy Lovric collection, featuring the Aunty Ivy 'Life. Be in it' posters.
Prior to joining the Museum, I ran my own graphic design business specialising in corporate identity, publications, environmental design and interpretive signage. I have worked on design projects for the Australian National Botanic Gardens, Greening Australia and the Murray-Darling Basin Commission. My early design work included projects for the Adelaide Festival of the Arts and the Contemporary Art Centre of South Australia.
Exhibitions and interpretive signage
Landmarks: People and Places across Australia, 'Melbourne panorama' and 'Antill' exhibits for the National Museum permanent exhibition gallery, 2013. Role: assistant curator.
'Phonographs & Photographs, Theo Cooper, Queanbeyan entrepreneur', exhibit at the Queanbeyan Museum, 2009. Roles: co-researcher, co-curator, co-author and designer.
Orroral Valley Heritage Walk. Design of outdoor interpretive signage at the site of the Orroral Homestead and the former Orroral Valley Space Tracking Station, near Canberra, 2009. Role: graphic designer.
Interpretive signage for walks on Canberra's Mount Ainslie and Black Mountain, 2008. Role: graphic designer.
Namadgi National Park signage and visitor centre after hours shelter, 2002. Roles: graphic designer and project manager, in conjunction with an architect.
Tidbinbilla Nature Reserve education centre, large photographic montage panels illustrating the history and biology of the area, 2000. Role: graphic designer.
Publications
'Aunty Ivy's 'Life. Be In It.' poster', The Museum magazine, issue 4, Sep-Mar, 2013, pp. 36-37.
Publication design
Number one: a history of Tip Top Bakeries in Australia, PF Donovan, George Weston Foods, Chatswood, Sydney, 2002.
Royal Canberra Golf Club: the first seventy-five years, 1926-2001, Royal Canberra Golf Club, Canberra, 2001.
Bunyips: Australia's folklore of fear, R Holden and N Holden, National Library of Australia, Canberra, 2001.
Lights! Water! - ACTEW!: a history of ACTEW and its predecessors, PF Donovan, ACTEW Corporation, Canberra, 1999.