Collection reflections
The National Museum of Australia is inviting writers and artists to look closely at our collections to produce essays and artworks that suggest new ways of understanding Australia, other species, and ourselves.
Genetically modified food and farming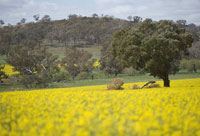 Bethaney Turner is a researcher who explores relationships between people and food, from community gardens to global debates about food security.
We invited Bethaney to reflect on objects from the National Museum's collection that are associated with the relatively recent introduction of genetically modified canola varieties into Australian farming systems.
Read Bethaney Turner's essay 'Reflections on a new technology'