Collection reflections
The National Museum of Australia is inviting writers and artists to look closely at our collections to produce essays and artworks that suggest new ways of understanding Australia, other species, and ourselves.
Cat skin rug and thylacine pelt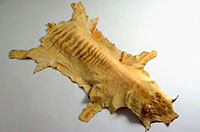 Amanda Stuart is a visual artist interested in the fraught relations that sometimes emerge in Australia between people and other animal species.
As an artist-in-residence at the National Museum, Amanda produced a series of artworks in response to a cat skin rug made in the early 1940s and the tanned pelt of a thylacine shot in Tasmania, both from the Museum's collection.
Cowey photographic collection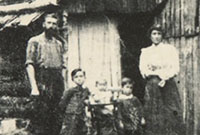 Kate Rigby is a scholar who explores the changing ways people have imagined and engaged with the living world.
We invited Kate to respond to the Robert Orlando Cowey collection of photographs, taken more than a century ago on her home turf at The Patch in the forested Dandenong Ranges, near Melbourne.
Sugarbag bark paintings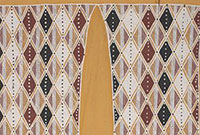 Natasha Fijn is a researcher who explores rich connections between people and culturally significant animals.
We invited Natasha to examine two bark paintings from the National Museum's collection to reflect on the cultural and ecological significance of sugarbag – the stingless bees, eucalypts, flowers, pollen and fire which are so important to the Aboriginal people of Arnhem Land.
Genetically modified food and farming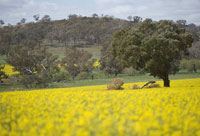 Bethaney Turner is a researcher who explores relationships between people and food, from community gardens to global debates about food security.
We invited Bethaney to reflect on objects from the National Museum's collection that are associated with the relatively recent introduction of genetically modified canola varieties into Australian farming systems.