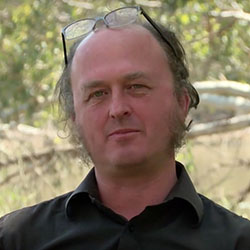 Vic McEwan
Artist-in-residence 2015
Vic McEwan undertook a 12-month residency at the National Museum of Australia as the inaugural recipient of the Arts New South Wales Regional Fellowship.
Vic worked with the Museum's National Historical Collection, exploring relationships between people and places in a series of three new multimedia installations, alongside other creative experiments.
This program was supported by Arts NSW and Hotel Hotel.
Haunting
Haunting is the major artistic outcome of Vic's residency at the National Museum. Projected images were blended with air, smoke, fog and water to reveal how the past stretches through place into our present.
In this video, Vic and curator George Main talk about the performance and its development. Duration: 10:48.
Set on the banks of the Murrumbidgee River in spring 2015, Haunting featured photographs of objects from the National Museum's collection, and from other collections, that record the profound social and ecological changes that came with agricultural development in southern Australia.
Paddle Steamer Enterprise
Vic's first performance at the National Museum was on board the Paddle Steamer Enterprise, as part of the By the Water concert at the Enlighten festival on 28 February 2015. Duration: 11:26.
Tunnel of Anatomy
Vic also created an interactive installation that enabled encounters with intriguing and sometimes disturbing animal specimens from the Australian Institute of Anatomy collection.
The Tunnel of Anatomy was part of our Night at the Museum event in July 2015. It raised questions about human relationships with other animals. How do we connect to dismembered specimens in a jar? Where did the animals sit in the human and other animal hierarchy before they became specimens? Where do they sit now? Are we still able to share a glance, to make a connection?
Biography
Vic McEwan is artistic director of the Cad Factory, an innovative arts organisation based in regional New South Wales. He explores experimental and contemporary arts practice in partnership with diverse community sectors. Vic was the recipient of the Inaugural Arts NSW Regional Fellowship 2014–16.
Vic works with sound, video, installation and performance and is particularly interested in site-specific work. He creates new dynamics by working with diverse partners and exploring difficult themes within the lived experience of communities and localities.
Vic aims to contribute to and enrich broader conversations about the role that the arts sector can play within our communities. He sits on the inaugural NSW and ACT Arts and Health State Leadership Group and is on the board of Music NSW.
View a sample of Vic's works
Arts NSW Regional Fellowship
The Arts NSW Regional Fellowship enables an artist living in regional or remote NSW to undertake a self-directed program of professional development. The inaugural fellowship was offered in 2014 and awarded to Vic McEwan.
Introducing Vic McEwan on the Arts NSW website
---