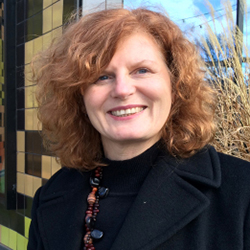 Julie Ryder
Artist-in-residence 2016
Julie Ryder is an accomplished textile artist who draws inspiration from the natural world, combining her scientific background and creativity to produce innovative artworks.
Julie will research botanical collections and explore the role played by women in early collecting practices in colonial Australia, during her residency at the National Museum of Australia.
Biography
Julie Ryder is a Canberra-based textile designer who has gained national and international recognition for her work. She has been a practising textile artist, designer and educator for more than 20 years.
Julie originally trained in science, then graduated as a textile designer from Melbourne Institute of Textiles in 1990. She started her own studio focusing on designing and hand-printing fabrics for home wares, fashion and interiors. In 1995 she developed a practice that combined her knowledge of science with her love of textiles.
In 1999 Julie moved to Canberra and has maintained an active professional studio practice, exhibiting her work here and overseas. Julie has taught at tertiary institutions and community organisations and completed a Master of Arts at the Australian National University in 2004.
She has received many awards, grants and commissions and her work is represented in numerous public and private collections.
View a selection of Julie's artworks