Understanding the desert
Two-thirds of Australia comprises land that can be regarded as 'desert'. The relationships of people to this distinctive but varied environment form a major part of the environmental and cultural history of Indigenous Australia.
The desert's part in the broader cultural, economic and social history of Australia post-1788 is documented by the National Historical Collection and relates to themes uniting the National Museum and its programs, both in research and in its galleries. The Museum has strengths in Indigenous and environmental history, archaeology and anthropology, that connect at many points with a broader research agenda dealing with desert country and its interpretation.
The Museum's research looks at cultural connection to Country, adaptation in the desert and environmental change.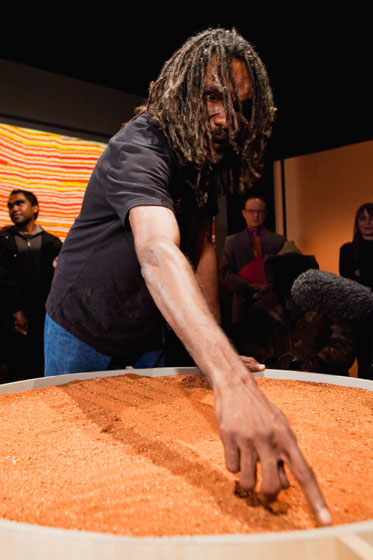 Connection to Country, especially Indigenous connection to this most distinctive of Australian environments, is explored in the 'Songlines' project, which maps and celebrates cultural connection to landscapes by tracing two specific Dreaming tracks and song-cycles: the Kungkarangkalpa (Seven Sisters) and Ngintaka stories (the giant perentie, or lizard).
Songlines seeks to critically examine their mythologies, looking at the construction of a songline over time and its connection with archaeological remains. This exemplifies the Museum's interest in deepening and extending knowledge of Indigenous cultural landscapes.
Another theme concerns adaptation to the desert. Deserts are characterised not just by scarcity but also by transient richness. In Australia, large parts of arid and semiarid country are used as 'rangelands': areas where periodic flushes of native grasses and low shrubs support pastoralism. Cattle and sheep pastoralism was the main vector of European movements into arid and semi-arid Australia, where it assumed a distinctive 'open range' character. The history of these industries in the 'desert' brings together a number of themes for the Museum: economic adaptation to the Australian environment, frontier conflict, national identity, and the articulation between local histories and global markets.
A third theme concerns environmental change. The imprint of past environmental change is marked in the desert and significant parts of these regions are effectively fossil landscapes. Colonial scientists had reconstructed the broad outlines of prehistoric climate changes by 1880, but the major developments were in the 1970s and 1980s as Quaternary scientists and archaeologists began to unravel the histories of these arid lands. This is a history of science story, looking at changing perceptions of these desert landscapes and the impact of this on the national imagination. As part of the 'Songlines' project the Museum has several publications and a workshop scheduled for 2014 exploring these issues.
Understanding the desert emcompasses current and proposed projects including:
The Compleat Archaeologist: Mike Smith, desert archaeology and museums
Into the Desert audio blog
Key research questions
To what extent was the form of rangelands pastoralism in Australia a response and adaptation to the character of arid Australia – and to what extent was its expansion a reflection of opportunities provided by global markets versus the imperatives of colonial settlement?
How have Aboriginal connections to country developed and changed over time, and at what point did they develop their ethnographic form?
How have understandings of the desert developed since Europeans first entered these regions in the 1840s – as an ecological system, as an Indigenous cultural landscape, and as a landscape with a past?
Select references
Lewis, Darrell, A Wild History: Life and Death on the Victoria River Frontier, Monash University Publishing, 2012.
Robin, Libby, How a Continent Created a Nation, Sydney, UNSW Press, 2007.
Smith, MA, 'Peopling' the Cleland Hills: Aboriginal history in western central Australia, 1850-1980, Aboriginal History Monograph, 2005.
Smith, MA, The archaeology of Australia's deserts, Cambridge University Press, 2013.