WARNING: Visitors should be aware that this website includes images and names of deceased people that may cause sadness or distress to Aboriginal and Torres Strait Islander peoples.
---
Returning ancestral remains and secret and sacred objects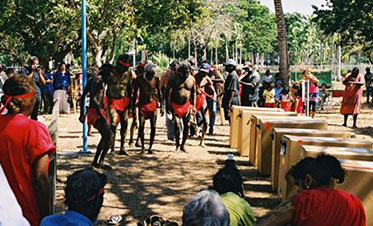 The National Museum of Australia's repatriation team works to return ancestral human remains and secret and sacred objects to Aboriginal and Torres Strait Islander people.
The Museum has been returning remains and objects since its inception in 1980 and is recognised nationally and internationally for its repatriation work.
More than 1000 individuals and over 360 secret and sacred objects have been unconditionally returned to Aboriginal and Torres Strait Islander communities.
Museum staff continue to work closely with Indigenous communities to return remains and artefacts to their ancestral custodians.
Temporary repository
The National Museum has never deliberately sought to acquire human remains or secret and sacred objects to develop its collection.
Instead, the Museum's holdings derive from many earlier and international sources.
Many are from the Australian Institute of Anatomy collection, which was transferred to the National Museum in 1985 when the Institute closed. Others were deposited with the Museum or donated over many years.
The Museum has also become the temporary repository and repatriation point for many collections returned from overseas.
Working with communities
The Museum's repatriation work is guided by strict policies that currently allow for the unconditional return of remains and artefacts to traditional owners and custodians.
Where custodians do not have the resources to take remains or secret and sacred objects, the Museum may store them on the community's behalf.
External access to the holdings is only permitted with the approval of the relevant community.
Provision of such information is not mandatory and, in most cases, the National Museum accepts the potential claimant group's rights of ownership based on information gained in the process of identifying them.
A Museum officer consults further with the applicants and other parties with potential interests. The return of the remains or objects takes place with instructions from the custodians.
With the exception of signing a receipt for remains or objects, returns are currently unconditional.
Custodians may deal with the remains or objects as they see fit. Sometimes communities request to have the Museum hold remains or or objects for safe-keeping.
Contact
Repatriation Program Director
c/- Duty Curator
National Museum of Australia
GPO Box 1901
Canberra ACT 2601
Australia
Tel + 61 2 6208 5019
Email curator@nma.gov.au
More
International repatriation workshop launched at National Museum
National Museum of Australia policies

Aboriginal and Torres Strait Islander human remains policy (PDF 68kb)

Aboriginal and Torres Strait Islander secret/sacred and private material policy (PDF 69kb)

Return of cultural objects policy (PDF 68kb)
Museums Australia guidelines

Continuous Cultures, Ongoing Responsibilities policy (PDF 230kb)
Australian Government
Indigenous Repatriation Program on the Department of Communications and the Arts website
Further reading
Select articles by National Museum staff on repatriation
M Pickering, 'A Helping Hand? Comments on the "Recommendations for the Care of Human Remains in Museums and Collections"', by the Deutscher Museumsbund (German Museums Association), 2017. Forum: Human Remains in Museums and Collections. A Critical Engagement with the 'Recommendations' of the German Museums Association, 2013 on the H /Soz /Kult website.
M Pickering, 'Colonial Legacies: Is Repatriation of Remains an Act of Postcolonial Justice?' in Gigi Adair and Anja Schwartz (eds), Postcolonial Justice in Australia: Reassessing the 'Fair Go', WVT Wissenschaftlicher Trier, 2016
M Pickering, 'The Big Picture: the repatriation of Australian Indigenous sacred objects', in Museum Management and Curatorship, 2015, vol 30 (5)
M Pickering, 'Rewards and Frustrations: Repatriation of Aboriginal and Torres Strait Islander ancestral remains by the National Museum of Australia', in McCarthy, C, Museum Practice: Critical debates in the museum sector, Blackwell series International Handbook of Museum Studies, 2015, pp 455–478
M Pickering and P Gordon, 'Repatriation: the end of the beginning', in D Griffin and L Paroissien (eds) Understanding Museums: Australian Museums and Museology, National Museum of Australia, 2011
D Kaus, 'The management of restricted Aboriginal objects by the National Museum of Australia', reCollections, 2008, 3(1), 2008: 88–95
M Pickering, 'Where to from here? Repatriation of Indigenous human remains and "The Museum"', in SK Knell, S MacLeod and S Watson (eds), Museum Revolutions: How Museums Change and are Changed, Routledge, United Kingdom, 2007
M Pickering, 'Policy and research issues affecting human remains in Australian museum collections', in J Lohman and K Goodnow (eds), Human Remains and Museum Practice, UNESCO Publishing/Museum of London, London, 2006
M Pickering, 'Define success: repatriation of Aboriginal and Torres Strait Islander ancestral remains and sacred objects', Museum National, February 2003, pp. 13–14
M Pickering, 'Repatriation, rhetoric, and reality: The repatriation of Australian Indigenous human remains and sacred objects', Journal of the Australian Registrars Committee, June 2002, pp 15–19, 40-41
M Pickering, 'Lost in Translation', borderlands e-journal, volume 7, number 2, 2008