WARNING: Visitors should be aware that this website includes images and names of deceased people that may cause sadness or distress to Aboriginal and Torres Strait Islander peoples.
---
Andy Greenslade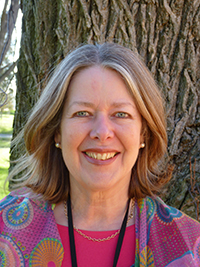 Position: Curator, currently working on permanent exhibitions and collections
Interests: Material culture, people, cultural heritage and getting to know more about cultural practices by talking with First Australians
What do you like about working in the Aboriginal and Torres Strait Islander program?
I first came to the Museum shortly after opening to curate part of the Museum's Tracking Kultja festival, where I met so many artists and musicians from across the country.
My background is in the arts and in people, and I love being part of an organisation that values and respects first cultures, just as I love meeting people from communities Australia wide.
So many people I have worked with over the years have given things to the collections here and expressed their pleasure that those things are in the Museum. They have confidence the Museum will share their stories and aspects of their culture to a wider Australia. Talking to people about their stories reminds me of my passion to keep this place 'their museum'.
Email: Andy.Greenslade@nma.gov.au
Tel: (02) 6208 5325