WARNING: Visitors should be aware that this website includes images and names of deceased people that may cause sadness or distress to Aboriginal and Torres Strait Islander peoples.
---
Our people
Members of the Aboriginal and Torres Strait Islander program team at the National Museum work with Aboriginal and Torres Strait Islander communities to collect, preserve and exhibit their stories.
Move your mouse over an image for more information.
Curator Jay Arthur speaks with Allan Oliver (left) and Hendrick Fourmile, in Cairns, August 2013, as part of the Encounters project. The interview was filmed by Sarah Scragg (far right).
Photo: Michael Pickering.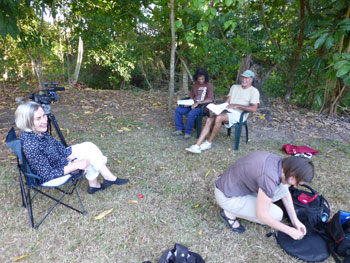 Assistant curator Jeff Theys (right) and Lee Burgess discuss a list of objects under consideration for a forthcoming exhibition.
Photo: Judith Hickson.
Elder Patrick Hume in Perth speaking with content project manager Benita Tunks about the Encounters project.
Photo: Songa Balaga.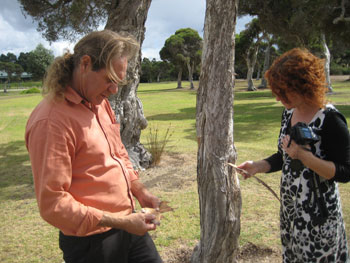 Curator Andy Greenslade relaxing with Lola Greeno and Colleen Mundy at Larapuna in northeast Tasmania, after a weaving workshop for the Tayenebe weaving project. The project resulted in an exhibition, Tayenebe: Tasmanian Aboriginal Women's Fibre Work. The baskets were bought for the collections of the National Museum and Tasmania Museum and Art Gallery.
Photo: Julie Gough.
Curator Jono Lineen with an exhibit in the On Country photographic exhibition showing how Dhimurru Rangers in Cape York are fighting to save Cape York sea turtles.
Photo: Judith Hickson.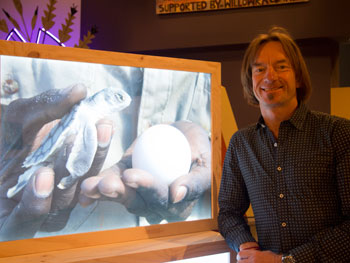 Jean Barr-Crombie shares her family story, as illustrated by herself and her sister Joyce, with curator Barbara Paulson during a visit to Birdsville in Queensland.
Photo: Jeff Theys.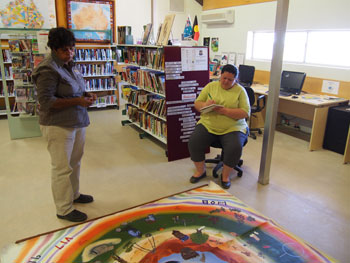 Curator David Kaus and visiting Kokoberrin artist Shaun Edwards, from far north Queensland, examine a piece of fibre work at the Museum's Indigenous collections store.
Photo: George Serras.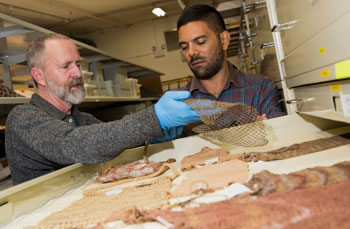 Kintore artist Ronnie Tjampitjinpa (right) with curator Peter Thorley, looking at an image of Uta Uta Tjangala's 'Yumani' canvas, on the verandah of Ronnie's house, Kintore, Northern Territory.
Photo: Pip Deveson.
Curator and repatriation officer Lee Burgess talking about bush tucker plants on Australia Day.
Photo: Heidi Pritchard.