WARNING: Visitors should be aware that this website includes images and names of deceased people that may cause sadness or distress to Aboriginal and Torres Strait Islander peoples.
---
Our people
Members of the Aboriginal and Torres Strait Islander program team at the National Museum work with Aboriginal and Torres Strait Islander communities to collect, preserve and exhibit their stories.
Move your mouse over an image for more information.
Jono Lineen, curator of the exhibition 'Lag Meta Aus: Home in the Torres Strait', at the entrance to the Museum's Torres Strait Islander gallery. The spectacular entrance to the gallery was inspired by the traditional dhari headdresses worn for dance and ceremonial occasions by Torres Strait Islander men.
Photo: Judith Hickson.
Curator Jay Arthur speaks with Allan Oliver (left) and Hendrick Fourmile, in Cairns, August 2013, as part of the Encounters project. The interview was filmed by Sarah Scragg (far right).
Photo: Michael Pickering.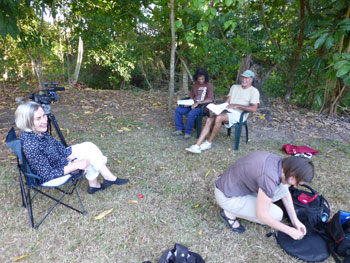 Curator Barbara Paulson interviews Dieri woman Evelyn Miklavec in Whyalla, as part of the Encounters project.
Photo: Jeremy Lucas
Curator Peter Thorley on the Northern Territory and West Australian border.
Photo: Pip Deveson.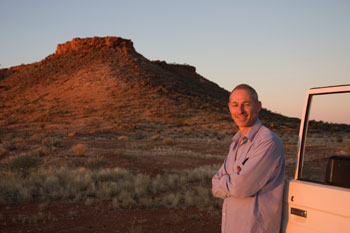 Magali Melandri, curator for Pacific Arts from the Musée du Quai Branly, Paris, visits the National Museum's Mitchell repository with curator David Kaus.
Photo: George Serras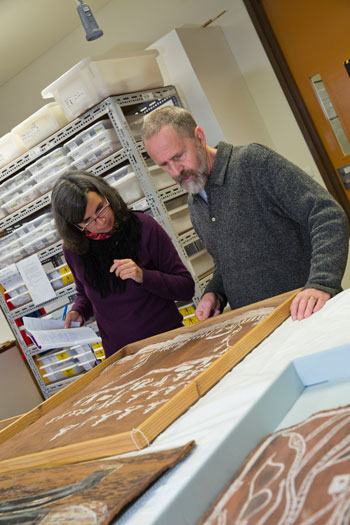 Elder Patrick Hume in Perth speaking with content project manager Benita Tunks about the Encounters project.
Photo: Songa Balaga.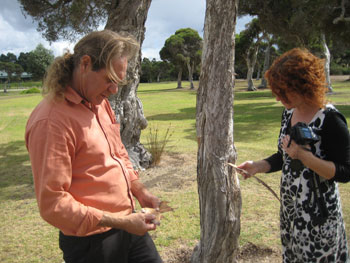 Curator and repatriation officer Lee Burgess with Yirandali objects on show in the Landmarks gallery.
Photo: Sandra Pilot.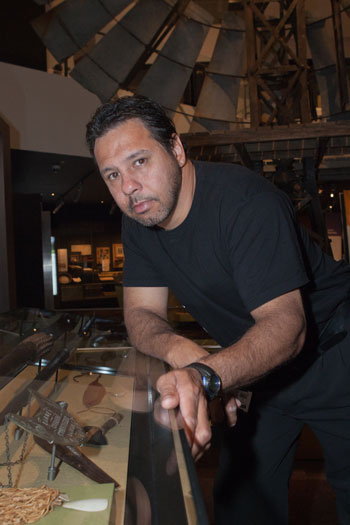 Curator Andy Greenslade with Lockhart River mayor Wayne Butcher, elder Patrick Butcher and a canoe made by Patrick's father, James Butcher in 1976. The canoe is on loan from the Museum of Anthropology at the University of Queensland.
Photo: George Serras.