WARNING: Visitors should be aware that this website includes images and names of deceased people that may cause sadness or distress to Aboriginal and Torres Strait Islander peoples.
---
Our people
Members of the Aboriginal and Torres Strait Islander program team at the National Museum work with Aboriginal and Torres Strait Islander communities to collect, preserve and exhibit their stories.
Move your mouse over an image for more information.
Jono Lineen, curator of the exhibition 'Lag Meta Aus: Home in the Torres Strait', at the entrance to the Museum's Torres Strait Islander gallery. The spectacular entrance to the gallery was inspired by the traditional dhari headdresses worn for dance and ceremonial occasions by Torres Strait Islander men.
Photo: Judith Hickson.
Magali Melandri, curator for Pacific Arts from the Musée du Quai Branly, Paris, visits the National Museum's Mitchell repository with curator David Kaus.
Photo: George Serras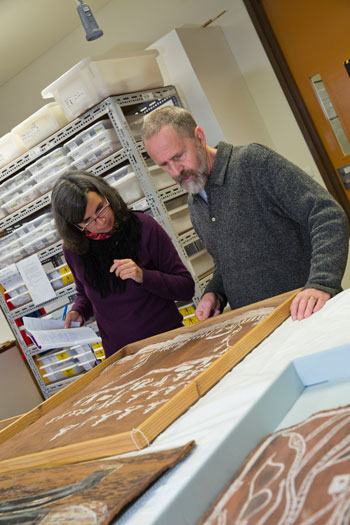 Jean Barr-Crombie, curator Barbara Paulson and Betty Bunyan at the Dingo Caves on Wankangurru Country north of Birdsville, Queensland.
Photo: Jeff Theys.
Abe Muriata talking with curator Jay Arthur at the Girringun Aboriginal Arts Centre in Cardwell, North Queensland for the Encounters project.
Photo: Michael Pickering.
Elder Patrick Hume in Perth speaking with content project manager Benita Tunks about the Encounters project.
Photo: Songa Balaga.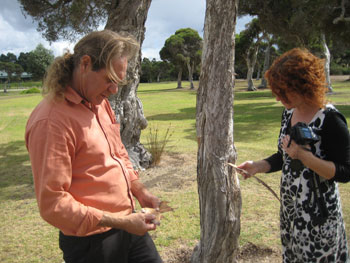 Curator and repatriation officer Lee Burgess talking about bush tucker plants on Australia Day.
Photo: Heidi Pritchard.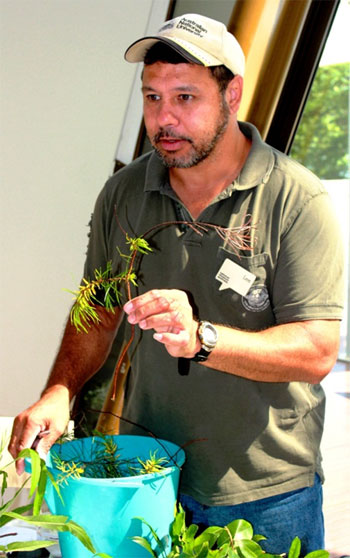 Curator Peter Thorley on the Northern Territory and West Australian border.
Photo: Pip Deveson.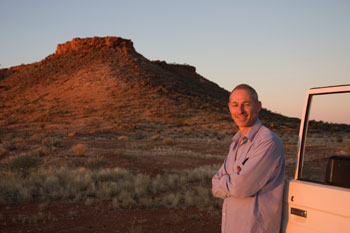 Curator Andy Greenslade and Uncle Seaman Dan enjoy a tall story with Karl Neuendfeldt at the Cairns Indigenous Art Fair in 2009. Uncle Seaman had just celebrated his 80th birthday and gave a special guest appearance at the fair's concert.
Photo: Pip McNaught.