WARNING: Visitors should be aware that this website includes images and names of deceased people that may cause sadness or distress to Aboriginal and Torres Strait Islander peoples.
---
Our people
Members of the Aboriginal and Torres Strait Islander program team at the National Museum work with Aboriginal and Torres Strait Islander communities to collect, preserve and exhibit their stories.
Move your mouse over an image for more information.
Curator Jay Arthur in Kempsey with a group of Kinchela boys at the donation of the Kinchela gate to the National Museum (from left) Michael Walsh, Cecil Bowden, William Lesley, Ian (Crowe) Lawson and Manuel Ebsworth.
Photo: Barbara Paulson.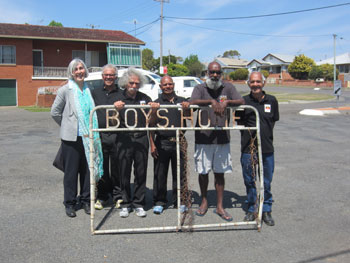 Lorna Jackson and Vicki Nangala, granddaughters of Uta Uta Tjangala, with Peter Thorley at Kintore in the Northern Territory.
Photo: Pip Deveson.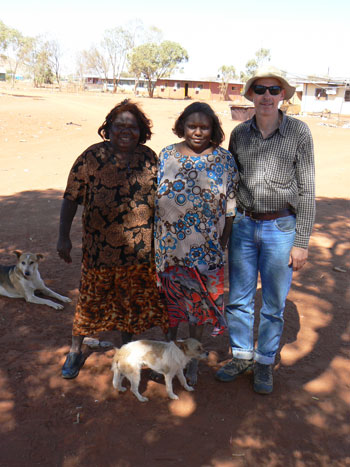 Content project manager Benita Tunks shows community members from Arnhem Land around the Museum's Open collections, in the First Australians gallery.
Photo: Barbara Paulson.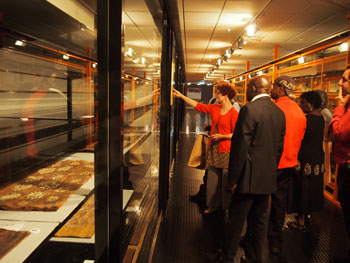 Magali Melandri, curator for Pacific Arts from the Musée du Quai Branly, Paris, visits the National Museum's Mitchell repository with curator David Kaus.
Photo: George Serras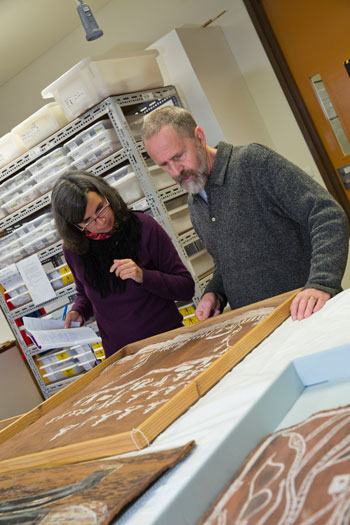 Curator and repatriation officer Lee Burgess talking about bush tucker plants on Australia Day.
Photo: Heidi Pritchard.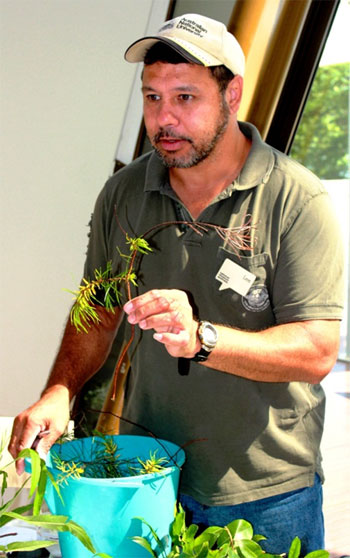 Jean Barr-Crombie, curator Barbara Paulson and Betty Bunyan at the Dingo Caves on Wankangurru Country north of Birdsville, Queensland.
Photo: Jeff Theys.
Curator Jono Lineen with the Torres Strait Islands component of the On Country photographic exhibition, showcasing contemporary Indigenous land and sea management practices across Australia.
Photo: Judith Hickson.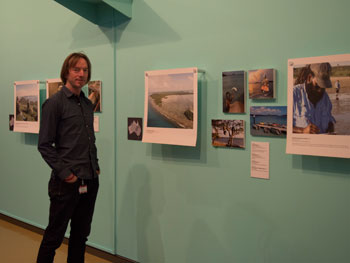 Curator Andy Greenslade with Lockhart River mayor Wayne Butcher, elder Patrick Butcher and a canoe made by Patrick's father, James Butcher in 1976. The canoe is on loan from the Museum of Anthropology at the University of Queensland.
Photo: George Serras.
Assistant curator Jeff Theys (right) and Lee Burgess discuss a list of objects under consideration for a forthcoming exhibition.
Photo: Judith Hickson.