WARNING: Visitors should be aware that this website includes images and names of deceased people that may cause sadness or distress to Aboriginal and Torres Strait Islander peoples.
---
Our people
Members of the Aboriginal and Torres Strait Islander program team at the National Museum work with Aboriginal and Torres Strait Islander communities to collect, preserve and exhibit their stories.
Move your mouse over an image for more information.
Curator, Andy Greenslade and Evelyn Omeenyo from Lockhart River in far north Queensland, visit Black Mountain Tower when Evelyn was in Canberra for the 2013 Selling Yarns conference.
Photo: Lannon Harley.
Curator and repatriation officer Lee Burgess with Yirandali objects on show in the Landmarks gallery.
Photo: Sandra Pilot.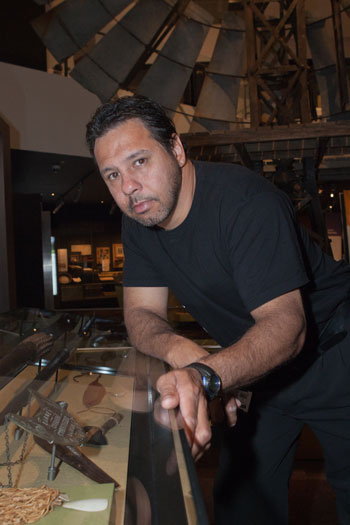 Assistant curator Jeff Theys (right) and Lee Burgess discuss a list of objects under consideration for a forthcoming exhibition.
Photo: Judith Hickson.
Lorna Jackson and Vicki Nangala, granddaughters of Uta Uta Tjangala, with Peter Thorley at Kintore in the Northern Territory.
Photo: Pip Deveson.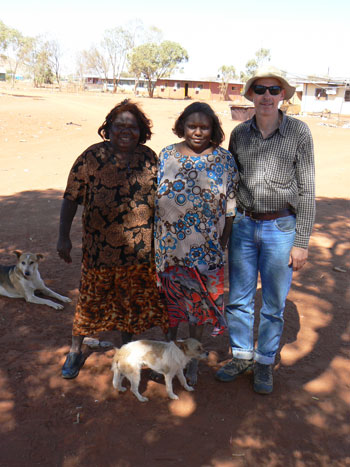 Curator David Kaus and visiting Kokoberrin artist Shaun Edwards, from far north Queensland, examine a piece of fibre work at the Museum's Indigenous collections store.
Photo: George Serras.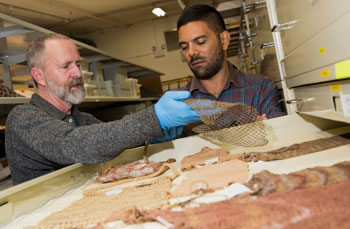 Curator Jay Arthur with Aunty Patsy Cameron, who was being interviewed as part of the Encounters project, at Tomahawk, Tasmania. November 2013.
Photo: Michael Pickering.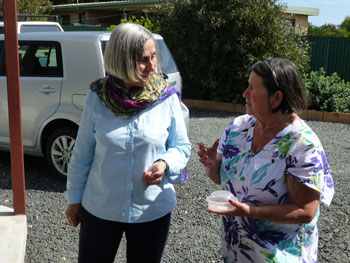 Jono Lineen, curator of the exhibition 'Lag Meta Aus: Home in the Torres Strait', at the entrance to the Museum's Torres Strait Islander gallery. The spectacular entrance to the gallery was inspired by the traditional dhari headdresses worn for dance and ceremonial occasions by Torres Strait Islander men.
Photo: Judith Hickson.
Curator Barbara Paulson interviews Dieri woman Evelyn Miklavec in Whyalla, as part of the Encounters project.
Photo: Jeremy Lucas
Content project manager Benita Tunks shows community members from Arnhem Land around the Museum's Open collections, in the First Australians gallery.
Photo: Barbara Paulson.