WARNING: Visitors should be aware that this website includes images and names of deceased people that may cause sadness or distress to Aboriginal and Torres Strait Islander peoples.
---

Museum Indigenous Network
The past
The Museum Indigenous Network (MINmin), was established after the former Indigenous support group, Visitor Services and Volunteers Indigenous Network (VSVIN), voted to open membership to all Aboriginal and Torres Strait Islander employees at the National Museum.
The present
The purpose of MINmin, as expressed in its mandate, is to support Indigenous employees in their role at the Museum, both socially and in the workplace, providing the first point of contact for issues that affect First Australians more broadly, as well as being a resource for the Museum.
MINmin was launched with a barbecue with guests from the Australian Institute of Aboriginal and Torres Strait Islander Studies (AIATSIS), establishing a new and emerging relationship with the Museum's partners. At this launch, MINmin announced its associate membership, known as the MINmin lites, for those that have an interest in Indigenous matters. MINmin members meet monthly and MINmin social events are held throughout the year with members of the MINmin lites.
The future
The National Museum continues to support MINmin, from its inception as the Visitor Services and Volunteers Indigenous Network through to its aspiration of connecting with Indigenous employees at other cultural institutions in the Canberra area – MINexus. MINexus will meet to discuss issues we all have in common, gaining strength in the numbers to go on and accomplish so much.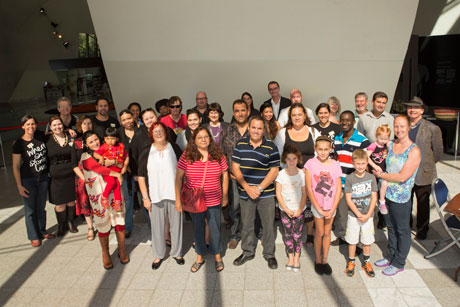 Did you know?
Our title is an acronym and a duplication, where repeating a word in Indigenous language represents abundance. 'MIN' stands for:
many Museums;
many Indigenous peoples;
many Networks and connections.