WARNING: Visitors should be aware that this website includes images and names of deceased people that may cause sadness or distress to Aboriginal and Torres Strait Islander peoples.
---
Goree
The Goree newsletter looks at the activities and achievements of the National Museum of Australia as we engage with Aboriginal and Torres Strait Islander peoples and their material culture, and share their stories.
---
The story behind an iconic image
An historic and memorable image has featured prominently in the media in the days since Gough Whitlam's death.
---
Ngambri custodian Paul House welcomes PM and other dignitaries to 'Defining Moments' launch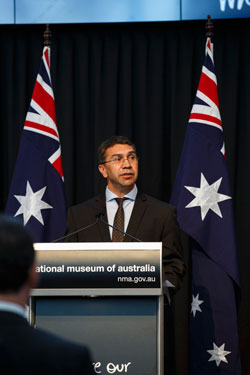 Ngambri custodian, Paul House, on behalf of Ngambri-Ngurmal and Ngunnawal-Wallabollooa Aboriginal peoples of the Canberra region, welcomed guests in to the launch of the Defining Moments in Australian History project. The event took place on Friday 29 August 2014 at the National Museum of Australia.
---
ATSIP farewells intern Nicola Van Dijk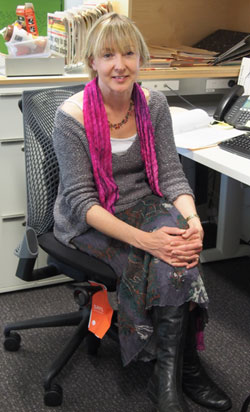 By Nicola Van Dijk
I have been working as an intern in the NMA's ATSIP team for two days a week for the past 10 weeks, as part of the Museums and Collections Masters course at the ANU. Previously my experience has been in biological anthropology and I have a PhD from the ANU, which involved working with Indigenous groups in island Melanesia and the Pacific. I have also worked for an Indigenous heritage consultancy firm in Canberra.
I have really enjoyed working with the ATSIP team and have learned so much during my time, not only about the internal workings of the Museum but also about Indigenous artifacts and history. Everyone has been very friendly and helpful and I am really looking forward to doing a second internship here in the New Year!
---
Previous issues
View previous issues of the print Goree newsletter
MINMin (Museum Indigenous Network)
MINMin supports Indigenous employees at the National Museum, socially and in the workplace.
It is the first point of contact for issues that affect First Australians more broadly, as well as being a resource for the Museum.