WARNING: Visitors should be aware that this website includes images and names of deceased people that may cause sadness or distress to Aboriginal and Torres Strait Islander peoples.
---
Western Desert dialysis comes to Canberra
9 Apr 2015
A kidney dialysis machine and a chair used by patients at a ground-breaking Central Desert medical centre in Kintore (Walungurru) have arrived at the National Museum of Australia. This vital medical equipment allowed members of the Pintupi community to receive treatment for kidney disease at home, rather than leaving their family and country for larger regional centres. It is now part of the Museum's collection.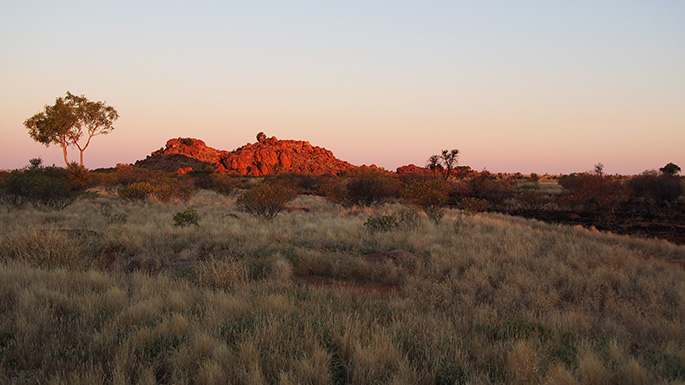 On country community care
The equipment acquired by the Museum was used by numerous patients at the Purple House in Kintore during its first 10 years of operation. This 'on country' community dialysis centre started in 2004 and was the first of its kind in Australia, helping people stay home rather than travelling hundreds of kilometres for treatment in Alice Springs, Darwin or Perth.
Purple House was funded largely by the community, with money first raised through the sale of Papunya Tula artworks.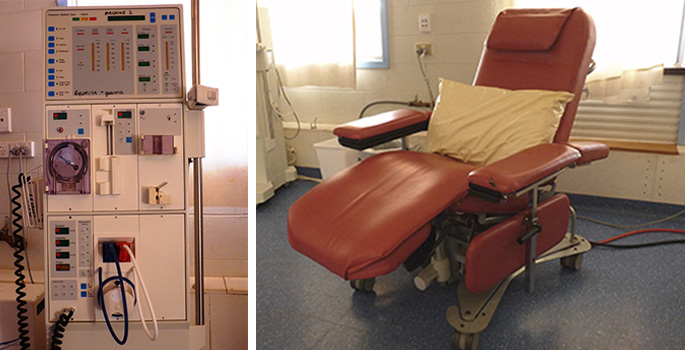 National Historical Collection
The kidney dialysis machine and chair are now part of the Museum's National Historical Collection. The collection also includes a reverse osmosis machine used for water purification, and the original 'Purple House Renal' handpainted sign.
A proposal to acquire the dialysis machine was first put forward in 2011 by Peter Thorley, head curator of the Museum's Aboriginal and Torres Strait Islander program. In 2014, senior curator Andy Greenslade and I flew to Alice Springs to meet with the manager and staff of the Purple House at their Alice Springs headquarters.
Their recent arrival in Canberra is the culmination of several years of negotiation and collaboration between the Museum, Kintore's local Pintupi community, Fresenius Medical Care Australia and the Western Desert Nganampa Walytja Palyantjaku Tjutaku Corporation (WDNWPT), commonly known as the 'Purple House'.
Read more about our visit to the Purple House in Alice Springs

Purple House, Kintore
Following our meeting in Alice Springs, Andy and I travelled 500 kilometres by road to the remote community of Kintore, along with staff and friends from the Purple House. Located in the hauntingly beautiful Western Desert, Kintore is home to about 350 Pintupi people. That weekend in September 2014, Kintore was busy with families and visitors who, like us, were there to help celebrate the 10th anniversary of the establishment of Kintore's Purple House, the first 'on country' community dialysis centre in Australia.
Yari Yari Zimran Tjampitjinpa Dialysis Centre
At the Kintore anniversary celebrations, the original handpainted 'Purple House Renal' sign was replaced by a new, professionally painted sign, 'Yari Yari Zimran Tjampitjinpa Dialysis Centre', in honour of Kumantjayi (Yari Yari) Zimran Tjampitjinpa, a Pintupi elder and community leader, who first envisaged the centre at Kintore.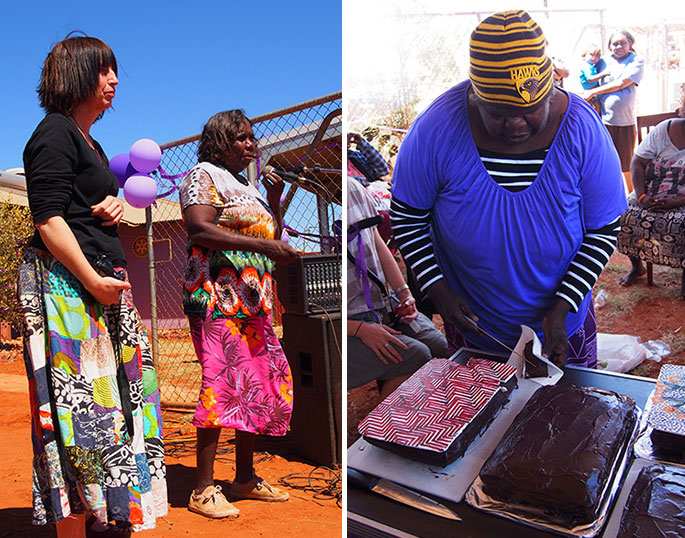 Purple House story
In 2000, the Art Gallery of New South Wales hosted an unusual and remarkable auction, compered for Sotheby's by 'Rampaging Roy' Slaven and HG Nelson. More than $1 million was raised from sales to national and international buyers, including a painting sold to Australian businessman and philanthropist, Kerry Stokes, for $340,000. In 2004, after much lobbying and further fundraising, the Purple House dialysis centre opened in Kintore.
The original idea for the auction and its subsequent success was due to the tireless efforts of the 'Friends of the Western Desert Dialysis Group' and Papunya Tula Artists. This extraordinary effort by Pintupi and Luritja people represented a critical milestone on the path towards providing dialysis treatment for their family members at home.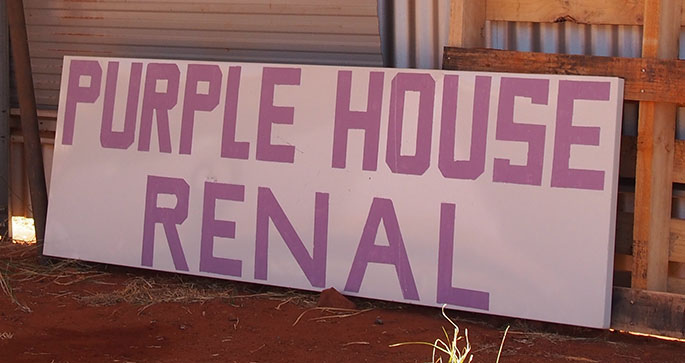 Avoiding living 'like a dog on the fringes'

The opening of the Purple House in Kintore in 2004 was a celebration of this momentous accomplishment. It was also marked by great sadness for the absence of Kumantjayi (Yari Yari) Zimran Tjampitjinpa whose inspiration and efforts laid the foundation for the development of the centre. Mr Zimran developed chronic kidney disease, resulting in end-stage renal disease, in the late 1990s.
Forced to leave Kintore to access treatment in Alice Springs, Mr Zimran found himself living, in his words, 'like a dog on the fringes'. Existing as a homeless person, feeling chronically unwell and having little control over his life was a shaming experience for Mr Zimran and a radical change from his experience as an important and respected person in his own country.
Family and kin relationships are fundamental to the social and community life, and to the sense of health and wellbeing, of people from Aboriginal communities. For Mr Zimran, the loss of family (walytja), country (ngurra) and dreaming (tjukurrpa) compounded his sense of shame and homesickness. Anthropologist Fred Myers explains watjilpa, translated as 'homesickness', 'pining' or 'lonely', as a feeling by Pintupi people of separation from familiar people 'with whom one grew up' and places 'where one feels safe and comfortable.'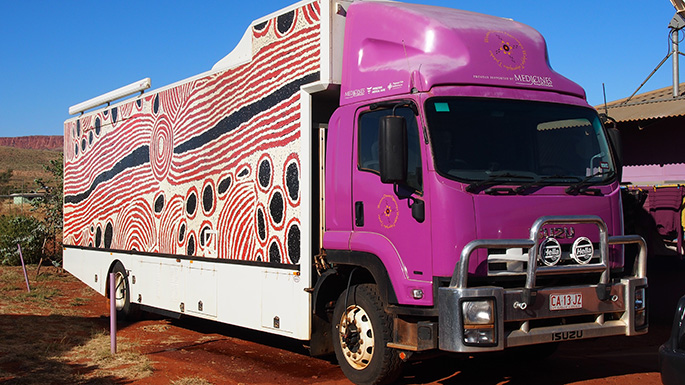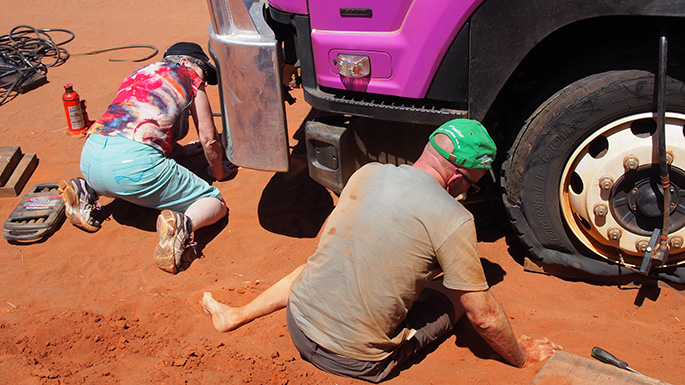 Improving treatment for people with chronic disease

Mr Zimran's experience mirrored those of many other Indigenous people who have had to relocate to receive treatment for chronic disease. Unemployment, accommodation difficulties, debt and welfare dependency leading to family disintegration, depression, diminished survival and loss of personal and social control, are common stories among remote Aboriginal patients receiving dialysis in large centres.
Mr Zimran used his experience to work for the betterment of his people. Through his vision and effort the Western Desert Dialysis Appeal (WDDA), forerunner of the WDNWPT, held its inaugural meeting of the 'Kidney Committee' on 6-8 November 2001 at Hamilton Downs, an outstation 75 kilometres west of Alice Springs.
Fulfilling Mr Zimran's dream, dialysis in Kintore has been a reality for the past 10 years. Following the success of Kintore, clinics have been established in Yuendumu, Kiwirrkurra, Ntaria, Warburton and Lajamanu. A state of the art mobile renal dialysis unit, the Purple Truck, provides mobile service to remote centres where clinics have not yet been established. The Pintupi continue working to help themselves and have also inspired many other communities to do the same.
Fresenius Medical Care

The dialysis and reverse osmosis machines now in the Museum's collection were donated by Fresenius Medical Care Australia. Sarah Brown from Purple House said the continued operation of the dialysis centres would not have been possible without the support of the German-based company.

Fresenius supplies the dialysis and reverse osmosis equipment for the Purple House in Alice Springs and the eight remote communities which now have their own dialysis centres. The company continues to provide support to maintain the equipment and ensure the delivery of safe, good quality dialysis 'out bush'.