WARNING: Visitors should be aware that this website includes images and names of deceased people that may cause sadness or distress to Aboriginal and Torres Strait Islander peoples.
---
Susan Hamilton's fight for sea rights
17 Jun 2016
By Andy Greenslade
Pursuit of justice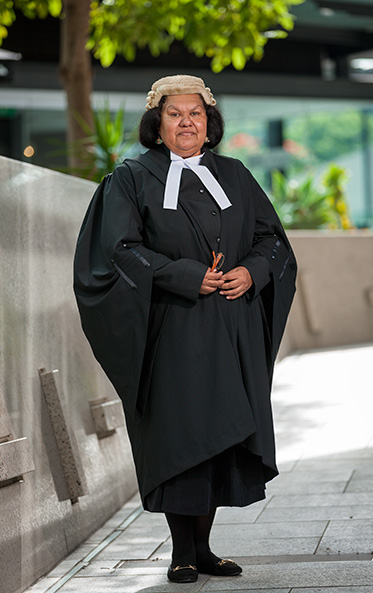 The story of Torres Strait Islander barrister Susan Hamilton's pursuit of justice for her people is new to our Gallery of First Australians.
In 2013, Susan became the first Torres Strait Islander to serve as a barrister in the High Court of Australia.
Important native title decision
Susan represented the Torres Strait Regional Authority Native Title Office as they sought to maintain native title rights against an appeal by the Commonwealth and Queensland governments to fish for commercial gain.
'I am privileged and honoured to be the first Torres Strait Islander to appear as a barrister before the High Court, particularly on a matter relating to the Torres Strait Islander beliefs and rights that affect all Torres Strait Islanders, including all of my family, my children and my grandchildren,' Susan said.
In the appeal case of Akiba v Commonwealth (2013), the High Court upheld the original decision of 2010. This was the first time that native title rights that included commercial use were recognised in Australia.
The Museum acquired the courtroom outfit Susan wore at the High Court hearing on 12 February 2013.
Akiba v Commonwealth
Susan studied law as a mature age student and her unwavering commitment to native title led to major legal success.
'I became a lawyer to acquire an understanding of the Anglo-Western law as it is applied to Indigenous peoples in Australia. The application of the law to Indigenous people is immediate and has an impact on our everyday lives instantaneously.'
Since the Akiba v Commonwealth ruling, there has been much discussion about how other Aboriginal and Torres Strait Islander peoples may secure greater economic benefits from their native title rights.
We hope that the display of Susan's gown, jabot (collar), and wig will serve as an inspiration to our visitors.