WARNING: Visitors should be aware that this website includes images and names of deceased people that may cause sadness or distress to Aboriginal and Torres Strait Islander peoples.
---
Ngambri custodian Paul House welcomes PM and other dignitaries to 'Defining Moments' launch
17 Oct 2014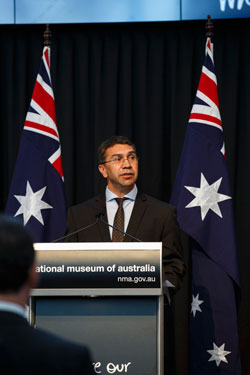 By Judith Hickson
Yinaagalangbu, gibir-bangu, wugalbu, migaybu.
Dirra-ngalbang mayiny.
Nga-dhi yindya-mali Ngambri – Ngurmal Walgalu, Ngunnawal – Wallabolooa mudyigang yanhibu dha-yndhu.
Nga-dhi yindyam-marrabu mudyi-ganggu ngurambandhiguwal nginha yiradhu.
Translation: Ladies and gentlemen, young men and young women.
Distinguished guests.
My respects to Ngambri-Ngurmal Walgalu, Ngunnawal – Wallabolooa Elders past and present.
My respects also to Elders from other nations here today.
Ngambri custodian, Paul House, on behalf of Ngambri-Ngurmal and Ngunnawal-Wallabollooa Aboriginal peoples of the Canberra region, welcomed guests in to the launch of the Defining Moments in Australian History project. The event took place on Friday 29 August 2014 at the National Museum of Australia. Mr House opened his address in Walgalu language, welcoming guests 'in a spirit of peace and a desire for harmony with all peoples of the modern ACT and surrounds'.
An initiative of the National Museum, with co-patrons Michael Ball AM and The Hon Michael Kirby AC CMG, the Defining Moments project consists of an initial list of 100 profoundly significant moments in Australia's history, compiled by National Museum staff in consultation with an advisory panel of leading historians. The list, drawn up with the aim of encouraging lively discussion and debate and to familiarise Australians with their country's history, is expected to undergo considerable change and growth over the life of the project.
In addressing the Prime Minister, other invited guests and National Museum staff, and in paying respect to past and present traditional owners, Mr House told visitors, 'I have great responsibility to my children and family … to see them grow up in a society that honours, respects and acknowledges the Indigenous peoples of this country, in particular, our land, culture and heritage'.
Mr House stressed the importance that cultural knowledge, 'embodying and preserving the relationship to the land', is passed on by each succeeding generation. He also acknowledged the crucial role the National Museum plays in housing, protecting and preserving the stories for their long-term survival.
In his moving conclusion, Mr House called on people to 'respect and honour all people and all the country … to give honour, be respectful, be polite, be gentle and patient with all'.