WARNING: Visitors should be aware that this website includes images and names of deceased people that may cause sadness or distress to Aboriginal and Torres Strait Islander peoples.
---
Artist Paul Bong visits the Museum
27 Aug 2014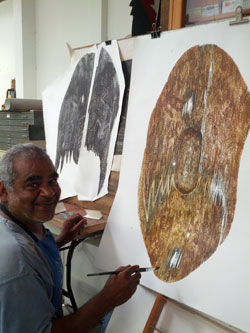 By Jay Arthur
Aboriginal artist and printmaker, Paul Bong, a Yidinyji man from the Babinda-Gordonvale region south of Cairns, recently braved one of Canberra's coldest days to meet with Aboriginal and Torres Strait Islander program curators, Barbara Paulson, David Kaus and Jay Arthur at the National Museum.
Paul, whose tribal name is Bindur Bullin, was undertaking a two-week residency at the Ainslie and Gorman House Arts Centres in Canberra as part of its Visiting Artist Program.
Best-known for the way he incorporates traditional Yidinji designs into his work, Paul Bong says that his art, based on totemic designs which have deep spiritual meaning, is inspired by stories and legends about the rainforest, told to him by his Yidinyji-speaking grandmother.
In 1995, after completing an Associate Diploma of Visual Arts, Paul was commissioned to produce a collection of painted shields for display at Brisbane's international airport. Carved from native fig by his uncle Stewart Bong, Paul's hand-painted shields are one of the first images seen today by international visitors entering Australia through Brisbane's International Airport terminal.
In an interview with Jay Arthur, Paul Bong explained the underlying thread which runs through his artworks: 'My ancestors defended our country and our people with these shields. I defend my culture today with my shields – in art.'