WARNING: Visitors should be aware that this website includes images and names of deceased people that may cause sadness or distress to Aboriginal and Torres Strait Islander peoples.
---
The power of Jandamarra's boomerang
15 Apr 2016
by Dr Lily Withycombe
Kimberley visitors share stories of country and culture
Seeing a boomerang believed to have belonged to heroic resistance fighter Jandamarra was a highlight for three Kimberley men who recently visited the National Museum.
Walmajarri and Wangkatjungka man Gerrard Lawford, Bunuba and Walmajarri man Kristen Andrews, and Walmajarri, Bunuba and Nyikina man Jamal McCarthy travelled from Fitzroy Crossing, in the far northwest of Western Australia, in February 2016.
They visited the National Museum to see some of the cultural material on display in the Encounters exhibition. They also shared their stories about country and culture.
Encounters featured rare Aboriginal and Torres Strait Islander objects from the British Museum that were collected after 1770.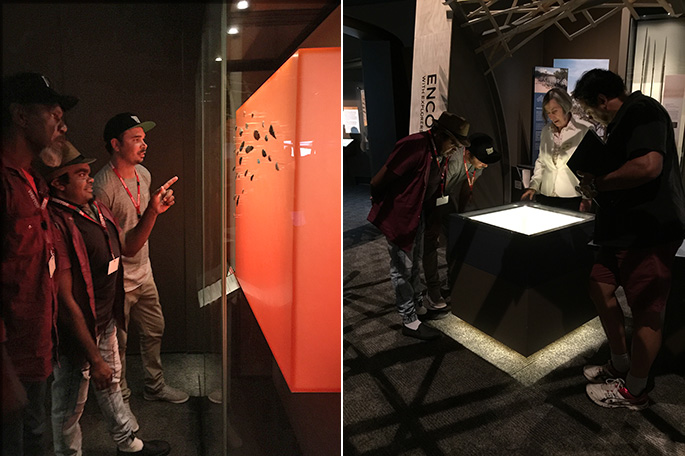 Senior Curator Jay Arthur gave Gerrard, Kristen and Jamal a tour of the exhibition, while Yirandali man Lee Burgess, who works at the Museum, gave our visitors a tour of the Lammermoor module, which displayed Yirandali cultural material made by Lee's ancestors.
Gerrard, Kristen and Jamal were particularly interested in seeing cultural material from their country. Encounters included objects from the Kimberley, most of which were collected in the late 1800s, during frontier violence.
Jandamarra's story
Of all the objects on display, however, for Gerrard, Kristen and Jamal, the most significant was Jandmarra's boomerang. Jandamarra was born on the eve of British colonisation in northwest Western Australia. He grew up with his people on country, speaking traditional language and performing traditional ceremony, but also adapted to the new colonial system.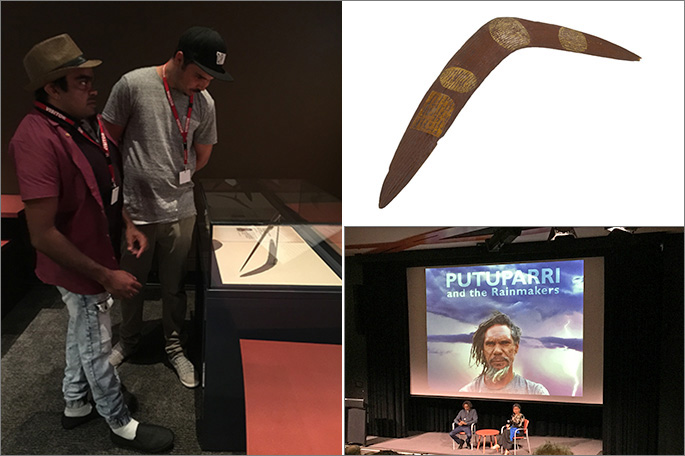 Jandamarra's fluency in English and his horsemanship endeared him to the police force, who employed him as a tracker. But Jandamarra soon turned on the colonists, and led a fierce resistance. In 1897, at the age of 24, Jandamarra was killed, but the inspirational story of his resistance has lived on through storytelling and performance.
One such performance was Jandamarra: Sing for the Country (Ngalanybarra Muwayi) which the Yilimbirri Ensemble, including Kristen, the Gondwana Choirs and the Sydney Symphony Orchestra performed at the Sydney Opera House in July 2014. Kristen has a particularly deep connection to the Jandamarra story, and shared with us memories of having grown up hearing the story passed down through the Elders of his community.
'This boomerang is very special'
Kristen later talked about what seeing the boomerang meant to him:
… it's unbelievable that it's here and I'm actually looking at it ... I thought to myself that I would never see an object that Jandamarra would have owned, would have carried around. I think we're very lucky – many of the other Bunuba people never got the chance to see things like this – and I think to myself, I'm very lucky that I'm here to see this boomerang in particular. This boomerang is very special.
Putuparri and the Rainmakers
Gerrard, Kristen and Jamal's visit to Canberra coincided with the Museum's showing of the acclaimed film Putuparri and the Rainmakers, directed by Nicole Ma. This film is about Putuparri (Tom Lawford), Gerrard Lawford's twin brother, as well as his community's journey seeking native title for their country. The scenes of Fitzroy Crossing in the film were familiar to our visitors from the Kimberley and provided compelling viewing for the rest of the audience.
More
The Kimberley region in Encounters
'Jandamarra's legacy' and 'Righting wrongs' videos
West Kimberley and Jandamarra in the Encounters classroom resource