WARNING: Visitors should be aware that this website includes images and names of deceased people that may cause sadness or distress to Aboriginal and Torres Strait Islander peoples.
---
Ian Dunlop and the Western Desert films
21 Nov 2016
By David Kaus
Cultural artefacts seen in Ian Dunlop's groundbreaking Western Desert films from the 1960s are an important addition to the National Museum of Australia's collection.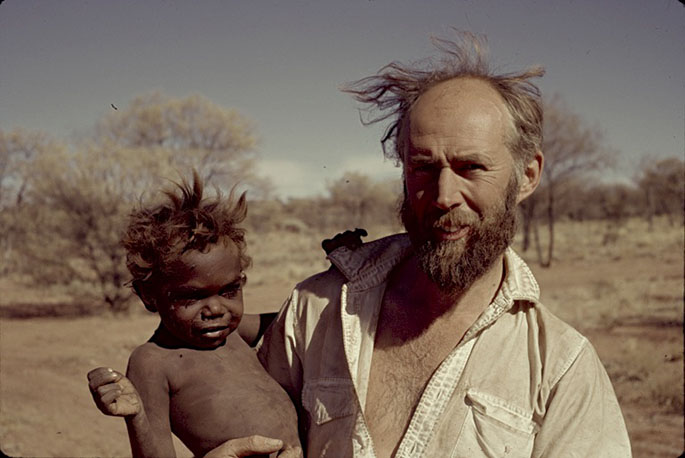 Dunlop's award-winning ethnographic films show the daily life of Aboriginal people living away from settled areas. His interest in Indigenous cultures extended to the collection of artefacts.
Dunlop was born in England, emigrated to Australia in 1948 and worked for the Australian Broadcasting Commission before he joined the Australian Commonwealth Film Unit, later Film Australia, in 1956.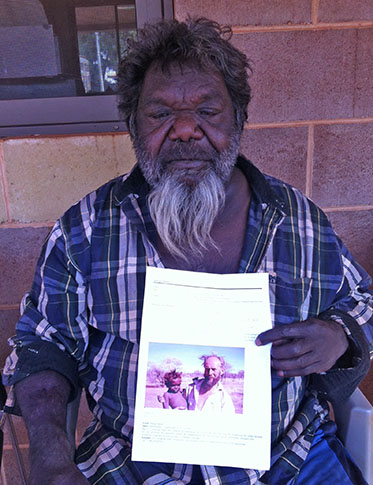 In 1957, the young filmmaker took his first trip to the outback, to complete a film on the new Giles Weather Station.
From the top of the remote Rawlinson Ranges, in Western Australia, near the border with the Northern Territory, Dunlop wondered about wisps of smoke he saw in the distance.
Dunlop found the country fascinating, but more important was his contact with local Aboriginal people, whom he included in the resulting film, 'Balloons and Spinifex'. The wisps of smoke he saw were from their camp fires.
Everyday life in the desert
Dunlop put a proposal to the Commonwealth Film Unit and the Australian Institute of Aboriginal Studies (now AIATSIS) to record the daily life of an Aboriginal family living in the Western Desert.
Filming started in 1964 with a small team that included an Aboriginal guide, a cameraman and an anthropologist.
The resulting 19-part 'People of the Australian Western Desert' showed, among other things, people cooking a kangaroo, gathering food and making a spearthrower. A selection of footage was edited into another film, 'Desert People'.
When these films were made, technology had only recently developed to the point where film and sound were synchronised and close-ups could be filmed through zooming. This meant people could be filmed unobtrusively, suiting Dunlop's philosophy, which was to impose minimal direction.
He would let people know what he wanted and then they would undertake the activity with little or, more commonly, no further instruction.
Dunlop's style was highly regarded and he was invited to film people in Arnhem Land and worked in Papua New Guinea. In 1986 he was awarded the Order of Australia for services to ethnographic filmmaking.
National Museum collection
In 2016, the Museum acquired objects from Dunlop's collection including a spearthrower seen being made by Ngaanyatjarra man Minmarra (Minma) in one of the films.
In the collection are objects previously unrepresented in the Museum's collection, like two bark discs used as targets. These were rolled along the ground and boys or men tried to hit them with their spears. This activity can be a competition where 'teams' compete against each other to hit the targets but is also one way that boys learn to throw spears accurately. The holes in the targets attest to the fact that at least some of the time someone was throwing straight!
The collection also features three small wool decorations made by school children at Aurukun in 1962. There is an object linked to the Foundation for Aboriginal Affairs, which helped Indigenous people living in Sydney, and a briefcase used by Dunlop when he worked for Film Australia.
Working with Ian Dunlop has been a pleasure. He has some amazing objects in his collection and the National Museum is most fortunate in being able to add some of these to its collection.