WARNING: Visitors should be aware that this website includes images and names of deceased people that may cause sadness or distress to Aboriginal and Torres Strait Islander peoples.
---
Dialysis and bush medicine help combat kidney disease
4 Mar 2015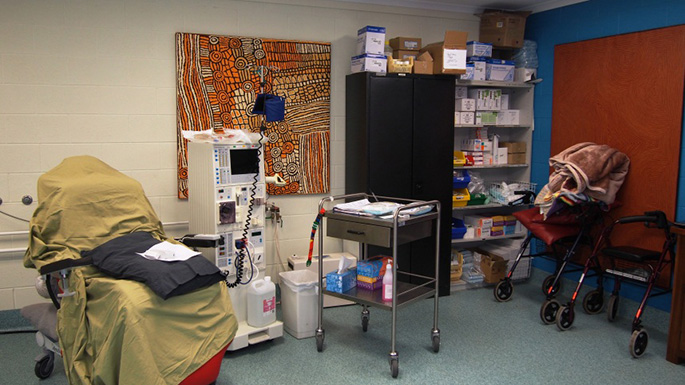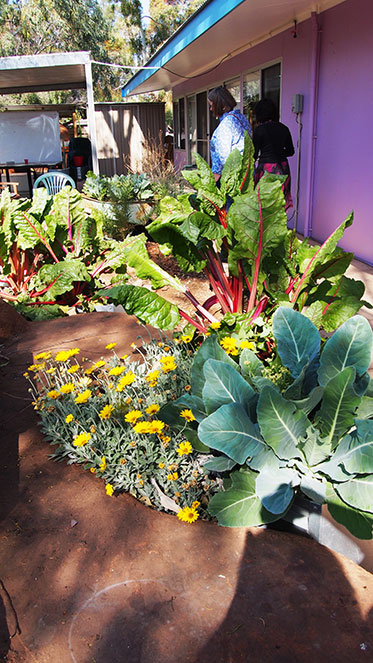 Purple House, Alice Springs
A new collection is helping to tell the story of Western Desert people with kidney failure and the work of the Purple House renal dialysis service, based at Alice Springs. The Purple House is the headquarters of the Western Desert Nganampa Walytja Palyantjaku Tjutaku Aboriginal Corporation (WDNWPT), which works to improve the lives of remote Indigenous people with chronic renal disease.
Over the past year, the National Museum of Australia has been working with Western Desert dialysis chief executive officer and manager, Sarah Brown, Fresenius Medical Care Australia and local Pintupi people to acquire objects, including a kidney dialysis machine, for the Museum's collection.
More on the dialysis collection
In September last year, senior curator, Andy Greenslade, and I were invited to visit the Purple House in Alice Springs and to attend the 10th anniversary celebrations of the Purple House renal dialysis centre in Kintore. The centre has since been renamed the Yari Yari Zimran Tjampitjinpa Dialysis Centre, in honour of the Pintupi elder and community leader whose vision and efforts were instrumental in setting up the centre.
Andy and I flew to Alice Springs before setting off to complete the remaining 500-kilometre journey to Kintore by road. While in Alice Springs, we visited the Purple House which, as well as providing state-of-the-art dialysis services to its clients, has developed a remarkable social enterprise project centred around individual and community well-being.
People who come to Alice Springs from remote communities for dialysis treatment often face many difficulties, such as accommodation issues, homelessness, loneliness and shame. The wellbeing program has included the establishment of a community garden and the production of 'Bush Balm' medicines, which are made using herbs gathered from the community garden. Using traditional methods such as the grinding stone (pictured below), the herbs are first crushed and then mixed with olive oil, beeswax and an infusion of love.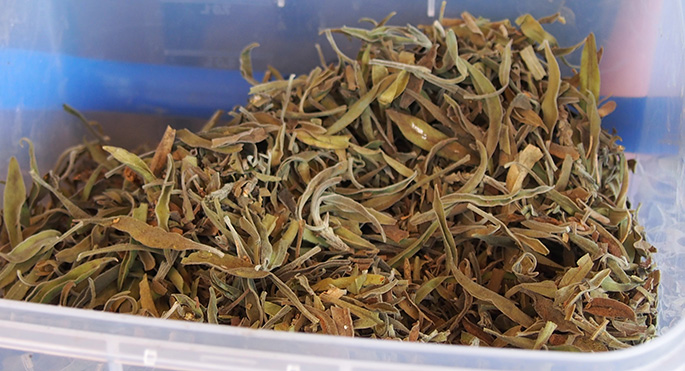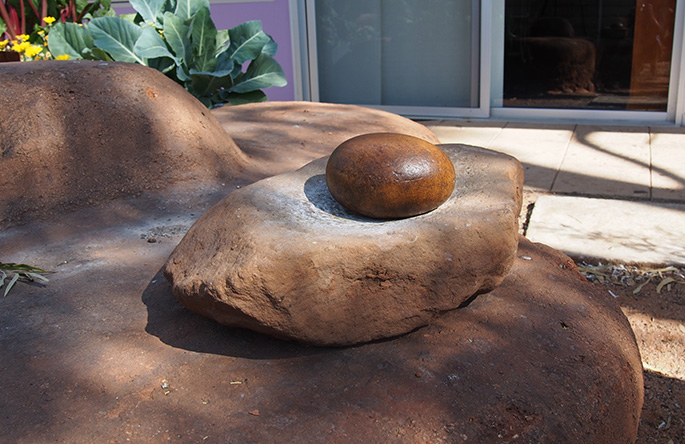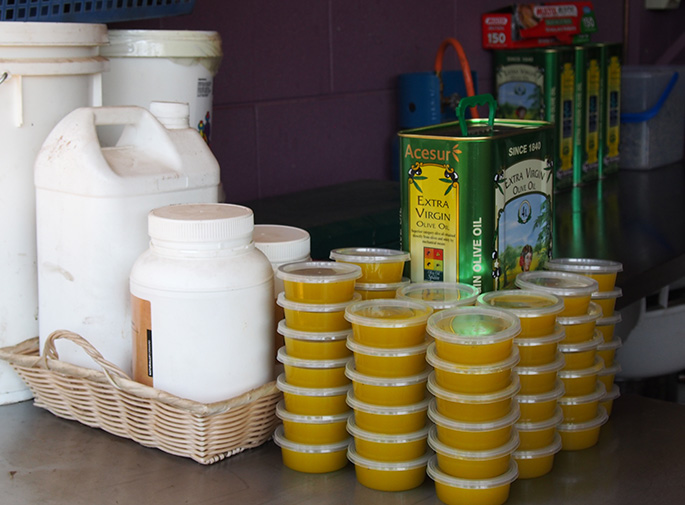 Central to the wellbeing project is the delightfully picturesque community garden where a fire pit has been built among flourishing traditional bush plants and vegetables and where happy chooks thrive in an artfully designed hen house, complete with original artwork and Buddhist prayer flags. Sarah says it's a wonderful place for people to sit, have a cup of tea, chat and relax, surrounded by plants and trees that remind them of their home in the desert. Apparently, the garden is so popular that people often come to sit there on their non-dialysis days!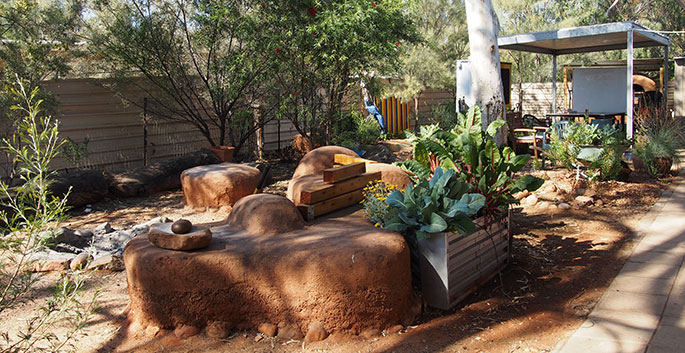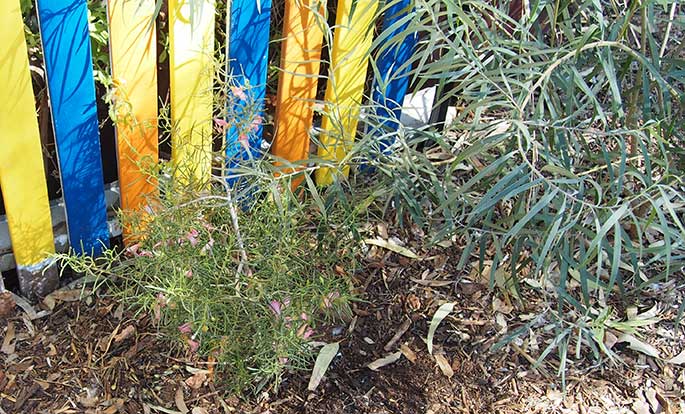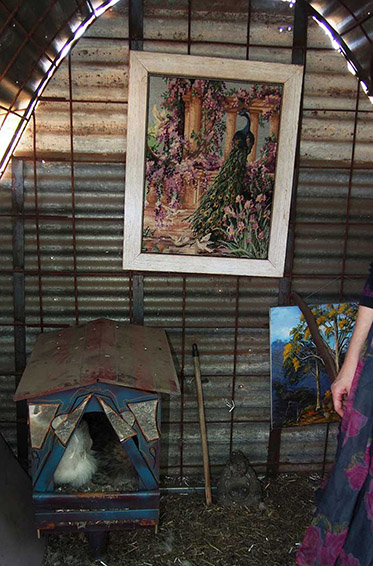 As well as from the garden, herbs and ingredients are gathered during regular trips away from Alice Springs.
These outings not only provide an opportunity for people to gather herbs that are growing in their natural environments, but also offer a welcome break from town life.
Among the many benefits of this program is access to traditional healing practices for dialysis patients living in town, employment, training and social support. Income generated by the project is re-invested in the dialysis centre.
Aside from these, one of the most important aspects of this enterprise is that traditional practices are being preserved and knowledge shared and passed on for future generations.
The link below is to the Western Desert/Purple House website, where you can read more about WDNWPT and the wonderful work being done by Purple House staff and their supporters.
You can also learn more about the Wellbeing Program and about the traditional herbs and plants used to make the Bush Balm products.