WARNING: Visitors should be aware that this website includes images and names of deceased people that may cause sadness or distress to Aboriginal and Torres Strait Islander peoples.
---
Collaborating with Reconciliation Australia
28 Apr 2017
By Serene Fernando, Jarrah Aguera and Lily Withycombe
A mixed-media travelling display providing a visual snapshot of Australia's reconciliation journey highlights an important collaboration between the National Museum of Australia and Reconciliation Australia.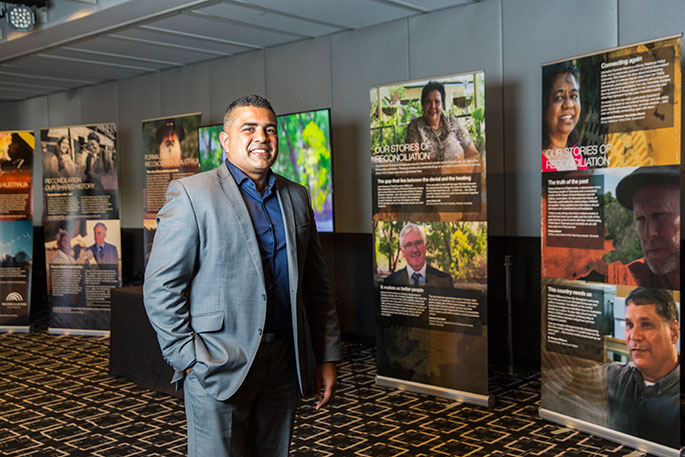 The display was produced by Gamilaraay woman Serene Fernando and was designed to promote important discussions about the past and future of reconciliation. It was launched at the Reconciliation in Conversation forum in Sydney in November 2016.
Year of milestones
Reconciliation Australia's landmark report, The State of Reconciliation in Australia, was launched in 2016. It highlighted milestones achieved in Australia over the past 25 years and recommended the way forward for Australia to realise its potential as a reconciled nation.
The year also marked 25 years of formal reconciliation in Australia, after the establishment of the Council for Aboriginal Reconciliation in 1991. It also marked 15 years since Reconciliation Australia was founded as the national expert body on reconciliation to continue the work of the Council and 10 years since the implementation of the Reconciliation Action Plan (RAP) program.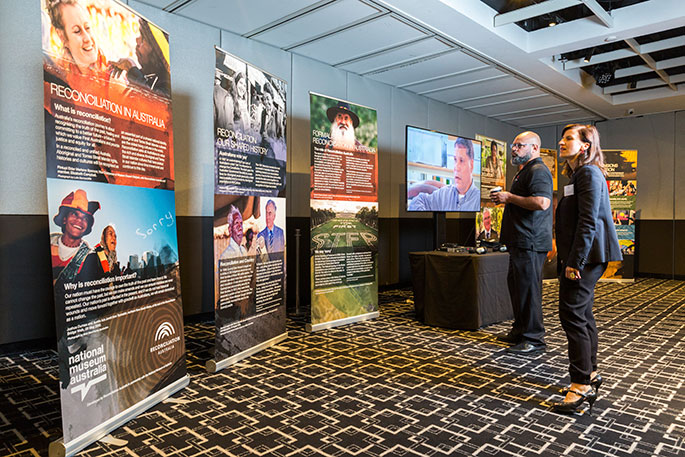 Travelling display
The travelling display consists of six banners which commemorate major milestones in the reconciliation movement and present Reconciliation Australia's vision of the future.
A short film encourages visitors to engage with personal stories from June Oscar AO, Duncan Ord OAM, Henrietta Fourmile Marrie, Greg Lehman and Dr Shayne Williams. These films were originally collected for the National Museum's Encounters project. Watch longer versions of these films and many more on our Encounters website.
Stronger together
This collaboration demonstrates how national organisations can produce stronger outcomes working together.
Reconciliation Australia's vision for a nation in which Aboriginal and Torres Strait Islander histories, cultures and contributions are a proud part of our shared identity is closely aligned with the National Museum's mission to bring to life the rich and diverse stories of Australia through compelling objects, ideas and programs.
The travelling display also helps each organisation to pursue independent opportunities. The Museum is seeking the support of the Department of Foreign Affairs and Trade to have the exhibition installed in Australian embassies. Reconciliation Australia is working with its Reconciliation Action Plan partners to support the display's presentation at influential organisations across the nation.
Queries about the display can be emailed to the Museum's Duty Curator.