WARNING: Visitors should be aware that this website includes images and names of deceased people that may cause sadness or distress to Aboriginal and Torres Strait Islander peoples.
---
Curator Andy Greenslade and Uncle Seaman Dan enjoy a tall story with Karl Neuendfeldt at the Cairns Indigenous Art Fair in 2009. Uncle Seaman had just celebrated his 80th birthday and gave a special guest appearance at the fair's concert.
Photo: Pip McNaught.
Curator Peter Thorley on the Northern Territory and West Australian border.
Photo: Pip Deveson.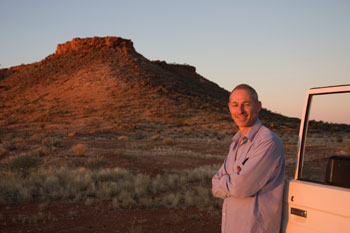 Curator Barbara Paulson interviews Dieri woman Evelyn Miklavec in Whyalla, as part of the Encounters project.
Photo: Jeremy Lucas
Curator Jono Lineen with the Torres Strait Islands component of the On Country photographic exhibition, showcasing contemporary Indigenous land and sea management practices across Australia.
Photo: Judith Hickson.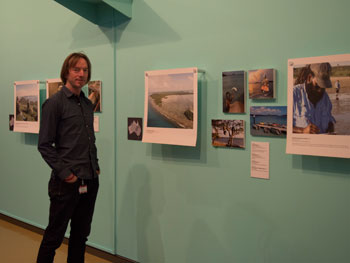 Curator and repatriation officer Lee Burgess talking about the wooden shields in the Museum's Open collections area.
Photo: Jason McCarthy.
Content project manager Benita Tunks shows community members from Arnhem Land around the Museum's Open collections, in the First Australians gallery.
Photo: Barbara Paulson.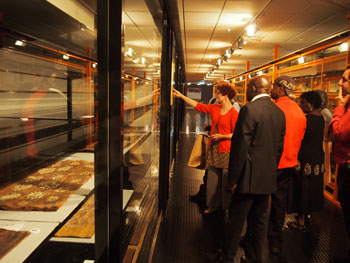 Curator Jay Arthur speaks with Allan Oliver (left) and Hendrick Fourmile, in Cairns, August 2013, as part of the Encounters project. The interview was filmed by Sarah Scragg (far right).
Photo: Michael Pickering.