WARNING: Visitors should be aware that this website includes images and names of deceased people that may cause sadness or distress to Aboriginal and Torres Strait Islander peoples.
---
Curator Jono Lineen with an exhibit in the On Country photographic exhibition showing how Dhimurru Rangers in Cape York are fighting to save Cape York sea turtles.
Photo: Judith Hickson.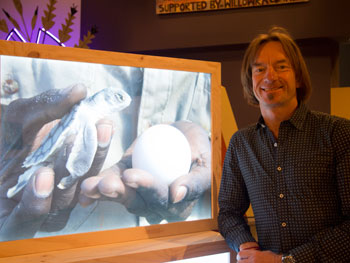 Dieri representative William Dawson talks with curator Barbara Paulson in Whyalla, South Australia, about the skills and work involved in making Dieri shields.
Photo: Jeremy Lucas.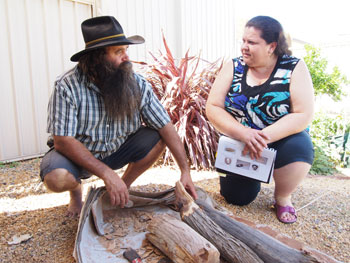 Minang elder Harley Coyne in Albany speaks with content project manager Benita Tunks about the Encounters project.
Photo: Sonja Balaga.
Curator Jay Arthur with Aunty Patsy Cameron, who was being interviewed as part of the Encounters project, at Tomahawk, Tasmania. November 2013.
Photo: Michael Pickering.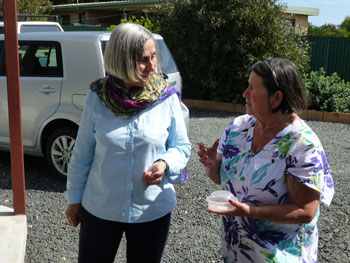 Curator and repatriation officer Lee Burgess atop Gibraltar Peak, Tidbinbilla Nature Reserve in Canberra
Photo: Ben Burgess.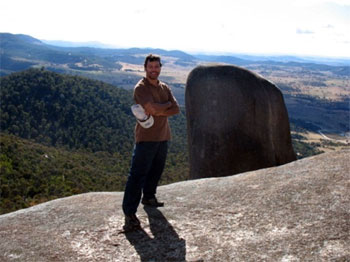 Kintore artist Ronnie Tjampitjinpa (right) with curator Peter Thorley, looking at an image of Uta Uta Tjangala's 'Yumani' canvas, on the verandah of Ronnie's house, Kintore, Northern Territory.
Photo: Pip Deveson.
Curator David Kaus and visiting Kokoberrin artist Shaun Edwards, from far north Queensland, examine a piece of fibre work at the Museum's Indigenous collections store.
Photo: George Serras.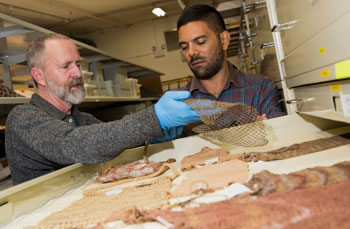 Curator Andy Greenslade and Uncle Seaman Dan enjoy a tall story with Karl Neuendfeldt at the Cairns Indigenous Art Fair in 2009. Uncle Seaman had just celebrated his 80th birthday and gave a special guest appearance at the fair's concert.
Photo: Pip McNaught.