WARNING: Visitors should be aware that this website includes images and names of deceased people that may cause sadness or distress to Aboriginal and Torres Strait Islander peoples.
---
Lorna Jackson and Vicki Nangala, granddaughters of Uta Uta Tjangala, with Peter Thorley at Kintore in the Northern Territory.
Photo: Pip Deveson.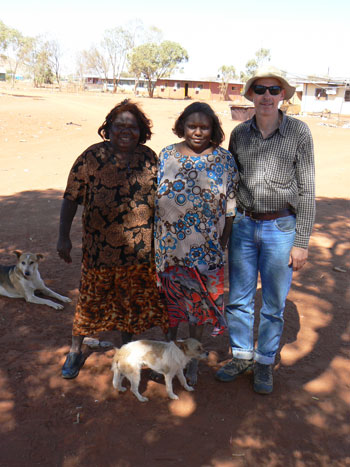 Curator Jay Arthur in Kempsey with a group of Kinchela boys at the donation of the Kinchela gate to the National Museum (from left) Michael Walsh, Cecil Bowden, William Lesley, Ian (Crowe) Lawson and Manuel Ebsworth.
Photo: Barbara Paulson.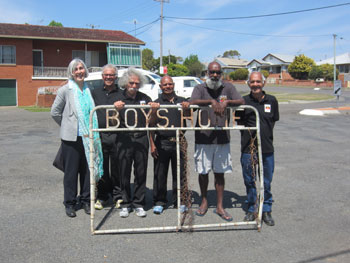 Community visit by elders Marcia Jerry (Girramay) and Carol Chong with curator David Kaus. They are viewing a collection item from far north Queensland's rainforest areas, in the collection Access room at Mitchell.
Photo: George Serras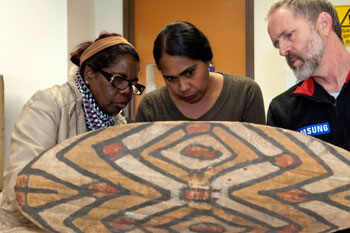 Content project manager Benita Tunks (right) meets community members in Kyogle as part of the Encounters project.
Photo: Barbara Paulson.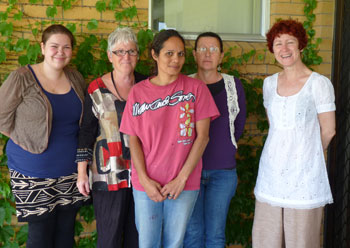 Jono Lineen, curator of the exhibition 'Lag Meta Aus: Home in the Torres Strait', at the entrance to the Museum's Torres Strait Islander gallery. The spectacular entrance to the gallery was inspired by the traditional dhari headdresses worn for dance and ceremonial occasions by Torres Strait Islander men.
Photo: Judith Hickson.
Curator Andy Greenslade relaxing with Lola Greeno and Colleen Mundy at Larapuna in northeast Tasmania, after a weaving workshop for the Tayenebe weaving project. The project resulted in an exhibition, Tayenebe: Tasmanian Aboriginal Women's Fibre Work. The baskets were bought for the collections of the National Museum and Tasmania Museum and Art Gallery.
Photo: Julie Gough.
Jean Barr-Crombie, curator Barbara Paulson and Betty Bunyan at the Dingo Caves on Wankangurru Country north of Birdsville, Queensland.
Photo: Jeff Theys.
Curator and repatriation officer Lee Burgess talking about the wooden shields in the Museum's Open collections area.
Photo: Jason McCarthy.