WARNING: Visitors should be aware that this website includes images and names of deceased people that may cause sadness or distress to Aboriginal and Torres Strait Islander peoples.
---
Community visit by elders Marcia Jerry (Girramay) and Carol Chong with curator David Kaus. They are viewing a collection item from far north Queensland's rainforest areas, in the collection Access room at Mitchell.
Photo: George Serras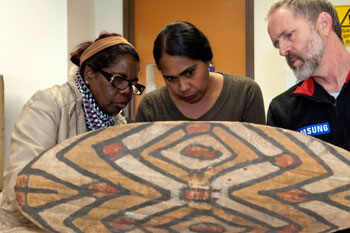 Elder Patrick Hume in Perth speaking with content project manager Benita Tunks about the Encounters project.
Photo: Songa Balaga.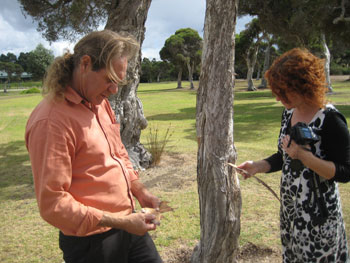 Curator Peter Thorley on the Northern Territory and West Australian border.
Photo: Pip Deveson.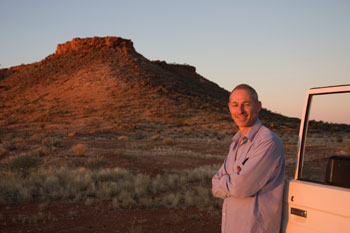 Curator Andy Greenslade and Uncle Seaman Dan enjoy a tall story with Karl Neuendfeldt at the Cairns Indigenous Art Fair in 2009. Uncle Seaman had just celebrated his 80th birthday and gave a special guest appearance at the fair's concert.
Photo: Pip McNaught.
Abe Muriata talking with curator Jay Arthur at the Girringun Aboriginal Arts Centre in Cardwell, North Queensland for the Encounters project.
Photo: Michael Pickering.
Curator and repatriation officer Lee Burgess talking about the wooden shields in the Museum's Open collections area.
Photo: Jason McCarthy.
Curator Jono Lineen with an exhibit in the On Country photographic exhibition showing how Dhimurru Rangers in Cape York are fighting to save Cape York sea turtles.
Photo: Judith Hickson.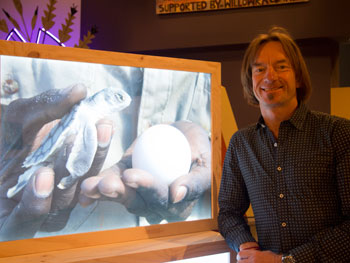 Move it Mob Style dancers Shari Togo and Ryka Satrick with curator Barbara Paulson after an Australia Day performance at the National Museum.
Photo: Jilda Andews.