WARNING: Visitors should be aware that this website includes images and names of deceased people that may cause sadness or distress to Aboriginal and Torres Strait Islander peoples.
---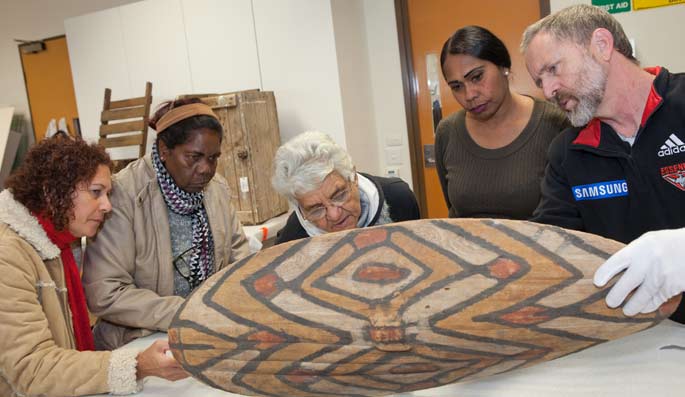 In May this year we, Aunty Marcia Jerry & Aunty Yvonne Canendo and I (Trish Albert), had a wonderful and informative visit to the Museum. Needless to say, I'm still passionate about artefacts and museums, even though I no longer work at the Museum. It was fantastic to be able to come back to my old workplace with Aunty Marcia & Aunty Yvonne and see firsthand the wonderful care that is provided to cultural materials from our region in Far North Queensland. We braved the winter cold of Canberra to see what is held in the Museum's collection representing our culture and region. A few of those objects were set aside for us to touch, to share information, and have in-depth discussions about them with staff. It was a lovely experience!
Aunty Marcia is an elder from the Girramy (Girramay) language group. This group takes in the region from Cardwell (on the coast) to the islands, and back to the Great Dividing Range. It includes the nearby towns/communities/areas of Cardwell, Rockingham Bay, Kennedy, Kennedy Valley, Murray Upper, Jumbun, Kirrama Range, and Hinchinbrook Island. Aunty Yvonne is an elder from the Ngadjon (Ngadgon) language group, which is situated around the Malanda region on the Atherton Tablelands extending to Mount Bartle Frere. I am a Yidinji elder. The Yidinji group is located next to Ngadjon group. Yidinji is a larger group and takes in the region around Atherton but its country is extensive. While Yidinji is my group, I also have links to Aunty Marcia.
These groups and regions are closely aligned, in more ways than one. All three groups are part of Far North Queensland Aboriginal Rainforest language groups. The groups continue to share much in common, although each one has its own language. Since long ago, language has been related and understood by people across this large area from the Atherton Tablelands down to Cardwell.
Our small group met with Museum staff including Anne Kelly (Collection Access Officer), Clair Owen (Registration Officer) and ATSIP curators David Kaus and Barbara Paulson. Firstly, we visited the Museum store at Mitchell and spent time with some of the objects that are held there. Then we went to the Museum building on Acton Peninsula where, in the Gallery of First Australians, we had private access to the Open Collections, especially to view artefacts such as bicornial baskets, eel traps, rainforest shields, and bark baskets which are known to represent the culture, distinct and similar, of the peoples of Far North Queensland. Many of these crafts and ways of life are still practiced today.
These artefacts are of great interest to elders. It was a big day and the ladies were a little overwhelmed, but they thoroughly enjoyed their time at the Museum. The elders are talking even more enthusiastically about artefacts and what the knowledge they shared means back home, and they are excited about continuing the relationship between our communities and the Museum. There are many objects that the elders would wish to see returned 'back home' but, because the communities do not have a functioning Keeping Place, or one that is funded adequately, this continues to be a dream only. In this visit, their eyes have been opened and they have come away with a taste of the purpose and role of museums and they hope that there will be more conversations in the future.
Thank you to the Museum staff for making our group's experience as good as it was. I wrote about the Ngadjon community (Yvonne and her family) in a children's book as part of a series the Museum published in 2010. So there's many reasons why I'm wanting to share a Museum experience with these lovely ladies!
Trish Albert Author