WARNING: Visitors should be aware that this website includes images and names of deceased people that may cause sadness or distress to Aboriginal and Torres Strait Islander peoples.
---
Making changes to a museum's 'best practice'
In March I attended 'The state of things' project, which was held at the National Museums of World Cultures (NMWC) in Gothenburg, Sweden. The aim of the project was to open discussions on how collections can be better informed by, and representative of, their 'culture of origin'. The project focused on collections within the NMWC that are historically and culturally significant for both the communities and cultural groups from which they originated, as well as for local and international researchers. Through this project, the NMWC sought intercultural dialogue, in order to introduce new voices and new approaches, and to move the material beyond 'old school' ethnographic categorisations.
The project included three, collection-based, workshops and a conference. The focus was on NMWC collections representing four Indigenous cultures - Sami (Sweden), Mapuche (Chile), Congolese (Congo) and Aboriginal (Australia). Objects within the collections had no cultural knowledge attached to them, and the research notations and descriptive material were of the traditional, nineteenth-century, ethnographic style, revealing more about the collectors' thinking and views on 'other cultures' than of the objects themselves.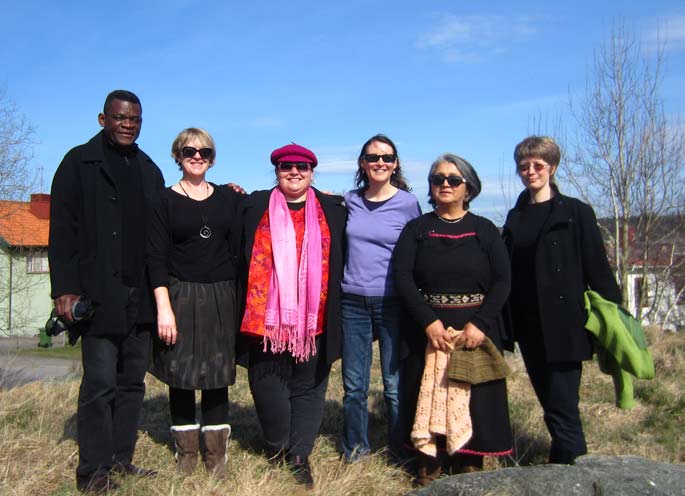 What was amazing about this project was that all issues regarding collecting and representing Indigenous peoples' cultural materials were discussed at length within an Indigenous world view. The aim of the discussion was to place the information about objects and collections, and their cultural significance, within 'culture of origin' perspectives. Identifying practical knowledge on how to gain more information about objects, including conducting further research with communities and engaging community members individually was emphasised in the sessions. The discussions identified the issues Indigenous peoples have about 'their' material culture being held in museum collections and, even more importantly, how museums are representing Indigenous people in research and exhibitions. It was discussed at length why those issues existed and how museums can progress in addressing them.
The workshops and discussions were insightful explaning the way different value systems applied to objects when viewed within 'culture of origin' perspectives, also recognising that those value systems change over the generations. Another discussion point was the inclusion of the broader histories each object represents. An object may be significant because of the unique history that it represents - what it had been made for; the people who made it. they also represent Indigenous engagement with colonisers; the changes and the cultural transitions that occurred during colonial processes; the politics of collecting the 'other'; and, how the object came to be in a museum. These considerations broaden the histories that each object can represent, and the type of research possible.
My favourite workshop was 'Writing the collections' - a workshop on label writing in a crosscultural setting. As curators, one of our main tasks is to write labels about objects that will inform and, if possible, engage the audience. This workshop took a basic curatorial practice and turned it around to reveal how current descriptive labels communicate ethnographic values and do not provide information about the knowledge or values of an object's 'culture of origin'. It was realised in a very practical way that the label can communicate so much when not bound by traditional museum standards. By using text creatively, for example, by including a first-person narration, a label can communicate diverse cultural information, values and knowledge.
One of the issues faced by museums around the world with their Indigenous collections is 'non-attribution' - the makers of objects are not named. As a result, typically, the catalogue of the institution, and ultimately the label, will read 'maker unknown'. This is seen as a demonstration of disrespect by museums towards makers of objects, because it dismisses the people and knowledge that made the objects not as important or connected to the objects.
This applies to the Australian collection that is held in the NMWC. The collection, which was acquired between 1880 and 1940, is exclusively Aboriginal and consists of 826 objects of material culture representing peoples from the Kimberley, Cape York, and Central Queensland regions. It includes weapons, firesticks, message sticks, boab nuts, dancewear and props, ornamentation, jewellery, bark paintings, photographs and postcards. The 'state of things' project discussed ways in which NMWC can connect, in culturally appropriate ways, objects back to makers.
Barbara Paulson Curator, ATSIP
The collection can be seen on the NMWC website http://www.kringla.nu/kringla/sok?text=australien&sida=7 (note, the text is Swedish). If you would like to share information or find out more, please contact Adriana Munoz, curator, National Museum of World Cultures via her email Adriana.Munoz@varldskulturmuseerna.se