WARNING: Visitors should be aware that this website includes images and names of deceased people that may cause sadness or distress to Aboriginal and Torres Strait Islander peoples.
---
Brungle is a small community, which lies midway between Gundagai and Tumut, in the foothills of the beautiful Snowy Mountains in New South Wales. Learning the history of Brungle through books and text is different to learning about the community and its shared history through consultations and oral histories. I visited Brungle in November last year, to meet some of the elders and discuss the community's representation in the Museum. Elders and community members shared their personal experiences, how they see their community and what is valued within their cultural group. It is important to know and understand these aspects of a community when it is represented in the Museum. Personal recollections are as important as historical overviews when representing 'community'.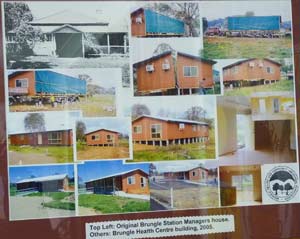 The main discussions were centred on the history of the old Brungle mission, remnants of which still exist on the outskirts of the town. Before becoming a European settlement, the site of Brungle was a semi-permanent stopping place for the Wiradjuri people as they moved along their traditional pathways. The Brungle community consists of Wiradjuri people, and others who have come to call the place home. While the stories of Brungle mission are part of history, the Brungle community is living culture of of the area. Those I spoke to reflected on their life and experiences on the mission, what it meant to their lives and family after the mission had closed, and the type of changes that occurred, and how it affected the community. Aunty Margaret Berg shared how different her grandchildren's lifestyle is to that which she experienced. Aunty Soni Piper reflected on the historical legacy in families of fighting for rights, and moving around to locate resources to take care of community.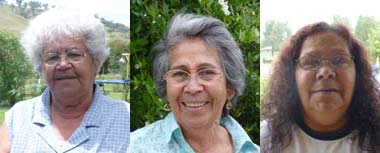 In every community there are those 'Aunties' and 'Uncles' who are long-time advocates, persistent in creating changes that are beneficial for all.
Aunty Margaret Berg said,
We spent a lot of time down the river swimming and fishing and washing clothes, which we use to lay out on the grass to dry. There was no tap water back then, we fetched it from the spring in buckets and carried them back to the humpies on a yoke.
Aunty Soni Piper explained:
The greatest reason for the mission's reputation [of being problematic] was the restricting of movements of Wiradjuri and other Aboriginal peoples in the region, yet relying on the Wiradjuri as the [transient] workforce within the region. The settlers wanted it both ways. They wanted us not to move, but to move where they wanted us. Another reason Brungle is so well known is because so many of those who were on Brungle mission are well travelled and [now] live in so many places across Australia.
Brungle mission was established outside Brungle township in 1888 by the New South Wales Aborigines Protection Board, following pressure from settlers to 'contain' and restrict the movement of Wiradjuri and other Aboriginal peoples in the region. The constant movement of Wiradjuri on and off the mission to fulfil work and family commitments, and transfers of Aboriginal people from other missions, resulted in regular overcrowding at Brungle mission. This overcrowding led to residents moving into the town and, long before the mission officially closed in 1951, the majority of Wiradjuri had already moved into the town or other towns in the region.
Aunty Tammy Tidmarsh explained:
This home is my heart and soul. We may go other places for work or whatever, but land, family and community that we belong to is what's most important. I was born here in Brungle and I will die here. I came back here because this is my home; my Country. Brungle is still 'home' to a large community of Wiradjuri people who live elsewhere and come 'home' to visit. The mission is not there anymore but the community and families are.
Sue Bulger said,
'Community is about everyone. Everyone participates in it - even when they think they don't. We know our community. It was the Wiradjuri of Brungle who fought for the setting up of the local health and community care centre that services the whole community, both Aboriginal and non- Aboriginal people. Everyone.'
Barbara Paulson Curator, ATSIP