WARNING: Visitors should be aware that this website includes images and names of deceased people that may cause sadness or distress to Aboriginal and Torres Strait Islander peoples.
---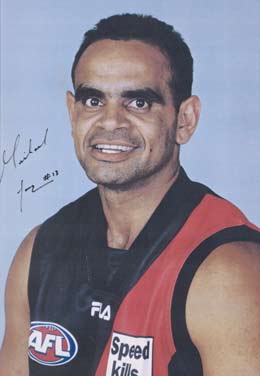 This framed poster, signed by Michael Long, is important for two reasons; firstly, it represents Long's achievements as an elite, professional Aboriginal sportsman and, secondly, it represents a sportsman's social influence in his community. While Michael Long was a signficant and well known footballer in the Australian Football League (AFL), sporting memorabilia or items representing his career are rare.
Long, had a stellar football career from the time he was recruited in 1989 by the Essendon Football Club. Long's skills earned him accolades and awards including the Norm Smith Medal for best on ground in the 1993 AFL Grand Final, and being runner-up for the Brownlow Medal in 1995. The Brownlow Medal is the highest achievement for any player in the AFL. In 2001, Long retired as an elite player and became the AFL's Indigenous programs manager, running programs such as the 'All Stars' games and 'AFL star' tours and workshops in Aboriginal communities. He says, 'We can't forget kids … We want them to know we care ... not only for their football development, but their character development.'1
At the height of his playing career, in 1995, Long lodged a complaint with the AFL for racial abuse in which he named Damian Monkhorst of Collingwood as the abuser. Long's complaint and condemnation of racial abuse in sport, as well as the subsequent public debate, led to the AFL's implementation, that year, of a racial vilification code. The short period in which such a radical action was taken by a long-established and powerful sporting league demonstrates the intensity and pressure of public opinion that was generated by the attention Long drew to the issue of race relations.
The acceptance of the code, and the public debate that it generated, had immediate and wide-ranging influence on sporting codes throughout Australia. Other states and codes also addressed the issue, in differing ways, following this event. One of the most notable changes that occurred, both during the debate and in its aftermath, was in crowd behaviour at AFL games. Crowd members, would publicly chastise other audience members, as well as players, for using racial slurs.
The intense media debate over this issue meant that the public, along with the AFL, was presented with a growing list of examples, events, and evidence of racial abuse that had been experienced within the AFL. Long stated during a media interview that 'racial abuse is both morally wrong and connected to power'.2 At another media interview, Che Cockatoo-Collins, another Essendon player, followed the argument by referencing Long and commenting 'these racist remarks are referencing history and even if those who don't understand the historical and cultural context in which the statements are embedded they [the abusers] understand the power of their statements.'3
Barbara Paulson Curator, ATSIP
Endnotes
1 Gardiner, Greg 'Levelling the playing field', Indigenous Footballers, Human Rights and the Australian Football League's Racial and Religious Vilification Code, 1999.
2 Ibid.
3 Cockatoo-Collins, Che (1995), as quoted by Connolly, 'The revolutionary', Sunday Age, 26 April 1997.