WARNING: Visitors should be aware that this website includes images and names of deceased people that may cause sadness or distress to Aboriginal and Torres Strait Islander peoples.
---
The Museum recently acquired four of Mervyn Street's paintings, because of their representation of aspects of 'working on country' from the Gooniyandi perspective - the fencing of lands, the transition from bush life to station life, the introduction of motor vehicles for use within the droving industry and the end of the era of droving on horseback, the effect of equal pay within the industry and the history of and contemporary debate regarding stolen wages and reparations.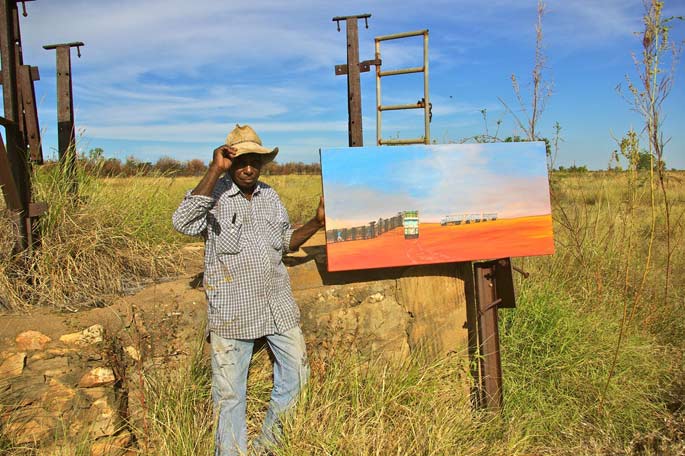 Mervyn Street is a Gooniyandi man from the country around Fitzroy Crossing, whose work speaks of personal experience and the type of lifestyle and work that he and his countrymen did in stations across Western Australia. As a young boy, his family moved around, living a 'bush life', before they settled permanently on Louisa Downs station, where they had extended family already living and working. There, Street learnt how to be a stockman from his uncles and he went on to work on stations across the Kimberley.
Yanpiyarti Ned Cox stated:
… droving teams were always led by white bosses. However, their success depended on the skill of the Aboriginal stockmen and women, who far outnumbered the white drovers. Aboriginal stockmen and women, although not named in the mainstream history … are remembered with pride by Aboriginal people today.
Street places himself in each of the artworks, as his way of acknowledging the role that he and his family have played in the history of the pastoral industry in Western Australia. He also represents his life and 'Country' with detail that is born out of familiarity, capturing elements within the paintings that many would overlook, such as detail on leatherwork, or the clothing worn by the men. He represents his 'Country' with knowledge of landscape and how it changes through the seasons.
Street is one of those affected by the current debate over stolen wages. Part of the debate arises from the need to acknowledge the role that Aboriginal men and women played in the growth of industries across Australia, as well as human rights and legal accountability. As Street said,
A lotta old people telling me 'bout [how] they used to drove from Billiluna straight across to Wiluna. But they're not in the photos, they got no name. Nothing. They got to be part of this droving story.
In Western Australia, the stolen wages debate is current and the stockmen and women of Street's generation and older are the primary focus for reparations. Over the past two decades, research into public and private records has been used to both highlight the issue and dismiss those who were not 'on record'. Street said "It was normal to get clothes and tobacco for working. As much as I loved working on country, and sometimes it was fun chasing the cows around, but stock work is hard work and long hours and we never got any pay and when we got rights for equal pay most people just got let go or sent away."
Of the painting the Old Trucking Yard (2012), Street says:
This story is about this yard. I remember the last droving I ever did was from Louisa Downs to Fitzroy Crossing with them old people. Fitzroy Crossing was all scrub back then, there was no town here, just flood plains and spinifex. This was the first time I ever saw a truck here in Fitzroy Crossing. They were loading all of the cattle onto that truck. You can still see some steelwork from the yard, but the rest of it is long gone now. This was the end of my droving days.
Street's paintings will be included in the upcoming exhibition 'Working on Country', which is in development and is due to open in December 2013.
Barbara Paulson Curator, ATSIP