WARNING: Visitors should be aware that this website includes images and names of deceased people that may cause sadness or distress to Aboriginal and Torres Strait Islander peoples.
---
The Museum welcomes another national treasure into the collection
A rare and signicant national treasure - the remaining half of the gate from the Kinchela Aboriginal Boys Home (c 1950) - was recently donated to the Museum. 'If this old gate could talk, you'd hear some horror stories,' said Ian 'Crow' Lowe, former Kinchela resident. In a suburban street in Kempsey, a small crowd of friends and brothers gathered to see 'the gate' and officially hand it over to the Museum. It was a moment of high emotions as Kinchela 'Boys' - now senior men - saw, for the first time in over 48 years, the gate that they walked through as children when they became part of Kinchela; part of the systematic removal of children from families; part of the Stolen Generations. The gate will represent their experiences, both as individuals and as a collective, within the Museum. The oral histories of these men have been documented and the gate will go on display in the Gallery of First Australians. Pastor Ray Minnecon stated, 'This is a part of the healing - knowing their stories are believed and knowing this history will be remembered.'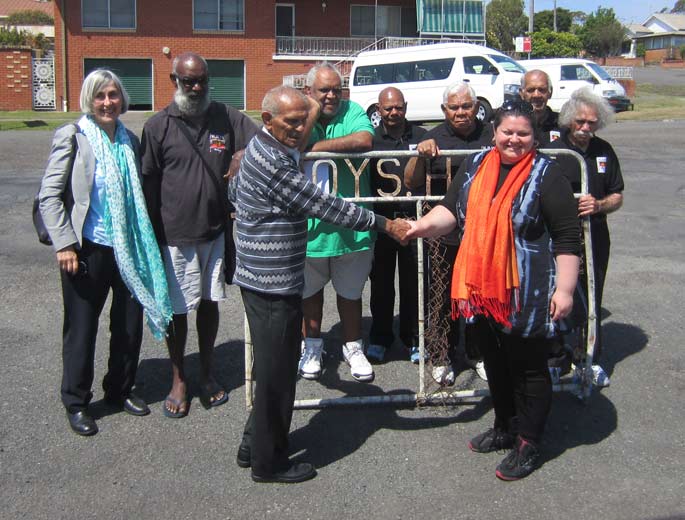 The Kinchela men who were present at the handover to the Museum were joyous but focused about making sure that their story is known and heard. 'This [gate] is what kept us in - kept us from our culture. Going through that gate - it was going into hell,' said Manuel Ebsworth. The donation to the Museum means the gate will be 'looked after' and readily accessible for all those who were at Kinchela, and their relatives. Uncle Cecil Bowden said 'for us this is an old story, a hard story, but it's our story. Our lives were impacted negatively by being there [at Kinchela] and those experiences there - it negatively affected our life and how we live our life.'
Kinchela Aboriginal Boys Home was one of the best known of the Aboriginal children's homes of New South Wales. Those children, who are now adults, parents, grandparents and great-grandparents, are acknowledged and known as the Stolen Generations. William Lesley said 'We were only little when we went there [Kinchela]. We were taken from our family, but we became family for each other. We're brothers, we stick together.' Throughout its years of operation, Kinchela and its residents were often reported, in national and local news media, with positive stories about the residents' lives and experiences. The reality, however, was quite different. Several reports, from both private researchers and government officials, describe the living situation of residents over each decade, the brutal treatment that the boys received, and teaching practices at Kinchela. These men are the human face of that history.
The gate was part of a pair that originally formed the front gates of Kinchela Aboriginal Boys Home, since it was established by the Board for the Protection of Aborigines in 1924, and formed a significant part of the childhood memories of residents. When they were replaced in about 1950, the original gates were discarded until, in the late 1990s, a community member found one of them by the river in Kempsey. The gate was given to Uncle Harold 'Bluey' Smith, a Dunghutti elder and chairman of the local Lands Council. Uncle Bluey Smith has been custodian of the gate for over 13 years. Though he did not attend Kinchela, he knew former residents and was aware of the gate's cultural importance. He was happy to hear that the Kinchela Boys Home Aboriginal Corporation had decided to donate it to the National Museum. Uncle Bluey Smith was part of the handover formalities, at which he said, 'It was easy to see what was going on in there to those boys. It was hard not knowing what the collection we, as a community [in Kempsey], could do about it. I hope this story helps people become educated enough to know why we don't do this to children. Children become adults. Adults actions and attitudes they express in life reflect their experiences.'
This is an extraordinarily rare and significant object for the Museum to collect. There is very little material culture remaining from the homes where so many of the Stolen Generations spent their childhoods. The Museum is committed to representing what is one of the most important stories of the twentieth century for Aboriginal and Torres Strait Islander peoples. This object will assist the Museum to tell the story of removed children more comprehensively.
Barbara Paulson & Jay Arthur Curators, ATSIP