WARNING: Visitors should be aware that this website includes images and names of deceased people that may cause sadness or distress to Aboriginal and Torres Strait Islander peoples.
---
noun 1. a collection of wild or unusual animals, especially for exhibition
Menagerie, which came to the Museum for six months this year, is unusual for an art exhibition because it is a display of pure sculpture. It includes lots of fibre, some metal, some wood but no 2D works (drawings, paintings or photographs). All of the works in the exhibition were produced by Aboriginal and Torres Strait Islander artists from across Australia.
The exhibition is the result of a creative partnership between two Sydney organisations - the nation's oldest state museum, the Australian Museum, and a young commercial gallery Object: Australian Centre for Design. Between them they have produced an engaging show that represents some of Australia's most creative artists, whose works combine a whole mix of media under the theme made clear by the title Menagerie: animals … creatures of land, water and air.
The majority of the animals depicted, but not quite all, are native to Australia - the Murray cod, kangaroos, Tasmanian devils, and even an ant. All are represented in the most extraordinary way through the sculptures. A sculpture by Johnny Young, Eastern Arrernte man from Titjikala, is one of my favourite pieces. His work, beautifully made in wire, depicts a group of kangaroos observed at peace, in relaxed and unconcerned mode.
Whenever I'm in the gallery, I hear visitors talking about, and taking a very personal delight in, their favourite piece in the exhibition. In fact, even the special guests at the opening were unable to resist lingering near their favourites.
Endearing as it might be, the exhibition conveys a powerful message, strong as any other I've seen. I'm reminded of the very close connections felt by the artists to their country, of the importance of the animal kingdom to their lives and of the importance of each animal in the chain of life and the interdependence of species. They play a daily role in physical life as well as in the spiritual aspects of life of many Indigenous people.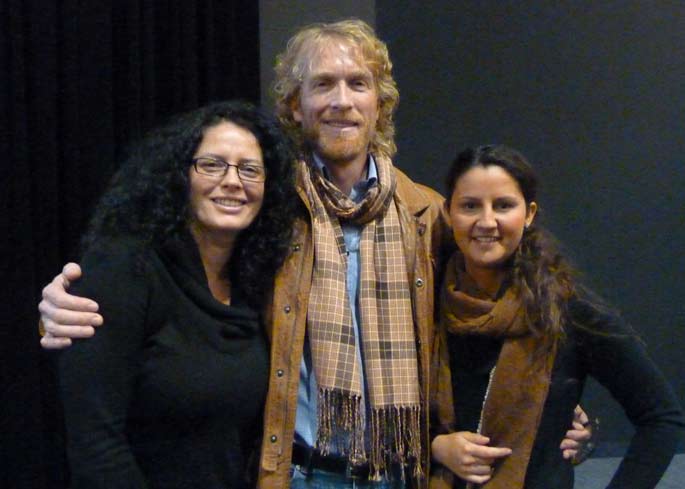 We were lucky to bring one of the artists and curators together in Canberra to talk to a large audience and to give our visitors an intimate look at their roles in the project (Listen to the audio or read the transcript of the Welcome to Menagerie conversation). Indigenous curator, Nicole Foreshew, formerly from Object, researched and curated the exhibition. She travelled widely, sourcing and encouraging people to provide a work for the exhibition. She shared the stage with Danie Mellor, Indigenous artist from the Atherton Tablelands. Mellor, an experienced and celebrated artist, contributed the Spode china encrusted kangaroos, Red, White and Blue (2008), which prompted numerous thoughts of colonial impact and change.
There's so much to say about this lovely exhibition. See for yourself the Menagerie exhibition on the Museum's website.
Andy Greenslade Curator, ATSIP