WARNING: Visitors should be aware that this website includes images and names of deceased people that may cause sadness or distress to Aboriginal and Torres Strait Islander peoples.
---
Finding family connections at the Museum
In July this year, Lenie Namatjira chaperoned five students, aged from 10 to 12 years, to Canberra from their home in central Australia. They live in a place called Ntaria (known as Hermannsberg), which is 130 kilometres west of Alice Springs, in the Northern Territory. It was an adventure for this small group to visit Canberra in mid winter. They organised a visit to the National Museum to see objects made by their ancestors that are held in the collections. I hosted their tour around the Gallery of First Australians, which included seeing objects made by Albert Namatjira and other Hermannsburg artists.
We started off by looking at Namatjira's watercolour paintings that are held in the Education collection: Mt Sonder - MacDonnell Ranges, 1945, NT and Haast Bluff - MacDonnell Ranges. We also saw a watercolour done by Namatjira's cousin, Walter Ebatarinja, A Blue Valley. I realised that the surname 'Ebatarinja' was familiar to me and my family. After some discussion, Leslie and I were able to connect the biological lines and find that Walter Ebatarinja is related to me through my sister-in-law, (it's a small world!). I showed the group a picture of my family that I carry with me - my Mum, myself, my eldest brother, sister-in-law and other brothers. The adults recognised the people in the photo and I felt very proud to be able to connect through family lines and know how this group of people, that I had just met, was connected through community to my family and to me. The part I loved best was listening to the kids talking in Pitjantjatjara language, and my trying to speak it. The kids had a good laugh at my effots and we continued the rest of the tour in good cheer.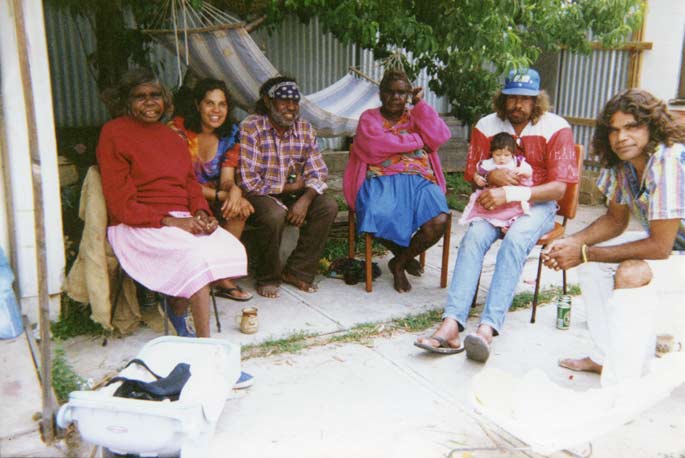 While walking with the group through the Garden of Australian Dreams, I was interested to watch the children run around, looking on the ground for depictions of landmarks, roads, country, and names of language groups that they might recognise as representing their home in and around Ntaria.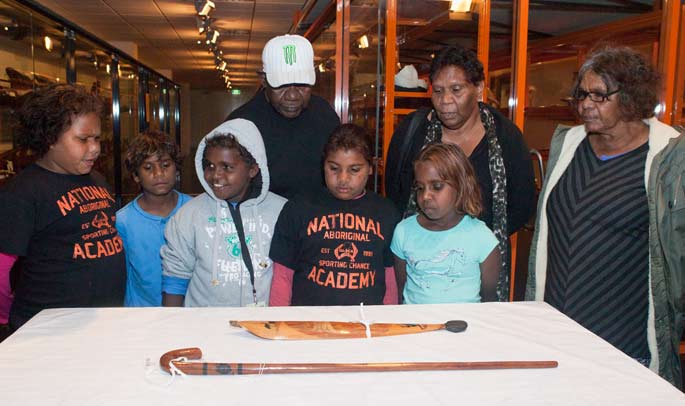 We were met by staff from Registration in the Open Collections. The staff had organised for two objects to be put taken out of the glass cabinets - Namatjira's walking stick and the spear thrower that he made and painted - and displayed for the children on a table. The children had their hands behind their backs because the temptation to pick up the objects was enormous! These objects are national treasures and are looked after in particular ways that will keep them in good condition for future generations to see them, just as these children have done.
Next, I led the group to see the Namatjira painting which hangs in the 'Losing our children' exhibit, in the Gallery of First Australians, which relates stories of the Stolen Generations. This painting helps to tell the story of when Namatjira visited Cootamundra Girls Home in New South Wales. The home was designed to provide training for Aboriginal girls who had been taken from their families. Namatjira was so moved by the girls' situation that he decided to visit and, in 1956, after meeting the girls and hearing of their lives and how they had been effected by their separation from their families, he gifted the painting to them.
The group looked at the exhibit and, typically of those under the age of 12, they quickly moved on to other exhibits. They were delighted to find the Music Box (a digital juke box) that includes some of the most well known songs by Aboriginal bands. They enjoyed choosing and listening to the many different songs representing Aboriginal musicians and bands, some of which they already knew. The group enjoyed their visit, accessing the collection and seeing many of the objects and exhibits that we have here at the National Museum of Australia.
Deborah Fredrick Education Officer