WARNING: Visitors should be aware that this website includes images and names of deceased people that may cause sadness or distress to Aboriginal and Torres Strait Islander peoples.
---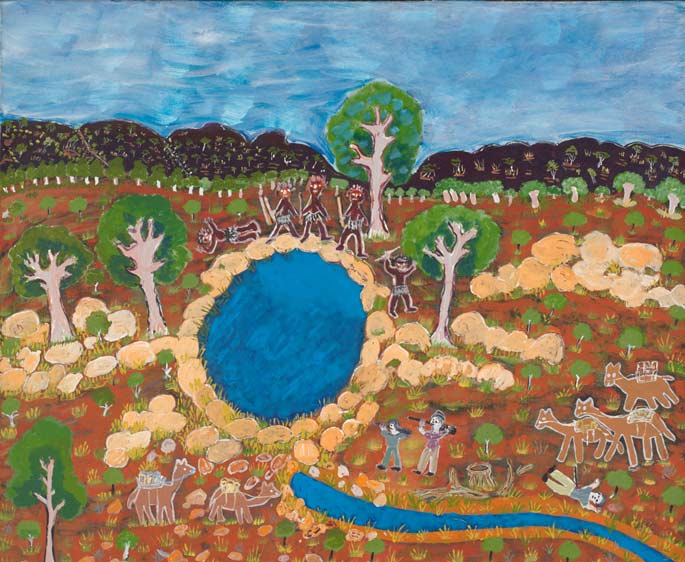 This is a painting about three early explorers who were passing through the Rawlinson Ranges area. They were coming from the west heading east. They had six camels with a couple of young ones. One day they came to Circus Waters. They wanted the camels to drink the water and to camp and rest at that place. After a little while, some Ngaanyatjarra wati (men) arrived at Circus Waters. They wanted water and were really hungry. They'd had no luck hunting for marlu (kangaroo) or karlaya (emu). The wati saw those young camels and killed one with a kurlarta (spear).
One white man was counting the camels and noticed that one of the young ones was missing. The men climbed the hill at Circus Waters. They had binoculars and saw smoke in the near distance. The wati had taken the camel back to their families and that night they feasted on the camel kuka (meat). Everyone was happy and they sang Tingari songs because that place is a Tingari place. After that everyone went to sleep.
The families were unaware that the white men had followed the smoke from their fires that afternoon and had spied on them. Those white men had gone back to their camp at Circus Waters to rest and prepare their rifles and ammunition for the next day. Early the next morning those white fellas went down the families' camp with their rifles and a big dog and started firing at everyone.
The women and children ran for it and escaped. The wati's fought back. It was a war. My great-great-grandfather got shot and was killed, but his three wives and children had got away. One of the teenage boys was my Tjamu (grandfather) Mr Newberry. He had seen what happened to his father and the other wati. My grandfather and his cousin Mr Smith ran fast nonstop all day through the bushes and over the hill back to Warakurna to tell everyone what had happened.
The next morning my grandfather and his cousin travelled with the wati from Warakurna back to Circus Waters. The wati were ready for war. They had weapons, kurlarta pirni (many spears), miru (spearthrower), karli (boomerang) and kupurlu (hitting club). The white men were at the families' camp burying all the bodies. The wati had decided to hide back at Circus Waters, waiting for the return of the white men.
When the white men returned the wati ambushed them and there was a really big fight, spearing and shooting everywhere. Two of the white men were killed but one man got away with the camels. Three or four wati were killed. This was a time before there were any police. There was nothing our people could do. My grandfather Pupa Newberry and his cousin Mr Smith never went back to Circus Waters. It was a place of great sorry for them. This story has been passed on to my father and me.
Ian Newberry Senior Ngaanyatjarra man