WARNING: Visitors should be aware that this website includes images and names of deceased people that may cause sadness or distress to Aboriginal and Torres Strait Islander peoples.
---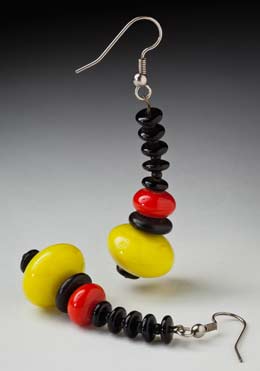 Aunty Tammy Tidmarsh is a Wiradjuri elder, community leader, artist and long-time community advocate for 'building youth education'. Aunty Tammy grew up in Brungle and, in the late 1970s, she moved to Blacktown, Sydney, with her husband and children, seeking better job opportunities. Aunty Tammy's 25-year career in education began through her desire to assist and encourage her children's education, by participating in their school, and assisting in the classroom. She went on to be employed as a teacher's assistant, then a student councillor and, later, became Aboriginal education officer, working in the various schools in the Blacktown and Mt Druitt area.
These earrings were made by Aunty Tammy in the late 1980s. While she was working as a student councillor at Evans State High School, Aunty Tammy started student craft workshops that included jewellery making. Through jewellery making, Aunty Tammy created a space for the local Aboriginal students to learn about Wiradjuri history and culture. The classes were held as part of the ASSPA (Aboriginal Student Support and Parent Awareness) program which was intended to support Aboriginal and Torres Strait Islander students' participation in school.
While reflecting on the program, Aunty Tammy recalled that:
Through ASSPA-supported programs and activities we got a lot of kids to stay in school and participate in learning. Jewellery making was only one of the programs but it was the popular one - with both girls and boys. There were always 'ring-ins' - kids who weren't Aboriginal but who were friends, or foster family usually. We ran targeted, specific but 'inclusive' programs because we wanted to eliminate the feelings of alienation and discrimination for the kids. At the time the other teachers, the white ones, wondered how jewellery making could possibly persuade otherwise truant kids into attending school. I would tell them 'It was the stories we shared while we made the jewellery', but also, it was because the jewellery was 'red, black and yellow'. Those kids Ioved the idea they were asserting their identity in 'school time'. It was a bit of a 'kick' for me too. For me, growing up, we weren't allowed to share culture or practice language openly and certainly not in the classroom.
The kids also loved spending time with each other talking about culture. They think all those conversations we had in class were casual but I planned them. The only Aboriginal culture they were being taught in school at that time was what happened to Aboriginal people 200 years ago. That's not culture that's white people's generic observations. I shared my Wiradjuri culture with the kids. Some didn't know where they were originally from, which is a sad reality nowadays. But, so long as they knew the different nations and protocols then they would figure it out eventually, hopefully. My priority was getting them learning and thinking about their future. Knowing their culture and history plays a part in that.
Barbara Paulson Curator, ATSIP